Africa On Foot Safari
by Nic
(UK)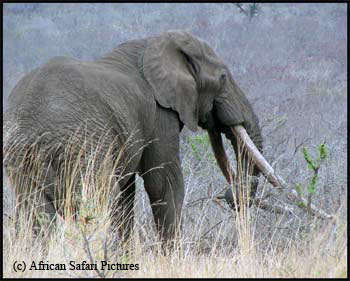 Bull Elephant
Not too far into our walk we came across three bull elephants! We managed to get within 15-20 metres of them. That was an amazing experience - they truly are giants. They ran off when they caught our scent but we had fun tracking and finding them.
On Arrival
I stayed at Klaserie for two nights in April. Ross camp which has been family owned and managed since 1948 is lovely and rustic - I felt right at home from the start.
My guide was Courtney and my tracker was Riks. When I arrived, I had a drink with Cecilia and Courtney then went through to my room to unpack.
The room was well appointed with two separate rooms (
double and twin
) with ensuite. After a surprising (
but safe
) encounter with a tree snake, I headed out on my first walk.
First Walk
Courtney was an excellent guide, stopping to explain some of the smaller aspects of the bush and tailoring his talks to what I already knew.
We saw various antelope on our first walk (
Kudu, Impala, Steenbok, Duiker
) as well as a family of warthogs. When we reached the main watering hole, Courtney explained the various tracks which we could see.
No big game on our first walk but I didn't feel cheated - it was really interesting to hear about the smaller things. We also saw White Backed Vultures - Klaserie is lucky enough to have 20 breeding pairs.
Dinner was a family affair and I felt right at home with Cecilia and her family. Cecilia's father cooked a chicken potjie which was delicious. I headed off for an early night - had to be up extra early in the morning!
Buffalo Encounter
We headed out at around 5.30am and saw an Eagle Owl - they're huge - and a leopard tortoise.
After the morning walk, I had a wonderful breakfast with freshly baked bread and a fry up - definitely needed after the three hour walk. I spent some time relaxing until our evening walk.
This time we got fairly close to an angry buffalo - I wasn't so happy about him but luckily we didn't stay long! After our walk, we hopped in the 4x4 for an hour's drive and a sundowner. The sunset was amazing - I got some brilliant photos.
Dinner on my last evening was steak done on the braai which Courtney cooked. I like my steak blue so was pretty impressed when it came out spot on!
Tree House
There is a tree house at Ross Camp which Cecilia and Courtney recommend that guests should stay in. As I was a bit nervous, Courtney and Cecilia camped out with me - it was amazing.
The best night of my trip! There was a full moon and the sounds of the bush were strangely peaceful. We heard lions calling in the distance which has to be the sound of Africa!
On my final morning, we went for a drive rather than a walk. We came across a group of giraffe with two calves which were not very old but they were very cute. We also saw a buffalo herd and a large herd of impala. Then it was back to camp for breakfast and packing.
I had an awesome stay with Africa on Foot. I will most definitely try to go back when I am next in SA.
I would recommend it to anyone - whether travelling alone or in a group - the experience of walking in the bush is not one to be missed.
My thanks to Cecilia, Courtney and Cecilia's family for making me feel so welcome and for making my stay so good.
More South Africa Safari Reviews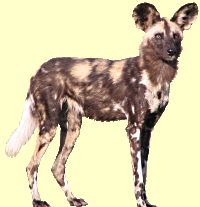 Join in and write your own page! It's easy to do. How? Simply click here to return to South Africa Safari.