Review Of Bearded Heron Safaris
by Don Zmarzty
(UK)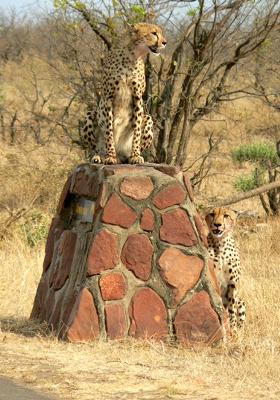 Two cheetahs
We had several experiences which for us were much more than just a "sighting" for example a young leopard losing its kill and two cheetah enjoying theirs. This must in large part be attributed to Neil Heron's years of experience in the Kruger.
Safari Operator Performance
We went on safari with Bearded Heron Safaris. All went smoothly; logistics, catering, ambience all up to expectations.
Personalised experience provided by Neil Heron, park guides all fine when needed for walks, etc.
Accommodation
We stayed at Berg-en-Dal, Satara Rest Camp, Mopani Rest Camp, Punda Maria Rest Camp - moving in sequence from south to north Kruger.
All very nice in their own way.
Food
Most catering by Bearded Heron. My wife and I are veggie and we were well provided for.
Sometimes for convenience we ate at the lodges en route. That was rather mixed in quality but the surroundings are of course splendid.
Wildlife
We were fortunate to see everything we had hoped for except wild dogs (this was the only disappointment on our entire safari).
One example of Neil's experience benefiting our wildlife viewing in particular comes to mind.
We were driving out of Mopani en route to Punda Maria early morning and whether by luck or by the law of averages I got to glimpse a cheetah head pop up 50 metres off road to the left. Just the head, and I wasn't even sure.
We reversed back and sure enough it bobbed up again for a look round. There turned out to be 2 on a really fresh kill.
Now Neil's years of experience came into play. He suggested if the cheetah were not chased off they would take an hour or so to eat then they would have to cross the road and go for water. If we waited we would probably be rewarded by a good bit of behaviour.
Now it got interesting. Some other vehicles came along, decided there wasn't much to see and cleared off. But there were other vehicles coming down the other way with tales of a big pride of lions on a kill just north of the Tropic of Capricorn.
Should we stay or should we go? Stay and the cheetah may be scared off, go and the lions may have gone. In the end we decided to go and take a look for the lions and if no show we'd come back hopefully to catch the two cheetah on the move.
Well, to cut a long story short we missed the lions but the cheetah did exactly what Neil had said they would and we got a brilliant half hour with them virtually to ourselves as by then most other people were off and away.
Seeing big cats in the wild is always a thrill, but when they're going about a bit of business rather than just lying under a tree it can raise the excitement levels to red hot.
Other memorable sightings –
A young leopard losing a kill off a branch into a thorn bush, trying really hard to recover it, failing then acting all nonchalant as if it wasn't really bothered but must have been really fed up.
A honey badger going round all the rubbish bins in Mopani Rest Camp (we kept well clear but got a pretty good look, some crazy people went right up to it!). By morning there wasn't a bin left standing!
Six beautiful lionesses crossing the road heading for water, again with no one else around.
Typical Day
Up before dawn for coffee and rusks and then out.
Looking and looking and looking, "this morning we stand a chance of cats, or it might be wild dogs, or hyena…" Then once the first mad couple of hours were over, relax and just take in the sights. It might be giraffe nunking, elephants on the march, antelope, all the usual suspects.
After breakfast, either back at the lodge or en route, we'd check a water hole or a have a siesta until time to go out for the afternoon until sundown.
The adrenalin would be flowing again and all eyes peeled for any late afternoon predator activity.
Occasionally Neil would organise a walk (which we haven't done in the Kruger before), one memorable time involving an encounter with a black rhino.
Then back to camp for the evening meal, a few glasses of wine and lots of time to "chew the fat".
Finally off to bed full of anticipation for the next day.
Tips and Advice
Once you've decided on your wish list, do as much research as you can about how best to go about maximising your chances. These days the internet can be a massive help but there is still good info to be had from travel and specific interest books.
If your budget is limited and you have to join up with a small group tour try to make sure your specific interests don't clash with the other members of the group.
It can enhance your trip to join up with like minded people in a small group, although with someone like Neil Heron there is no shortage of interesting conversation and jolly banter!
Don't forget your
binoculars
!
More Kruger Park Safari Reviews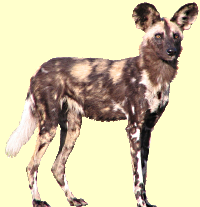 Join in and write your own page! It's easy to do. How? Simply click here to return to South Africa Safari.