Kruger Park Big Five In One Hour
by Wayne Barnes
(Pretoria, South Africa)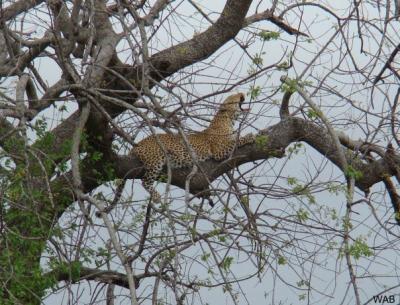 Leopard in the Kruger Park
400m into the Kruger National Park, we spot a male leopard relaxing in a Marula tree right next to the road. It all started when my 4 clients from Sydney were delayed somewhere in the world and only arrived at 12:30 at O.R Thambo airport in Johannesberg.

We finally manage to leave the city of gold by 13:00 and get to Malane Gate at 17:00.

Thankfully we staying at Berg N Dal Rest camp, only 12km away from the gate, and the reason I say thankfully is because we only have until 18:00 to get to the camp before the gates close.

It was at this point that we spotted the leopard lazing in the tree. We spent a few minutes with him before we continue our drive to the restcamp.

Then, as we turn onto the Berg N Dal main road, 9km to camp, we found a fully grown male lion lying in the middle of the road. My four Australian clients must have thought that the Kruger National Park was a zoo.

While my clients were looking at the lion and waiting for him to move off the road, I scanned the area and in the distance found 2 white rhino, a baby and mother. The reason I knew they were white rhino is because the baby walked in front of the mother. This is one of the differences between a white and black rhino.

We were getting pushed for time as the gates were going to be closing soon. Thankfully Mafasa the lion, moved off the road and walked into the distance.

Unexpectedly, we saw a breeding herd of elephants crossing only 2km further down the road. We watched as the elephants gracefully made their way across the tarmac. With Berg N Dal in sight, I started to relax as I knew we would not be getting a fine at the gate.

At 17:55, 1km from Berg N Dal restcamp we found the last of the big 5 as four dagga boys (old male Cape buffalo) were standing right next to the road. We had only 5 min to watch these old males find refuge for the long night ahead.

With-in 12km and 1 hour, my clients and I got to see the Big 5 living in their natural habitat, a truly unique and amazing experience, even for those who visit the Kruger National Park on a regular basis.

The following day lived up to the previous, with an amazing cheetah sighting as well a single wild dog only a few kilometers from Skukuza.

This just goes to show that the Kruger National Park is still one of the best nature reserves in Southern Africa.
Wayne Barnes Safari Details:

Safari company used: Southern Eagle Travel & Tours (make an enquiry)

Parks visited: Kruger National Park - Berg N Dal restcamp in South Africa

More Kruger Park Safari Reviews