A World In One
by Aspen Dobson
Buffalo Bull Close Up
South Africa certainly is like the whole world in one country. We left Heathrow for Johannesburg on 17 April 2005 and after a city tour we went to the Carnivore restaurant, Johannesburg's greatest eating experience.

There was every sort of meat you could think of (but not crocodile for me) and everything else was ok.

In Pretoria we visited the Voortrekker Monument and a few other places on the way to the Diamond Mines. Then it was on to Pilgrims Rest and the Blyde River Canyon.

We arrived 4pm and were off 5pm to start our first safari through the Kruger National Park where we saw a big male rhino a few yards away.

Read more South Africa trip reports by past travelers...

Not long after we saw elephant and impala, then bushbuck, kudu, puff adder and several species of birds.

Then as it was getting dark, about 15 yards from the road we saw a lion with two families of cubs eating the remains of a buffalo. You could hear them crunching the bones.

The road is warm so things come out at night like owls, leopard, tortoise, scrub hare and monkeys.

Next morning we were up at 5 am for an early start and there were elephants crossing the road only a few yards away from us of all ages. We had to wait for them to cross.

We saw sable antelope, reedbuck, waterbuck, eland,
bushbuck, zebra, buffalo, roan antelope, spotted hyena, leopard, white rhino, lion, giraffe, warthog with young, a family of rhino, blue wildebeest, tree squirrel, banded mongoose and many chacma baboon.

Wildlife photo gallery of animals you can see on safari...

On the bird side we saw yellow billed hornbill, ground hornbill, helmeted guinea-fowl, pied kingfisher, long eared owl, saddle-billed stork, parrots, tawny eagle and many more. A wonderful experience.

After the Kruger Park we went to Swaziland and through the pineapple fields to Durban.

Then we flew to Port Elizabeth and on to Oudtshoorn, which is also known as the "feather capital of the world", and had a ride on an ostrich.

We also went through the wine lands where we sampled all their products and then on to Cape Town.

This Africa trip was 30 of the most wonderful days.
Aspen Dobson's Safari Details:

Safari company used: Self Drive (make an enquiry)

Parks visited: Kruger National Park

Date of safari: 17 April for 30 days


More Kruger Park Safari Reviews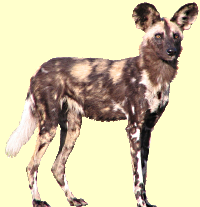 Join in and write your own page! It's easy to do. How? Simply click here to return to South Africa Safari.