Kruger Safari Better Than Private Lodge
by Kelly Angelo
(USA)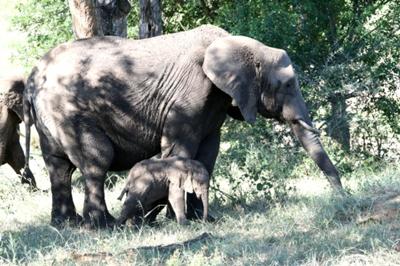 Baby elephant
The highlight of my trip was seeing a baby elephant and the family of elephants that the baby was with. The baby was so small, he stayed right by his mother's front leg and his trunk was just going all over...as if he was learning to use it.
Safari Operator Performance
We spent 5 days in Kruger with Bearded Heron Safaris.
We found them on the internet and we checked out all their reviews.
We also contacted some personal references from Bearded Heron and emailed them with a few questions regarding their safari.
All reviews and references gave good feedback.
Neil was the best tour guide, better than we ever imagined!
Neil loves his job and that was really apparent every day we spent with him.
Neil is very knowledgeable about all the wildlife around him and he is more than happy to share that knowledge with his guests.
We were pleased that Neil was our guide for our entire stay in the Kruger.
He also took the time to get to know us and he tried to incorporate our wishes in our daily drives.
Neil and Gordon made our safari a 10!
They really know how to treat their guests! A big highlight for us was that we were the only two on our safari in Kruger.
It just worked out that no one else had booked the safari that week. Neil and Gordon were so attentive to us.
We could not have asked for a better guide or cook!
I would highly recommend Bearded Heron to anyone thinking about a safari! You will not regret it!
Accommodation
We spent two nights at Talamati Bushveld Lodge, located close to the Orpen gate.
The cottage was perfect! We had a small kitchen, sitting area, bedroom, and bathroom. There was also a small porch with chairs.
Our cottage was very close to a tree where a troop of baboons had taken up residence. They provided some noisy entertainment at times. Even with the baboons close by, it was very quiet at night.
The next two nights were spent at Biyamiti Bushveld Lodge located in Southern Kruger. We were very pleased with our cottage, it was very similar to Talamati.
Food
Breakfast was pretty typical, they served eggs, bacon, sausage, cereal, yogurt, and fruits.
They served light lunches which were also very typical. We had pizza, cheese and crackers, tuna, and vegetables.
Dinner was always a meat with vegetables. We had steak, chicken, lamb, and sausage. There was always plenty of good food and snacks....we definitely did not go hungry!
Wildlife
We saw so many different species of animals!
We saw elephants, lions, giraffe, white rhino, wildebeest, zebra, impala, kudu, baboons, vervet monkeys, hippo, crocodile, waterbuck, sable antelope, leopard tortoise, cape buffalo, bushbuck, warthog, hyena, and many birds.
I am sure I am forgetting some, it was so amazing!
I loved to watch the elephants! We were lucky enough to enjoy multiple elephant sightings on our safari.
My husband would say that his highlight was seeing the two lions early one morning. One lion was sleeping right in the middle of the road and the other was hanging out just off the side of the road. We sat and observed them for a while.
They are amazing creatures!
Typical Day
We got out of bed around 4 AM and had a light breakfast and got ready for our first drive.
Neil had us out the gate early enough to watch the sunrise in the bush. We drove around checking out the wildlife, and he would find a nice place to park.
We observed the wildlife, while we enjoyed coffee, tea and a light snack.
When we arrived back at the lodge, Gordon (our cook) had breakfast waiting for us. It was always a hot breakfast and the food was great!
We preferred to nap in the afternoon since we had a hard time adjusting to the time change. After an afternoon nap, we enjoyed a light lunch and then it was back out in the bush for our afternoon drive.
When sunset came, we headed back to the lodge for dinner. Gordon always prepared a fantastic meal and we spent the evening chatting and getting to know each other.
Two of our meals were spent with the lodge managers, we really enjoyed their company.
We tried to get to bed by 9 PM so we were rested for the next day.
Other Activities
We spent a week at a private lodge.
We went to Zulu Nyala Game Lodge. We had a good time, but it did not compare to our experience in the Kruger.
Disappointments / Regrets
I was not really disappointed, but I wish that I had packed better for the weather.
We went the end of January, during summer, so we mostly had all summer clothing with us. When the sun was down, it was quite cold - at least in my opinion.
I wish that we had researched the weather a bit more so we could have packed some more warm clothing.
If we were to take this trip again, we would try to take a longer safari. We were not ready to leave Kruger after 5 days.
Tips and Advice
Make sure you pack
appropriate clothing
for the weather during the day and night.
Also, take appropriate clothing for a bush walk if that is a part of your safari.
We probably should have packed better for the walk - long pants, tall socks, and a
hat
.
Our camera was the most useful item!!
We relive our trip every time we page through the photo book! I am so glad that we took so many pictures!
I would highly recommend Bearded Heron to anyone thinking about a safari! You will not regret it!
More Kruger Park Safari Reviews