Day Safari Perfection
by Stéphanie Large
(France)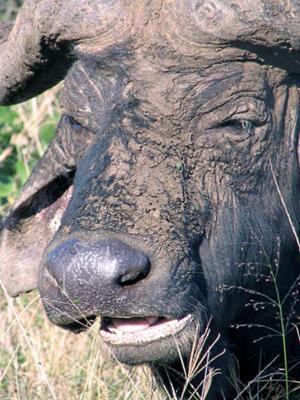 Buffalo Mudpack
Our Hluhluwe-Imfolozi day safari was extremely well organised. A blanket and added jacket were provided during the trip from the B&B (in St Lucia) to the game reserve. Breakfast and lunch was also prepared for us. Had a real braai at lunch and the food was excellent. And Jeff (the guide) is really good and explained a lot about the animals we saw. Everything was perfect!
Safari Company Performance
I heard of EuroZulu via the B&B I booked in St Lucia. We went in a 4x4 vehicle, 7 people for the first trip and 9 for the second.
On the first safari, we saw all the wildlife possible (
except the cats
), rhino, lots of different kinds of gazelle (
nyala, impala etc
), gnu, kudu, warthog, hyena, zebra, buffalo and lots of birds including vultures.
And the most impressive was the elephant. It charged us...I will remember that for the rest of my life.
On the second safari I did, after 5 minutes in the game reserve, we saw a rhino with its baby. 10 minutes after that we saw 2 male impala fighting and 10 minutes later we saw hyenas, the most impressive sighting of that day.
A female hyena was looking at us, wanting the bones nearby the 4x4, and a few seconds after that we discovered 3 more of them, waiting for us!
The Hluhluwe-Imfolozi game reserve is absolutely gorgeous, a very different landscape. And the weather was beautiful each time.
Typical Day
Woke up at 04h30 in the morning and Jeff picked us up at 05h00 for the 45 minute drive to the game reserve (
with blankets and jackets... perfect!
).
From 06h00 to 08h00 we were chasing the cats (
need to chase them early in the morning when they are active
). At 08h00 it was time for breakfast in a nice viewing area.
Everything is provided: cereals, milk, yogurt, coffee, tea and sandwiches.
After that tracking the cats again and taking time to look at all the animals around. I took more than 300 pictures a day. Each time we saw a new thing Jeff stopped and explained to us in detail about what we were watching. I learnt a lot during those safaris.
13h00 is time for the braai with very good meat, cooked as you like it and salads, cold drinks and sweets.
The afternoon is a bit less hectic as we take time to observe and we leave the game reserve around 16h00, time for the 45 minute drive back.
No regrets waking up so early in the morning.
More Insights
The one disappointment I had was that we didn't see any cats, BUT I much prefer imagining them chasing around in that big game reserve than seeing them in a private game reserve with a necklace. No regrets!
One piece of advice I can give is to book with Jeff at EuroZulu. He will find a nice B&B for you in St Lucia.
The most useful items in my luggage were definitely the two cameras I took with.
More Hluhluwe-Imfolozi Safari Reviews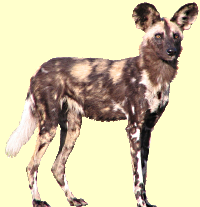 Join in and write your own page! It's easy to do. How? Simply click here to return to South Africa Safari.