South Africa Wildlife Bonanza
I visited the Kruger National Park just for the day as we live nearby. Below you can read my trip review and see that sometimes, one day is all it takes for some spectacular wildlife sightings and experiences...
Bruce & I did a South Africa wildlife self-drive safari in our own car (you can easily rent one nearby). We entered the Kruger National Park through the Malelane Gate in the south when the gates opened, drove around all day and exited via Crocodile Bridge Gate as the gates were closing.
We did make a few stops but because we try to maximise our time to see as much South Africa wildlife as possible, we prefer to eat picnic lunches in the car at a water hole for instance, rather than at the picnic spots.
Because we did the South Africa wildlife trip from home, we bought the food in a supermarket and prepared it and a flask of coffee before we departed.
In the early morning we had some coffee and rusks. A bit later, for breakfast, we had some muesli and yoghurt while sitting at a favourite water hole (we use a picnic set and put the dirty dishes in a plastic bag to wash up later).
During the day we snack quite a bit on fruit, biltong, crisps - and make sure we have enough to drink: water, juice and a few beers. Since it was just the two of us in the car, we put the cooler box on the back seat (along with the park map book, bird book, and such).
| | |
| --- | --- |
| Journal and South Africa wildlife | |
About 10 minutes after entering the park, we saw some cars and a safari vehicle up ahead. They were looking at a lone male lion. Unbelievable! That was a first for us: the first South Africa wildlife of the day was the "king" himself.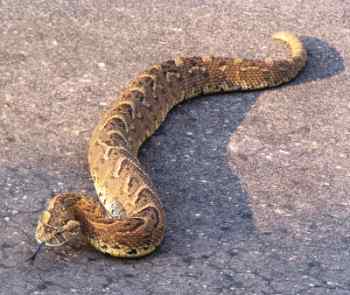 It was a big one with a nice dark mane and he was lying down but looking alert. Suddenly we heard another lion calling in the distance. "Our" male promptly got to his feet and trotted off, crossing the road among the cars, and off into the bush.
We should have known then what an awesome day was in store for us.
A few kilometres later, we got a reminder that South Africa wildlife include reptiles: a thick stick lying in the road turned out to be a puff adder snake. It was typically lazy and slithered at snail's pace to the side of the road where it paused for a while and eventually we decided to move on. What a nice sighting, giving us enough time to watch, photograph and video it. It's amazing how well camouflaged it was once it went off the road.
Next stop was Rhino Pan, a favourite breakfast spot of ours. You can't get out of the car there, but we usually take some yoghurt and muesli and camping bowls along, and a flask with coffee to enjoy in the early morning.
There are lovely picnic spots in the park and this particular water hole is actually quite close to one (Afsaal), but when it's just the two of us we prefer to eat "in the bush" and hope for sightings of South Africa animals rather than other people.
We were spoilt with the presence of a lone buffalo bull, or "dagga boy" as they are also known.
Among the reeds and grasses near the drinking hole was a pair of common reedbucks. The name is a bit deceiving as they are not common at all, at least not to visitors in the Kruger Park. We haven't seen any for years.
If you're into animal and bird behaviour you would have enjoyed the next bit. We saw a smallish tree alive with magpie shrikes, and noticed a few dwarf mongooses on the ground below it. There was a big commotion in the tree and we were trying to figure out why when the next moment another mongoose (we're not sure but think it was a slender) appeared from behind some branches in the tree. The birds were trying to chase it off! We didn't see any nests so not sure why the mongoose was up there in the first place, but it provided a good few minutes of entertainment by South Africa wildlife!
After saying hello to the resident African scops-owl that's been at Afsaal picnic spot for years, we proceeded to Skukuza, the biggest main camp of the park, for an ice cream and visit to the resident epauletted fruit bats that hang out underneath the thatch roofs outside the cafe.
Less than 10km before Skukuza there was a young spotted hyena looking extremely mellow. It wasn't quite asleep as cars no doubt kept disrupting its efforts, but mostly its eyes were closed and it would just peep through lidded eyes every now and again. I suspect it might be a den area but am not sure. Will have to check out the spot next time for more activity.
The first South Africa wildlife highlight of our day however came after our Skukuza stop. We usually take a quick detour to cross the weir that is situated next to the Skukuza day visitor's area. We often see hippos, crocs and a variety of water birds there.
We started across the bridge and saw 2 marabou storks just standing in the shallow water, probably waiting for fish to get close enough to catch. No crocs, no other birds, we expected to just turn around and go back to our intended route.
When we reached the far side of the bridge, what would be lying in broad daylight, out in the open and taking refuge from the sun on some bare rocks?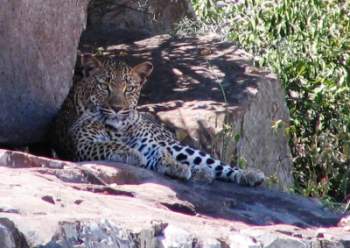 A beautiful, large leopard!
They remain the most elusive of the famed "big 5" and most people's favourite. It is a beautiful cat and the way it moves is nothing less than poetic.
After allowing me to take a quick photo, he decided to make himself scarce and, unlucky for some of the other cars who arrived on the scene just too late, make an end to a beautiful sighting.
Or so we thought. South Africa wildlife (as everywhere) can be unpredictable.
The other cars passed and left, but we decided to hang around and see if the leopard would return. Next moment he did! He crossed the shaded road in front of us and the almost silhouetted form of this elegant creature added to its powerful aura.
And gone again. We decided to hang around once more when the people in another passing car whom we told about the cat thought we should all try and look for it again closer to the river and they were right! Now he was lying on the other side of the river, a bit further from view but again on a rock, looking out over the river.
The special South Africa wildlife moment lasted a good few minutes before he finally decided to gracefully descend into the river bed and disappear among the reeds.
Our day was complete!
Again the Kruger proved us wrong. The tar road leading from Skukuza to Lower Sabie camps are also known as "Eloff street", a very busy street in downtown Johannesburg because of all the traffic it carries (human and animal, actually!).
We spotted a macabre looking "Christmas tree" - a tree decorated with hungry vultures waiting to sweep down onto an unfinished carcass. We tried to find the carcass we believed should be in the area and were rewarded with the sighting of 2 (and later a 3rd one) young lions eating, just above the riverbed, in the tall grass. If we hadn't slowed down and checked the area in detail, we would have missed their blood smeared faces.
Eventually one of them got up and walked around a bit (by this time the road looked like a traffic jam in mid-Jo'burg) - how beautiful! The other one obviously had a nice sized piece of meat because it just carried on eating and hardly looked up.
We never saw the carcass but believe there were more lions around because the vultures wouldn't land. Eventually some vultures did land, so we can only assume the other lions moved off. The "main spot" was just out of sight in the dry river bed, but we couldn't see anything because of the river bank.
There are often African fish eagles to be seen around the Lower Sabie area. The camp is beautifully situated and overlooks the Sabie River.
After visiting some more "sure" South Africa wildlife friends (hippos) at the Sunset Dam just outside the Lower Sabie camp and making a quick stop for cool drinks, we saw one of the fish eagles that had just caught a fish. It was sitting in a dead tree, clasping the medium sized fish with its sharp talons and taking small bites - all the time struggling to stay in position as there was quite a wind blowing!
Due to all these wonderful sightings of South Africa wildlife, we now had just enough time to get to the exit gate in time - if we didn't have any more stops.
The Kruger was still not finished with us! God was obviously smiling on us this day.
A traffic jam up ahead proved to be caused by a pack of African wild dogs! This is a highly endangered mammal and a South Africa wildlife species you certainly don't see every day! A pack of 8 dogs were literally in the road (quite often when they are seen, they are seen in/next to the road), running along with this train of cars slowly following in their wake.
It was so awesome - so we had TWO highlights. One by one the cars passed the pack and proceeded to the exit gate. We were one of the cars bringing up the rear and managed to get some great video footage unobscured by other cars (this can be a challenge sometimes).
Having to leave the dogs behind to get to the exit, we passed a white rhino absolutely covered in mud and scratching its behind on a small tree… what a funny sight!
Next, we saw a stationary safari vehicle at the side of the road, obviously watching South Africa wildlife. We quickly stopped to ask what they were looking at and could not believe our ears when the driver/guide said that it was a leopard. Unfortunately we couldn't spend time there and had to push off. Apparently it was a bit hidden in the grass and with our vehicle we didn't have the good vantage point of the high safari vehicle anyway.
Finally, we reached Crocodile Bridge Gate and we left the Kruger Park with the adrenalin still running high and a feeling of absolute appreciation for the pleasure and privilege to enjoy this place where wild animals can still roam freely.
Apart from the special sightings mentioned already, other South Africa wildlife seen include: giraffe, warthog, more white rhino, wildebeest, zebra, elephants, waterbuck, duiker, steenbok, klipspringer and lots of impala.
We realise this was in the category of a "record day" and that we can not expect this kind of grace each time we make a day trip into the park. But we'll definitely be back to test the theory!!
| | |
| --- | --- |
| South Africa wildlife highlight | |
The wild dogs, because they are so rare and an endangered animal; also because of the length of time we could spend with them and see their behaviour.
Tips and advice to others planning a day trip safari
Take a good pair of binoculars to get a good look at the South Africa wildlife and birds.
Hang around sightings. Most people are happy to just "see" certain animals. But if you stay and watch their behaviour you can be well rewarded.
South Africa wildlife safari packing list »
| | |
| --- | --- |
| Rating on a scale of 1 to 10 | |
In terms of South Africa wildlife: a 10, for sure!
| | |
| --- | --- |
| Safari Location: | Kruger National Park, South Africa |
| Safari Company Used: | Independent self-drive |
| Duration: | One day, 17 March |
| Traveller Details: | Wilma & Bruce Whittaker |
| Rates & Availability: | Plan your own Kruger safari. Make a South Africa wildlife enquiry |
More Kruger Park Safari Reviews