Kruger Safari - Best One Yet
We saw leopard on two occasions which was amazing; we saw lion on several occasions, lots of elephant, buffalo and rhino, virtually every day on more than one occasion. So in terms of wildlife viewing it was really amazing, one of the best Kruger safari trips I've ever been on.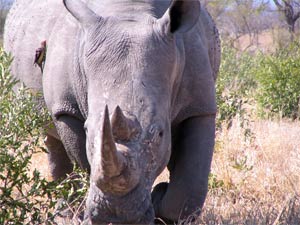 Where did you stay? At one camp, or travel around to different camps?
We were camping, so we started off in a camp in the south called Malelane.
Then we moved up to Satara, if I remember rightly, the camp in the centre of the Kruger Park and we spent a few nights there.
We also went to a camp called Lower Sabie which is in the south east of the Park. The park is really huge so you can, I think there's about 10 or 11 camps that you can go to, maybe even more, so there's a lot of choice.
What were the Kruger safari camp sites like, the facilities and is there enough shade?
Some of them don't have a lot of grass for the camping, so you actually camp on the ground.
But the facilities are really good, very clean. The ablution blocks are always clean, there's always hot water. At the one, the Malelane Camp, we could actually use a fridge which was within one of the units so we could buy food and store it there without it going bad in the heat. At most of the camps there are trees but if it's full then you might have to camp in the open.
And at the Lower Sabie Kruger safari camp unfortunately the ground was a bit hard, I bent a few tent pegs there trying to get this tent up. There was a bit of a wind also, unfortunately - Murphy's Law, when I tried to set the tent up there it took about an hour. So you must make sure you've got extra strength tent pegs when you camp at Lower Sabie!
| | |
| --- | --- |
| Describe what a typical day consisted of on your Kruger safari... | |
I went on a self-drive, so my wife and I could choose our own routes to drive and times to start. It is very possible to do that on a Kruger safari, which is quite nice. They've got a great network of roads there so you can just use a normal sedan to travel around.
It would depend a lot on the weather how long you would drive around but you try and get back to camp reasonably early, you want to miss the heat of the day.
We'd start very early because I believe that to see the animals you should be out as soon as the camp gate opens. So although we start very early - roundabout, I think the gates at that stage were opening around 4:30 in the morning - we were up before the sunrise.
You have to get up early and then get to the gate as soon as it opens on a Kruger safari because then your chances of seeing the nocturnal animals are really good. And you can see the animals that are on their way home, like leopard.
And lions also seem to enjoy lying on the road, so you might be able to see them, whereas if you sleep late chances are you'll miss that.
Then we'd choose a route and drive around until about 11 or 12 o'clock depending on when it starts getting too hot, come back to camp and take a nap, have a bit of lunch or whatever.
We'd go out in the afternoon again once it starts cooling down a bit, around about 3 o'clock and then get back when the gates close at 6 o'clock. After that we'd just have supper or a braai and get into bed by 9, ready for the early wake up the next day.
| | |
| --- | --- |
| Did you have much rain and did that affect your game viewing? | |
It was very dry, because it was at the very end of the dry season, just before the rains started that we went. So the vegetation was very open which is a lot better for game viewing.
And you also can go to a waterhole and because the water is scarce, most of the animals congregate around the waterholes. You can actually see a lot when you go at this time of the year.
So it wasn't very green, it was quite dusty and the animals were struggling but it was very good for game viewing. Had some excellent sightings, some of the best I've ever seen on a Kruger safari.
Did you see the "big 5" that everyone always wants to see?
We did see the big 5, yes.
| | |
| --- | --- |
| Would you say there were any disappointments on this specific Kruger safari trip? | |
Oh, one thing that happened was, we saw a pride of lions on one of the dirt roads, really close to the car.
I mean, one of the lions came so close that you could actually - if you wanted to - reach out you'd be able to touch this lion. Not that I'd ever do that, because you'd probably lose an arm or more.
When the new month started in November, the gate closing times went a half hour later because it stays light longer in November than October.
But we didn't actually realise this so we were watching the clock. And we thought we had to get back to camp so we had to leave these lions. When you get back to camp late you could possibly get a fine as they lock the gates at night.
So we left these lions while they were still there, which was very disappointing, and charged back to camp to get in before they locked the gate. Just before we got there we realised that the gate opening times have actually been extended by half an hour. That was quite a disappointment - would have liked to spend a lot longer with those lions. They were amazing.
| | |
| --- | --- |
| Do you have any tips for people who might plan to go on a self-drive Kruger safari in future? | |
One of the tips I have for a Kruger safari, is you get a Wild Card and if you stay more than a certain amount of days this actually makes it cheaper for you to stay there accommodation-wise.
Because if you are staying at the Kruger Park and you're from overseas, you have to pay a conservation fee which at the moment I think is round about US$30 per day, so if you stay for longer than seven days and you have this Wild Card, that conservation fee gets dropped.
So it's really worthwhile to find out if you can purchase this Wild Card if you're going to be on a Kruger safari for longer than seven days. And also, it is possible to go on a self-drive in the Kruger Park. You might not see as much as you would with a safari operator, but it is possible to do.
And if you are going to do that, a good idea is to leave the Park and buy your food outside in the supermarkets there.
The food in the park is a lot more expensive than outside because they have to bring it in; there are only certain places you can buy it and they can virtually charge what they want. So the prices are a bit higher in the camps. If it is possible, it's better to go outside and buy your food there.
Do all the rest camps have shops? Is it possible to buy most things inside the Park?
It is possible to buy at most camps. Some of the smaller camps don't have shops but then you can just drive to the bigger camps on your day drive. Most of the camps do have shops where you can buy all sorts of things, all the provisions you need for a Kruger safari.
Did you have problems with mosquitoes on your Kruger safari?
There weren't many mosquitoes that time of year, I think because it was so dry, just before the rainy season.
But I do - because the mosquitoes really like me for some or other reason, I don't know why but I get bitten a lot - cover up when I get back to the camp in the evening.
In other words put long pants on and a long sleeve shirt, just to cover up because I think prevention is quite an important thing with mosquitoes. If you can stop them from biting you it's a good idea. If you just put on a long sleeve shirt - sometimes it is very hot but you don't want to get malaria.
And we were taking the tablets also, which prevents malaria and it's a good idea to get an ointment or a spray. There's a spray that you get in South Africa called Tabard which keeps the mosquitoes away.
| | |
| --- | --- |
| The most useful item in your luggage? | |
Well I'm quite a keen wildlife photographer so the most important item for me was the camera that I take with, I'd hate to be on a Kruger safari and not have my camera there - I wouldn't know what to do!
The camera for me was the most important item in my luggage, I use a compact camera, not a digital SLR, it's a compact Canon S1iS. The reason I got that camera for wildlife photography is because of the lens, which is a 10x optical zoom. It's the equivalent of about a 380mm normal lens, but it's very compact: you can hold it in your hand even when the light is pretty low.
You don't need a huge tripod or lots of additional equipment.
That's right. But I take a bean bag with, so when the light gets low I use it, just put it on the windowsill of the car and then it's quite stable, it doesn't blur.
| | |
| --- | --- |
| Highlights and how would you rate your Kruger safari overall? | |
It's difficult to choose - we saw so much. But I'd say the leopard was really great.
We were driving along between Lower Sabie and Skukuza and Wilma was looking out one side of the car window and I was busy photographing some warthog right next to the road on the other side and she started nudging me in the ribs to get my attention.
It was quite amazing, I thought it was another warthog that she was trying to get my attention to, but it was actually a leopard. She said they were staring right into each other's eyes. When she looked out the window she saw this leopard's face just staring at her from really close-up.
We didn't see it for very long, because as usual the leopards are quite shy and it walked away quite quickly - we saw it for about 10-15 seconds as it walked into the undergrowth.
We also saw an elephant called Duke. This elephant apparently had the biggest tusks in the Kruger Park (has since died), so that was quite amazing. The biggest tusks I've ever seen, they went right to the ground.
And I spoke to some people in the camp who've been trying to see him for the past 5 years and they've never been able to and they're regular visitors to the park - so we were very lucky to see that.
I'd rate this trip very high, I'd say 9 out of 10. 10 out of 10 is difficult to achieve, the perfect safari. But this one I'd say is a 9 out of 10, definitely.
I'd recommend anybody to go on a Kruger safari, it's really an amazing experience.
| | |
| --- | --- |
| Safari Location: | Self drive in the Kruger National Park South Africa |
| Accommodation: | Satara, Lower Sabie and Malelane camps |
| Duration: | Ten days in October |
| Traveller Details: | Wilma & Bruce Whittaker, South Africa |
| Rates & Availability: | Plan your own safari. Make a Kruger safari enquiry |
More Kruger Park Safari Reviews