Kruger Tour at the Lowest Possible Price
An African safari doesn't have to be the impossible dream because of the high costs normally associated with such a trip.
Guidelines for under $110 per day Kruger tour
With a little bit of local safari knowledge and planning which these pages will give you, you will be able to do a week long safari for less than $110 per day.
The Destination - A Kruger Tour in South Africa
The Kruger Park is one of the top safari destinations in Africa. If you don't believe me, these safari trip reports written by people who have already experienced a safari in the Kruger National Park in South Africa will give you an idea why.
I have been on over a hundred safaris in Kruger and I never tire of it. I am blessed enough to live very close to the reserve so it only takes me about an hour to get there.
You will see a wider variety of wildlife here than anywhere else in Africa (including lion, leopard, cheetah, elephant, black & white rhino, buffalo, wild dog, hyena) and because the park is so big (roughly the size of Wales or the state of Massachusetts) you will pass through a variety of different ecosystems on a drive.
The landscape can change from dry bushveld scrub to dense green riverine growth within a matter of minutes as you cruise along on the very well maintained network of roads. The park has a well deserved worldwide reputation and is visited by almost a million visitors every year.
And you can go on a Kruger tour for a week or more for under $110 per day. Here's how...
Cost Breakdown - Spend Less Than $110 Per Day on a Kruger Tour
Self guided safaris really are the most affordable way to go on an African wildlife trip and you can save literally hundreds of dollars a day by doing it yourself and it has other advantages apart from great affordability:
Independence - You can do your own thing where as with a guided tour you just go along for the ride and don't have much control over what is happening.
You learn more - Because you don't have a guide to spoonfeed you information, you will have to find things out for yourself. These guidelines are a great way to start the learning process.
Interact with the locals - A guided safari often has the effect of insulating you in a self-contained cocoon of luxury that separates you from the local populace but on a self guide you can choose to interact more with the locals if you want.
On a guided Kruger tour you really get spoiled and your every whim is catered to. You get waited on hand and foot and all you have to do is turn up, eat, sleep and enjoy the wildlife.
Also, because the safari guide knows the area intimately he will know which areas will provide the best likelihood of spotting the animals you want to see. But in this guide I show you how to find wildlife in the Kruger Park as effectively as a safari guide so you are likely to see just as much on a self guided tour if you follow the guidelines.
So the question you need to ask yourself is whether you want to pay hundreds of dollars more every day for the luxuries of having everything served to you on a silver platter.
If the answer is yes, contact me here and I will let you know who the top safari operators are for a Kruger tour. I live in the area so I have access to most of the safari companies and the trip reports that I receive at the African Safari Journals website gives me inside and unbiased information into what their service is really like.
If you want to save money and still enjoy an incredible wildlife experience with some more work on your part and less luxuries here's exactly what it will cost you...
The costs are based on a Kruger tour six night self guided camping safari for two people sharing (you drive yourself, do the cooking, washing etc) but exclude the cost of flights to get to the Kruger National Park.
Most guided safari packages exclude flights and will still cost you from $185 to over $1000 per day. I cover how to get the cheapest flights to Africa in the next installment of this series.
I've listed all the costs here in the local South African currency (Rand) to enable you to calculate the cost with the current exchange rate. In this example I used an exchange rate of 0.137941 (2011 average).
Please note that these are the prices for a six day, five night, self drive Kruger National Park safari for the period November 2011 - October 2012 but that they can change at any time so this cost estimation might not be exactly accurate when you read this but it will be in the ballpark (I make every effort to keep them up to date).
Permanent safari tent or hut accommodation for 2 people = R1950
Food and drink for two people = R1920
Car rental = R1750
Fuel and toll gates = R1847 (R10.50 per litre for 250km per day/ 10km to a litre)
Conservation fee = R1920 for two adults. (Get the Wild Card if you are visiting for more than six nights and save)
Total in US$ for two people sharing (for 6 days) = $1294
Total in US$ per person (for 6 days) = $647
Daily Total in US$ per person= $108
Just use the information above to do the math and work out how much different lengths of stay will cost you. Or
contact me here
and I will help you with your Kruger tour calculations.
The Daily Conservation Fee - The Longer You Stay the Less You Pay
The daily conservation fee is a standard tariff that all visitors must pay on admittance to the Kruger National Park. This is standard practice in most of the national parks in Africa including the Masai Mara and Serengeti and the management use the money to protect the natural heritage.
But this tariff really does increase the overall cost of your safari and currently (valid until October 2012) the daily rate for foreign nationals is R192 (approximately US$25) per adult and R96 (approximately $13) per child under 12 per day.
Fortunately, I know a way to minimise this cost if you are going to be on a Kruger tour for more than six nights. It's called the Wild Card and it works like this...
Instead of paying the daily conservation fee for every day you spend in the park you can purchase what's called an "all clusters" Wild Card which effectively means you are free from paying the fee after the six nights that you need to spend in the park to qualify for this card. If you want to go for less than six nights then you simply pay the normal R192 daily fee (which is calculated per night if you stay over inside the park, or per calendar day if you're a day visitor).
But it really starts to save you money if you stay longer than six nights because if you have the card the fee drops away completely. That's why the longer you stay the less you pay per day. The Wild Card costs (November 2011) R1310 for an individual, R2195 for a couple (any two persons) and R2620 for a family of up to six. Divide those Rand amounts by the current exchange rate to get the US Dollar or Pound rate.
The card also gives you free entrance to over 80 other parks in South Africa and Swaziland, including the Addo Elephant and the Kgalagadi National Parks.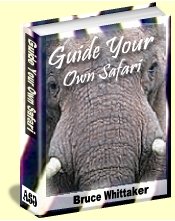 Just remember that it is only valid for a year.
You can order a Wild Card online too.
NEXT: How to spot the most wildlife on your Kruger tour...
Get the 248 page Guide Your Own Safari e-book which contains much of my 25 plus years of local safari knowledge and leads you successfully through every step of the process of planning and carrying out your own affordable African safari.