Kruger Park Accommodation On Your Self Drive Safari
For purposes of spending less than $100 per day on your safari you will have to stay in the permanent tents or huts with communal ablutions and kitchens as this is the cheapest Kruger park accommodation available (unless you have camping gear in which case you'll pay even less) but there are also en-suite bungalows, cottages and bush lodges to choose from.
Guidelines for Kruger tour at under $110 a day
I prefer camping not just because it is more affordable but because it brings you a lot closer to the wildlife. Literally.
I was camping next to the fence in the Satara Kruger park accommodation camp on a warm summer evening and decided not to zip up the front of the tent because of the heat when I went to sleep.
I later woke up because of some heavy breathing and intermittent growling close by and it wasn't the people in the next tent making all the noise. It was a lion and although I couldn't see it I could definitely hear it right next to the fence. I carefully closed the tent and tried to go back to sleep with little success.
Have you ever heard a lion growling just a few metres away from you? It's hair raising and not conducive to easy slumber at all let me tell you. But there is a huge electrified fence surrounding each Kruger park accommodation camp ground so there is little chance of animals getting in so you can enjoy all the sounds of the wild. I always try and camp as close to the fence as possible.
Here are all the Kruger park accommodation options available. You can make a booking here too as this is the official Kruger National Park website or contact me and I can make the booking for you.
If you are indeed planning to camp, I have compiled a camping checklist to help you take all the necessary gear.
Transportation - Planes and Cars
How you get to Africa of course depends a lot on where you are in the world. I have set up some Africa flight guidelines that will help you find the best possible flights to Africa for your particular situation.
To get to the park once you touch down in South Africa you can take a domestic flight as there are daily flights from Johannesburg International (new name "OR Tambo International Airport" and global airport code JNB) to Phalaborwa Airport (PHW), Hoedspruit Airport (HDS) and the Kruger/Mpumalanga International Airport (locally known as KMIA but global airport code MQP) located between Nelspruit and White River.
KMIA also receives daily flights from Cape Town (CPT), while there is also a flight from Cape Town to Hoedspruit.
And once you are there you are going to need a rental car to drive to your Kruger Park accommodation. It doesn't need to be a 4x4 as the roads in the park are in very good condition for the most part and you can even drive the dirt tracks with a normal sedan vehicle.
I know a great car rental company here. Contact me and I will let you know who they are and I can book them for your trip if you want. Or you can shop around on the net and find one that suits you.
What I would suggest, to save a lot of time and hassle for you, is to fly to the KMIA airport near Nelspruit from Johannesburg, pick up the rental car there and then stay in the historical and beautifully set town of Barberton (close to the park gates) for one night before you book into your Kruger Park accommodation the next day.
I live in Barberton so I can help you with the best accommodation there.
Food and Drink - Eat and Drink Cheaply But Well
All the main rest camps in the Kruger Park each have a shop where you can buy your food and drink. It's very convenient, but it's also expensive because they can charge virtually what they like as there is no competition in the park.
But I know a way around this where you will be able to get your food and drink for reasonable prices and it's simply this...
Do all your grocery shopping outside the park where it is a lot cheaper.
Before entering visit a grocery store like Pick 'n Pay, Spar, Checkers or Shoprite in one of the towns you pass through and buy the non-perishables in bulk. Not all the campsites have fridges so unfortunately you will have to buy perishables at the camp grocery stores in the park, but the extra cost of that should be minimal.
So what happens when you start running low on provisions if you are staying for longer than a week? No problem.
Using the Wild Card that I told you about previously you can leave and enter the park as often as you want. Just flash it and your Kruger Park accommodation documents at the gate when you leave and come back in.
It will mean driving to the town nearest the gate you have just left (here is a map of the area) so it will take some time but if you are going to be spending more than a week in the park you will be able to save a pretty penny on food and drink this way.
Right, you now know the basics to be able to guide yourself very efficiently on your own safari in Africa.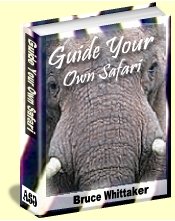 But what about before you leave home? What do you need to pack to make sure you have everything you need on your trip? Here is a comprehensive self guided tour safari packing list so that you don't need to run the risk of leaving anything important behind.
Get the 248 page Guide Your Own Safari e-book which contains much of my 25 plus years of local safari knowledge and leads you successfully through every step of the process of planning and carrying out your own affordable African safari.