Wilderness Trail - Hooked For Life
On this wilderness trail, We followed the lions calls by vehicle, then got out and eventually found them on foot. That was thrilling! On a separate hike, more signs of these cats: flattened grass and blood on the ground where they had feasted the previous night, and a few splinters of bone nearby where Ozzy told us the hyenas ate.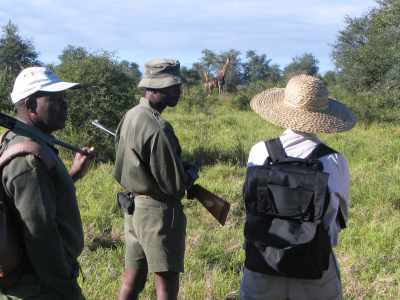 Which safari company did you travel with?
Kruger National Park arranges the wilderness trails directly and also staff them.
Was it a pre-designed itinerary or tailor-made for you?
The wilderness trail is pre-designed; the safari afterwards was self-drive with family.
And how did you get to hear about them? Did you book over the internet or once you got there?
Bruce and I've been planning to go on a wilderness trail for a while. You can book directly with the Kruger Park. However in the end a friend of my sister's booked it as 2 people who were booked with her group of 8, cancelled and we ended up joining their group for the trip.
Although there are 8 wilderness trail routes to choose from, they are very popular and can't be booked on arrival. You have to book in advance, sometimes as much as a year before you go.
How did they perform? Was there anything special you liked about the service they provided?
Even though I didn't personally handle the booking this time, the Park has always been efficient in my dealings with them. They usually confirm your telephone booking with a fax and reference number. The fax states all the details and next steps. Upon arrival at the Kruger Park you simply hand that fax and pay any balances when checking in, if you haven't already paid everything in advance.
The Park has been hosting the wilderness trail for years and everything went smoothly. They host each wilderness trail twice a week, every week!
Was there anything you didn't you like about them?
No.
How was the guide(s)?
We had Kally as a guide and Ozzy as tracker. They were both great.
Ozzy has been working as a wilderness trail tracker for something like 20 or 30 years but he was still extremely dedicated and enthusiastic. He has such a friendly face and you can see he has a genuine love for nature and the wild animals.
He is also extremely knowledgeable and Kally said that a lot of the younger guys have learnt a lot from Ozzy.Sadly Ozzy was to retire at the end of April 06. Kally wasn't too happy about it as he said they (the younger wilderness trail guides and trackers) still needed Ozzy around to learn from. They obviously had a great working relationship.
Kally was also extremely knowledgeable. On our first night he gave a talk about the Park's geology and how it affects the vegetation and in turn the type of wildlife you can find in various parts of the Park.
During the walks of the wilderness trail, he departed information about insects, plants, trees, bigger game, birds… you just couldn't stump him. He showed us small detail like where a wildebeest had scratched itself against a tree - then would explain about the wildebeest's behaviour as well as more about the specific tree in question.
He knew the names of the birds and animals in 3 languages (English, Afrikaans and his own, I think he is a Sotho?), and could imitate their calls. He also knew the scientific names of the trees.
Kally always joined us for meals where he further entertained us with stories of the wild, his experiences, culture and his lifestyle. He was professional at all times and one could see that he deeply cares for the conservation of nature and its inhabitants.
Would you recommend somebody else use them for their wilderness trail holiday?
To everyone! For sure.
Even if people don't land the same guide/tracker, I am convinced all wilderness trail guides and trackers have similar passion and knowledge. I took a look at the visitor's book and other Sweni visitors had as much praise for their guides.
How big was the group you travelled with and what vehicle(s) did you use for wildlife viewing?
Group of 8 plus Kally, Ozzy, a cook and a camp assistant. We didn't come across any other people while on the wilderness trail. It was heaven!
After the wilderness trail, the two of us joined my family for a self-drive Kruger safari, including ourselves a total of 7 adults and 7 kids.
| | |
| --- | --- |
| Where did you stay and what was it like? | |
During the wilderness trail, we stayed at the Sweni Trails Base Camp (3 nights). Then Bruce and I camped at Balule (2 nights) after which we joined up with our family at Satara (3 nights), Skukuza (2 nights) and Pretoriuskop (2 nights).
Sweni Wilderness Trail Base Camp - The camp can only be reached by private roads. It's fenced but we were warned to keep a look out for animals, anyway an elephant is not going to stop just because of a little fence if it really wants to come in!
We stayed in small A-frame huts with two single beds and limited space for your luggage. Linen and mosquito nets were supplied, although the latter had a few holes in it. The huts had wooden floors and a veranda with two comfortable chairs overlooking the Sweni river. The mornings on that veranda were just beautiful, the mist still lying over the water and dew on the cobwebs catching the soft light. There were communal flush toilets, basins and hot showers in a reed building.
Each hut and the ablutions had paraffin lanterns which the staff lit at night and in the early mornings. We didn't need to access the kitchen as all meals are supplied on a wilderness trail, but there was a large gas-powered fridge if you had drinks to store in there.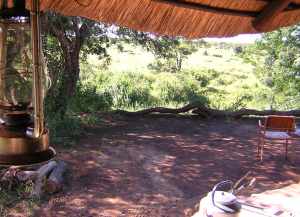 At the far side of the camp was the "dining room" where we had our early morning coffee and rusks, brunches and dinners as well as a place where you can go to sit and relax or watch the warthogs and wildebeest grazing in the veld on the far side of the Sweni river.
It was all very tranquil and wonderful not to hear any car engines or other people.
Balule - a small camp, mainly for caravans and tents, situated near a river. There is no electricity which adds to its charm. Paraffin lamps are lit at night.
We camped and although it was school holiday (a busy period in the Kruger), we were able to pitch right next to the fence. At night we were spoilt with a spotted hyena walking the parameter, and a lone hippo grazing.
Satara - Bruce's favourite camp in the whole park (due to the great game viewing, particularly of cats, in the area). The camp offers a wide variety of accommodation.
It has a large camping area (which was being upgraded. I have visited since, and the new facilities including laundry room are now finished). We found a nice shady spot for our tent, close enough to the rondawel huts where our family was staying.
Those huts had 3 single beds each, air-conditioning, a fridge, cutlery and crockery (although no kitchen, the communal kitchen with boiling water always on tap was just a few metres away), en-suite shower, toilet and basin.
The rondawels are set in a large circle. During the lazy afternoons those who felt like reading did so under the trees casting shade in the centre.
They show wildlife films each night at the amphitheatre. It kept the kids busy while we sat around chatting and preparing the braai (BBQ) and dinner. The camp has a well stocked shop, good restaurant (they were busy adding a café to include internet facilities), and wonderful birds and trees around camp.
Skukuza - As the headquarters of the Kruger, it has the largest shop and you will find most things you need there, as well as clothing, curios, a photo development service. The camp is beautifully set overlooking the Sabie river. There is also a post office, bank, internet café, car rental point, museum and library, a special restaurant in a train truck (the train used to run through the park in the "old days"). It is also one of the busiest camps.
We didn't want to pitch our tent next to the people who brought their TV along in their caravan (trying to get away from TV!) so ended up at the far side of the large camping area. There is plenty of shade for campers and the facilities have also recently been upgraded and are of high standard, in my opinion.
Our family stayed in 2 of the larger self-catering "guest houses", complete with own kitchen, living room and 2 bathrooms. These are serviced daily by cleaning staff. These houses are nice because they're away from the hustle and bustle of the central- and shop area.
Pretoriuskop - the oldest camps in the Park, boasting a resident herd of impala. The baboons and vervet monkeys that visit aren't quite as welcome as the docile antelope as they overturn dustbins and just being cheeky… erm… monkeys.
The campsite here is spread over different levels and nice enough. However we joined our family in the 2 guest houses this time. Again it was equipped with own kitchen, bathroom, living/dining room, stoep and braai facilities.
The guest houses overlook the camp fence so you get the feeling of being in the bush a bit (well just ignore the fence itself). Especially when those impala come grazing by.
The swimming pool at Pretoriuskop is one of the nicest in the park, the setting and large shade trees around it.
| | |
| --- | --- |
| How about food, what did a typical breakfast, lunch and dinner consist of? | |
During the wilderness trail, all meals and drinks (except alcoholic) were provided. Typically we had tea or coffee with rusks in the early morning. Mid-way through the morning walk we had snacks in the bush: biscuits, cheese, salami, dried fruit, nuts, fresh fruit, fruit juice, biltong.
We returned to camp around 11am, where we were treated to a full hot brunch: eggs, bacon, freshly baked bread, cheese, tomato and so on. We were also given crisps with our sunset drinks at the end of each afternoon walk.
Our wilderness trail dinners were a variety of stews including the very popular (in South Africa) ox-tail pot, mouth watering! These stews had veggies in and we usually had rice and at least two salads served with it. One night we had braai meat in stead of stew. Dessert was canned mixed fruit and custard.
During our extension self-drive and -catering safari, we were spoilt by having my organised sister take care of the meal plans. We just had to pay our share over to her. She did a great job and we typically had tea/coffee and rusks in the early morning before we left on the first game drive.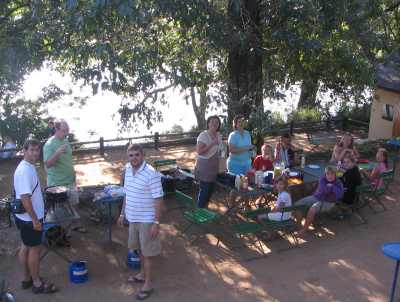 Around 9am (depending on the route we drove and the hunger levels in the vehicles!) we stopped at one or other picnic spot where we rented gas braais and cooked up a storm: bacon, eggs, sausages, mushrooms, onions, eaten with bread and cheese. Oh that's after the muesli, yoghurt and fresh fruit.
After such a meal it was sometimes hard to keep up the concentration in trying to spot animals as one felt rather like taking a nice little nap. Maybe the wilderness trail is healthier (more active!)
Which we usually did on return to whichever camp we were staying in.
Dinners were usually a braai, with different kinds of meat each day, served with salads and breads.
We all provided our own snacks (you spend a lot of time in the car) and drinks (if you're self-driving, remember to bring a cool box!). Biltong is a must of course, a bit of a tradition, and didn't last very long.
Oh, the one morning we had buffet breakfast at Satara's restaurant (R70 per adult). The food is typical of a hotel breakfast: cereals, yogurts, juice, coffee, tea, croissants and the hot food - eggs made to order, normal or "French" toast, bacon, sausages, mushrooms, chicken livers, onion, thinly sliced potatoes, I think that was more or less it. More than enough!
Another morning we had a la carte breakfast, at Skukuza's Nature's Cafe. It's a deli with croissants and muffins where you can also order cooked breakfast or donuts.
Great. It was warm (high 20s °C) but not crazy hot. It didn't rain at all during our total safari (only on the day that we drove to the Kruger National Park for the start of the wilderness trail but it stopped before we even entered the gates).
| | |
| --- | --- |
| What wildlife did you see? | |
It's hard to remember everything. There is so much variety and of course the birds are too many unless you make a list of what you see.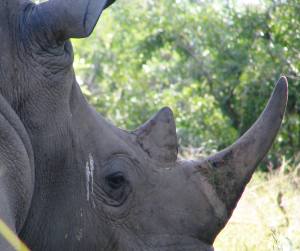 During the drives in the
open safari vehicle
with the wilderness trail we saw zebra, elephant (it came quite close but didn't seem too bothered by us), ostrich, waterbuck, giraffe, warthog, spotted hyenas and the usual impala.
We came across 3 white rhinos putting up a bit of a display: there were 2 males and one female and it seemed the younger bull was trying to make a move on the cow but the older bull would have nothing of the kind! I was glad we were in the safari vehicle and not on foot, I must admit...
After sundowners the one evening we returned to camp in the dark and as we crossed a stream saw hundreds of fireflies above the water. It looked like some kind of light festival or Christmas display... and yet it was raw nature. God surely made a beautiful world.
During that same drive back to the wilderness trail base camp we saw fish, a bit unusual for a game drive I know! Kally shone the vehicle's lights into the stream before we crossed it and we saw them swimming around in the shallow water. At the side of the stream lay a tiny baby croc.
A few kilo's down the road the spotlight caught a pair of yellow eyes and we discovered they belonged to a lone lioness, seemingly not sure what to do with herself. Shortly afterwards we spotted a white tailed mongoose - a first for us!
During the walks of the wilderness trail we spotted:
kudus (very briefly... they are shy), large numbers of zebra, impala and wildebeest (gnu or "Harley Davidsons")(Kally taught us this name as the alarm sound they make sounds like the motorbike!), a family of giraffe...
a stick insect which looked just like part of the plant it was sitting on. In fact, I almost plucked it from the plant to have a smell and feel the texture - it looked like a wild green bean - when it moved!
the golden orb spider ... we saw many of them and they're not all ugly but their webs are so beautiful! Especially in the early morning light - it literally has a golden shine and can be several metres wide. We learnt that the silk of this spider is the strongest fabric in the world;
Kally identified many different trees for us during the wilderness trail, including a knob thorn with its distinctive knobs on the bark, against which a wildebeest had come to scratch itself (it left a long black tail hair behind);
aardvark tracks. This might not sound as exciting as lion tracks but the aardvark is an animal I am very eager to see but know is virtually impossible. First, it is nocturnal. Second, it has excellent hearing and can feel the vibrations of anything approaching long before you reach it. I will have to camp out next to an aardvark hole one day. To see its tracks and know it was there just a few hours before, and being able to imagine what it was doing was enough for now!
a lilac-breasted roller rolling in the air (a mating dance);
spotted hyenas, on 2 seperate hikes;
fresh lion tracks, and lots of it.
two barn owls surprised us by flying out of an old, dried up tree when we walked past and surprised them;
a pod of about 17 hippos - they were quite inquisitive! I was wondering who was looking at who. They were also very vocal and it was a great pleasure standing at the side of the pool on safe dry ground, just enjoying their pool with them;
2x white rhino. We tried to follow them at a good distance (we didn't want to end up in the nearby trees... you hear some strange wilderness trail stories) but the wind turned and as they smelt us, they ran off. Kally and Ozzy were so disappointed that they couldn't get us closer but most of us were quite happy to have seen them from a distance;
2x woolly neck cranes and a black stork sitting atop a dead hardwood tree and then flying off as we got closer;
Just sitting around at the wilderness trail base camp, we watched a warthog family and some gnu all afternoon long. The "warties" mud-bathed, ate, the piglets were being playful... very entertaining. I also spotted a baby croc and some terrapins in the stream below our campfire area.
During our self-drive family safari we saw so much... some of the less common birds and animals were
secretary bird
, marabou storks, lions hiding in the long grass, a
black backed jackal
curled up in early morning sun, a lone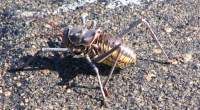 elephant with a lone (single) tusk walking all along the road and forcing us to reverse many metres, bushbuck in Letaba camp where we had breakfast (not so uncommon these days), a small (unidentified)
snake
crossing the road, three
cheetahs
, two white
rhino
right
next to the road, sleeping in the midday sun and a family of elephants playing in the water.
There were also masses of what is a direct translation from Afrikaans, a "long-horned cricket". Apparently marabou storks like to eat them. It's quite difficult to keep avoiding them while driving on the roads... I hope we didn't kill any.
We were blessed to find a tiny baby spotted hyena with its siblings/parents at their den near Balule camp.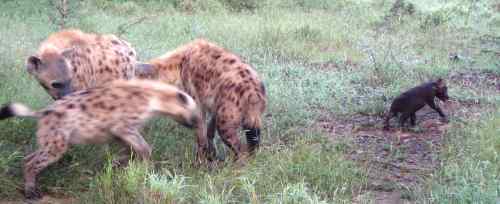 During our safari extension we went for two sunset drives - one at Satara and one at Pretoriuskop. The latter wasn't as good (less game spotted and the guide wasn't very talkative) as the former. We saw lots of nightjars, plovers and owls plus hyena and two very weary-looking old male lions. Also some "daytime" characters like giraffe, elephant and rhino.
What would you say was your wildlife spotting highlight?
It was by no means a lion safari but I must admit - seeing the lions on foot. Before the trip, Bruce told me about his lion sightings on his two previous wilderness trail trips and I thought I'd prefer not to come across grown lions, having seen from the car how huge their paws are. I also once looked a large male in the eyes as he walked past our Tazz and was very happy for the window and steel between us.
But wow... when I saw their tawny bodies moving through the grass and feeling the earth under my walking boots... it's hard to describe... I felt at home.
Other highlights were the aardvark tracks, the roller rolling and watching the eles play in the water.
It's about the way it makes me feel when I get so close to these wonderful creatures doing what they were made to do and enjoying it.
Were you satisfied with the amount of wildlife you saw?
Yes!
| | |
| --- | --- |
| Describe a typical day of your wilderness trail safari from the moment you woke up until you went to bed. | |
During the wilderness trail we were woken up at about 5am, had our coffee and rusks and then went on the morning walk of about 7km. Once we finished with the big brunch back at camp, some took a nap, others a shower or just enjoyed the sights and sounds of the bush from camp (personally I was too excited in a calm sort of way, to get any sleep during the day).
Late afternoon we'd go for another, shorter walk after which we would have sundowner drinks and return to the camp in the dark, by vehicle. A dinner gong announced our last meal of the day. After that, we sat around chatting some more and finally went to bed around 10pm.
During our self-guided safari extension, we also rose early so we could start our game drives at the break of dawn when the gates opened. Some days we'd return to camp after brunch, other days we'd move on to the next camp or just drive around most of the day.
Usually we'd go for a short late afternoon drive but sometimes people were feeling too lazy and relaxed, or we'd go a bit later on an organised open-vehicle sunset drive.
| | |
| --- | --- |
| What was the highlight of your trip (other than wildlife)? | |
The whole wilderness trail and also seeing my family - especially the ones from Canada as we don't get to see each other too often.
| | |
| --- | --- |
| Was there anything that didn't meet your expectations on the trip; any disappointments or regrets? | |
Not really. Like I said, the guide who took our sunset drive at Pretoriuskop was a bit quiet and one expects them to share interesting facts as the game drive proceeds. You pay extra money for it... maybe he was tired or something.
Maybe not so much a disappointment about the trip itself, but a small let-down nonetheless, only because we knew how close we got. On one occasion there was a long queue of cars and we had to wait our turn to see what the people were looking at. When we got to the "front" we were told that there had been a leopard in a tree but it had just left. You just have to be in the right place at the right time!
Can you offer any tips and advice to others planning a wilderness trail or self-guided safari?
Certain things must be in your packing list - binoculars, camera, sunscreen and anti-malarials. If you're flying in, keep your camera and memory sticks/film in your hand luggage.
To anyone who is considering a wilderness trail anywhere or a self-drive trip to the Kruger, go for it.
I would also say, just really enjoy the entire bush, not just focus on the big and "famous" animals. The insects, trees, scenery, silence and stars are amazing too.
People are most welcome to contact me with any questions about this trip.
| | |
| --- | --- |
| How would you rate your safari, on a scale of 1 to 10? | |
I think an 9. Although the Sweni wilderness hiking part of the trip is closer to a 10! I would love to go on a wilderness hike each month. Being so close to nature seriously left me at want for words, and very content.
We saw a wide variety of wildlife, totally unwound and of course to see my family was wonderful.
| | |
| --- | --- |
| Safari Location: | South Africa: Kruger National Park: Wilderness Trail - Sweni Route |
| Safari Company Used: | Kruger National Park, and independent add-on |
| Duration: | 29 Mar-1 Apr walking safari, and 1-10 Apr self-drive extension |
| Traveller Details: | Wilma & Bruce Whittaker, South Africa |
| Rates & Availability: | Plan your own safari. Make a wilderness trail enquiry |
More Kruger Park Safari Reviews