Wild Dogs on Kruger Safari
by Steve and Pauline Bisel
(USA)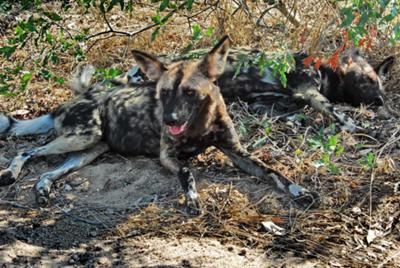 The endangered African wild dog
It was our first visit to South Africa. It was a joy meeting new people and experiencing a slice of your culture. Neil and Tina went far beyond the call of duty to make our experience enjoyable. The wildlife and attention to every detail!! EVERYTHING far exceeded our expectation.
Safari Operator Performance
We used Bearded Heron Safaris, learned of them through the African Safari Journals web site. They were listed as one of the top 3 providers.
From the time we started to search for a good provider, we found your web site
(ASJ)
. We followed your hints and tips and they were perfect. We followed your recommendations in selecting Bearded Heron as our safari provider and your review and recommendation were spot on the mark. Trying to set up a safari using Internet search can be risky, but the experience we had with you and Bearded Heron were among the best travel experiences we have ever had.
We received outstanding service from Bearded Heron - from the moment we cleared customs at Johannesburg airport to the being dropped off for return trip home we were provided with every care and attention required.
Tina and Neil were wonderful hosts and the reservation process was painless.
Neil has incredible knowledge and love of the wildlife and was able to provide information about South Africa, the park, and the wildlife.
It was not only a fun vacation … but it was an educational experience as well.
Accommodation
While in Kruger, they arranged for accommodation in the park. We were wonderfully surprised how nice everything was.
We expected a much more basic accommodation and we were given en suite 2 bedroom cottages. Very nice.
Food
Wow … the food.
We were a small group and Gordon, our chef had coffee, tea and rusks available for us every morning when we rose for the day.
After a game drive, we came back to camp where Gordon had prepared a lovely home-style breakfast.
Lunch was either provided by Gordon if we staying in the camp or Neil purchased provided lunch if we were in transit.
Dinner was fabulous - home cooked meals with South African local recipes by Gordon with South African wines and other beverages.
Wildlife
From the first day to the last … wildlife of every imaginable species. We observed them all from elephants and rhinos to lions and giraffes.
I loved the leopards … they are the most beautiful of the big cats.
The highlight was to come across the wild dogs. Not the animals one thinks of when planning a safari … but to see these rare and beautiful creatures was such a privilege. And we were able to get within 2 meters of them.
Typical Day
After rising before dawn, we meet for coffee, tea and rusks (love those rusks). Once refreshed, we got into the safari vehicle and went out to observe the wildlife early in the morning. Every day we saw something new and different.
We observed the animals rising from their evening slumber. On some days we saw some of the nocturnal animals ending their day. We would spend a couple of hours in our morning game drive.
Neil was excellent in sharing his knowledge with us. We got some great photographs and memories.
After the game drive, we return to camp to feast on a breakfast that Gordon would have prepared.
Following breakfast, if it was a not transit day, we would either be free to roam the camp till lunch, visit the museums that Kruger has or maybe sit in a hide to view the game at a watering hole.
Although this may not sound exciting, it was a great experience. We had 3 such days. Gordon would prepare lunch and after lunch we would have a second game drive.
The afternoon drives were great as the animals frequently behave differently in the afternoon. We saw some hunting … some were enjoying the spoils of the hunt. Others may be just grazing.
The evening meals were always varied. Gordon prepared fresh foods from South Africa. Wonderful dishes. We always ate family style and had great conversation with our new friends.
On transit days, we would be in the safari vehicle to move to a different camp.
On these days we would explore the vast area of Kruger. Our lunches would be provided on the road and we would use these days as opportunities to see different areas of Kruger... the varied geology, flora and fauna.
When we would arrive at our new destination in the afternoon (another camp in Kruger), Gordon would already be there, he set up our accommodation for us and had coffee and tea ready. A great way to unwind after our move from our previous location.
Following evening dinner, we enjoyed the night air in Kruger. The sounds of the animals at night were wonderful. And with our new friends, we became acquainted.
Generally, we went to bed around 9 or 10pm because we had to get up before dawn the next morning.
Tips and Advice
Get a good camera. If there are two traveling in the party (like my wife and I), make sure you both have a good camera.
Bring a good pair of
binoculars
.
Pack lightly; on safari you will not need the fine shirt and trousers. Everyone was quite comfortable in casual hiking attire.
Take along a windbreaker. A nice light jacket for those cool mornings that you can easily pack and wear when you need to.
Safari clothing tips...
More Kruger Park Safari Reviews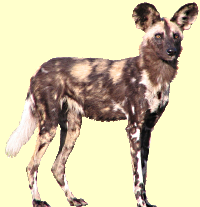 Join in and write your own page! It's easy to do. How? Simply click here to return to South Africa Safari.