Independent Pilanesberg Safari
by Wilma Whittaker
(South Africa)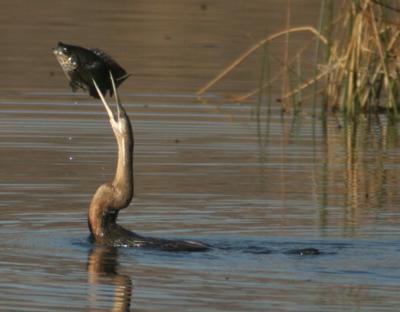 African darter fishing for breakfast
We spent one early morning at Mankwe Hide and were rewarded with a fishing frenzy by the local population of African darters. This behaviour, coupled with the tranquillity and beauty of the early morning, and freedom from our vehicle made it memorable.
Logistics
We have been to Pilanesberg many times before and again decided on a self-drive safari. This time we were joined by Bruce's parents for some quality family time together.
With me being 7 months pregnant and our 2-year old son, we prefer visiting malaria-free parks such as Pilanesberg at the moment even though it's the dry season and the risk in malaria areas are lower... rather safe than sorry!
We used our Toyota Verso, which is nice and spacious inside but has normal ground clearance which we didn't find a problem at all on any of the gravel roads. Of course the tarred roads are great even though they're a bit narrow in places with a few potholes here and there.
Accommodation
We stayed 3 nights at Manyane resort in their permanent safari tents. These are basic but were sufficient for our needs - spacious and equipped with a fridge, fan and heater (the latter came in handy since the nights were cold), tea/coffee facility and a small verandah. There are electric plugs and the tents had lockable wooden doors.
Children under 4 stay free, and we brought along a camping cot for this purpose.
The tents are not en-suite and it was a short walk from our no. 9 & 10 to the nearest communal bathrooms which were kept spotless and always had hot water. (It helped that we were there at a quiet time... long weekends, in fact any weekend, are very busy since it's so close to Gauteng.)
Impala constantly graced the camp with their presence along with visits by warthog and various birds most notably guinaefowl which roosted in a nearby tree.
Food & Typical Day
We self-catered. For this purpose we did our shopping at the nearby Sun City SPAR - a nice supermarket with lovely fresh breads and good quality boerewors.
We braved the early morning cold to enter the game area around 06:30 when the gate opened; had early morning coffee and rusks at a hide, then stop at a picnic spot a bit later for cereal breakfast. Continue on our game drive with lunch back at Manyane (rolls, cheese, fruit...). Time for a shower or nap.
Supper were braais with salads and/or veggies. We did eat at the Manyane restaurant one night and although a little pricey and a slightly over-attentive waiter, the quality of the food was great.
After supper it was generally off to bed or those who needed to catch up on e-mails could do so via the cell phone network (good reception).
The picnic spots have tables and chairs as well as braais (BBQ facilities) but no washing up area, shops or gas cookers, so you have to be pretty self-sufficient and bring everything you need along. There is the Pilanesberg Centre for those who prefer to buy something to eat (shop, restaurant).
Wildlife
The most common species we saw was blue wildebeest. Also on our sightings list are giraffe, impala, springbok, ostrich, white rhino, steenbok, klipspringer, kudu, warthog, waterbuck, elephant, hippo, tsessebe, zebra, chacma baboons, squirrel, scrub hare, terrapin.
Of course the predators always deserve special mention, we encountered black-backed jackals on more than one occassion and each time they provided quite a bit of entertainment with their interaction.
A lone African wild cat climbed up a large tree in view of our camp braai spot to try and catch dinner in the form of a sleeping dove but was unsuccessful and quickly disappeared into the night.
Everyone always wants to see lion... we saw a lone female on this trip and she provided us with a fair share of entertainment! When we came upon the sighting on the Mankwe Way, she was busy stalking some wildebeest. The road was on a rise so everyone had a good view. The wildebeest were totally oblivious of her until she must have been a mere 20m away when they either sighted or caught scent of her. An alarm call was sounded and the antelope scattered. The lioness got up out of her stalking position, stood around for a minute or so probably pondering another failed hunting attempt then turned and walked off.
We followed her for a while, got a good look at her as she crossed a nearby gravel road right next to us, and then she finally settled, as lions do, for a lie down under a shady tree (the weather was nice and hot during the day).
Lions don't usually hunt alone and we kept expecting her to be joined by a family member (we heard of a sighting in the area the previous day which were 2 females) but she wasn't.
The brown hyena which I so badly wanted to see, and not so commonly seen on safari overall, eluded us on this trip.
One of the advantages of birding is that there is always something to see. Apart from the great morning with the African darters at Mankwe Dam, we saw a nice variety of birds but it is worth noting that birds of prey are very scarce at Pilanesberg.
The African wattled lapwing was beautiful in the early morning light, and the crimson-breasted shrike is really a stunning bird. I didn't keep a check list but other feathered friends we spotted were ostrich, cormorants, fish eagle (including a chick in a nest), grey herons, hamerkop, yellow-billed and other ducks, francolins, plenty of grey go-away-birds, hornbills, kingfishers, lilac-breasted rollers, thrushes, starlings, oxpeckers, egrets. Oh, and a few LBJs (Little Brown Jobs).
Tips and Advice
So many tips are contained in our e-book
Guide Your Own Safari
, but from this trip, I would say:
- Don't go with high expectations on sighting the "big 5" etc, just go with what nature provides and you will be satisfied!
- If travelling with a toddler, ensure you have a spacious vehicle for them to bounce around in, and a few simple toys to amuse them. Our son loved playing in the dirt with his little spade or simply chase guinea fowl or "help" make the fire for the braai... no need for lots of toys. There is a small playground at Manyane but we didn't even get around to playing there.
- Do early morning and late afternoon drives. Apart from good light, this is prime time for the predators and all animals are generally more active than during the heat of the day.
- Don't worry that Pilanesberg is too small a park. We were there for 3 nights and didn't even cover the western section at all. It's a gem!
More Pilanesburg Safari Reviews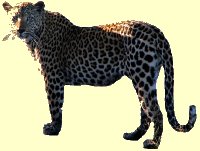 Join in and write your own page! It's easy to do. How? Simply click here to return to South Africa Safari.