Weekend Getaway Safari At Bakubung
We stayed at Bakubung Bush Lodge on time-share, I go there every year. The time-share section accommodation are separate thatched chalets, little bungalows with en-suite facilities. The lodge isn't only for time share holidays - it's also open for "normal" bookings.
Where did you stay and what was it like?
All the accommodation is arranged in a half circle and it has a hippo pond in the middle as the focus point just on the other side of the fence.
It was excellent. I recommend Bakubung Lodge to others, definitely.
| | |
| --- | --- |
| How about the food... was it good? | |
The time-share units are self catering, so we normally just have a braai [BBQ] in the evening and bring our own food with.
But there is a restaurant.
It was good, we had no rain.
| | |
| --- | --- |
| What wildlife did you see? | |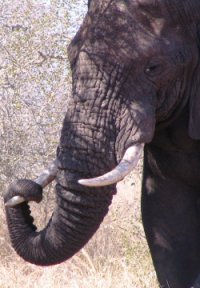 We saw warthogs and some small antelope (I think they were bush buck) from camp, at the hippo pool.
We went on some game drives organised by the lodge which were really good. We saw a lot of wildlife ... elephants and everything. They also supplied some cool drinks on the drives.
Then they have night drives ... we went on one and saw a cheetah, some lion and the usual diurnal animals like elephant and giraffe.
How was the guide?
Very good. He was quite knowledgeable.
How big were the groups on the drives and what vehicle(s) did they use?
It was a large open sides vehicle, and there were about 15 people on it.
What would you say was your wildlife safari highlight?
Probably seeing the cheetah on the night drive, you don't often see them.
| | |
| --- | --- |
| Describe a typical day of your safari from the moment you woke up until you went to bed. | |
We'd get up, have breakfast and then go to the poolside to read a book or something.
Later we'd maybe go to the restaurant or have a braai and then go on a game drive at night or in the early morning.
| | |
| --- | --- |
| Were there any disappointments at Bakubung? | |
No, none at all.
What would you say was the most useful item in your luggage?
A good pair of binoculars.
| | |
| --- | --- |
| How would you rate your Bakubung weekend, on a scale of 1 to 10? | |
I'd say about an 8.
| | |
| --- | --- |
| Safari Location: | South Africa: Pilanesberg Provincial Game Reserve |
| Safari Company Used: | Time share holiday |
| Duration: | A weekend in September |
| Traveller Details: | Jodi Kroll, South Africa |
| Rates & Availability: | Plan your own safari. Make a Bakubung enquiry |
More South Africa Safari Reviews