Biyamiti Bush Camp
by Tommy and Daphne Fox
(South Africa)
I'm a very keen amateur wildlife photographer and achieved my APSSA in 1972 "Nature Photography". Hoping that other wildlife photographers will benefit after reading our "bad luck" experience...

Safari Company Performance
We had an excellent 8 night stay at Biyamiti Bush Camp. Not only was the service good, but, we were highly impressed by how friendly and enthusiastic the staff is.
We also wish to share with you our "never-to-be-forgotten" experience (all in about 3 hours) on our trip out of the park, leaving for home via Malelane Gate on the morning of the 14 January.
At the Biyamiti Private Road S139 intersection with the S114 (south side of weir) we turned left and came across three magnificent black mane lion occupying the middle of the road. We had fun recording them in the early morning light.
Unfortunately, our second video camera battery petered-out on us (first battery failed after first two days of stay, and our SLR camera battery was faulty), so decided to leave them in peace and continue our journey (knowing no more videoing from then on).
About 2 km further on the same road, we came across a sight we have been waiting for, for over 40 years (having visited the park 57 times in said period consecutively).
A 4 to 5 metre long South Africa rock python which had just constricted an adult female duiker in the road (struggle evidence could be seen in the sand) - we could not believe our eyes.
Witnessed the scene for an hour, in which the python manoeuvred the duiker off the road by gripping it by the snout and pulled toward the grassed verge. The strength of the snake was unbelievable.
It also made an unusual sound, like heavy sighing as it exerted itself tugging the carcass. The snake's body was eventually in the grass, exposed, which gave us the opportunity to witness how its body re-adjusted itself with every move.
Just imagine how devastated we were at not being able to record this exceptional scene in perfect lighting, and, all to ourselves. A memory "never-to-be-forgotten".
Further, on the Jock of the Bushveld Road (H2-2) near the intersection of tarred road H3 (south of Afsaal Picnic area) we came across +- 15 wild dog in hot pursuit of impala next to the road. The tactics and speed of these beautiful dogs were phenomenal.
Unfortunately they ran out of view. Another incredible occurrence we witnessed in such a short time.
Again the heartache of not being able to capture this unique scene on video. BELIEVE US, WE SHALL BE BACK.
More Kruger Park Safari Reviews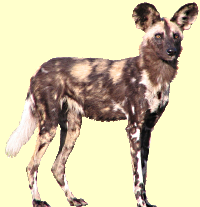 Join in and write your own page! It's easy to do. How? Simply click here to return to South Africa Safari.