Slow Paced Kruger Safari
by Sonja Petersen
(USA)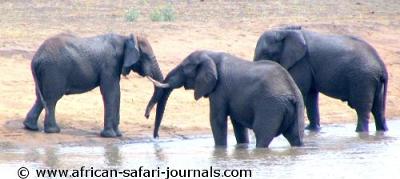 We saw leopards, elephants, giraffes, rhinos, buffalo, lions, leopards, kudu, impala, warthogs, bushbucks, monkeys, tons of birds, and hyenas. An array of wildlife that will blow your mind away.
Safari Operator Performance
We went with Bearded Heron Safaris; found them online (we were hooked when we read Neil's blog and watched his YouTube videos of his actual safaris).
Bearded Heron provided us with a fabulous experience.
They took care of all the details, allowing us to just relax and take in the entire experience.
Neil has a wealth of knowledge, not only about animals, but also about the plants, landscape, history and culture of this amazing place.
We loved staying up late chatting with him and Gordon (Bearded Heron chef) over drinks after dinner.
We really valued the opportunity to learn about the country and culture of South Africa, rather than just the animals.
Accommodation
We stayed at Berg en Dal, a camp in the Southern part of Kruger National Park.
We stayed in our own cabin that included living space, a queen size bed, kitchen, bathroom, and patio.
The amenities were more than sufficient.
Neil and Gordon stayed next door. We ate meals with them at their cabin.
Food
The food was wonderful.
Gordon is the chef for Bearded Heron and he cooked up wonderful, filling, comfort food.
We had three full meals a day, plus a coffee break in the morning, and happy hour in the afternoon in the vehicle.
We were well fed!
Wildlife
In our 6 days on safari we saw a huge variety of wildlife… elephants, giraffes, rhinos, buffalo, lions, leopards, kudu, impala, warthogs, bushbucks, monkeys, tons of birds, and hyenas.
Although fairly elusive and hard to spot, we saw leopards three times, including one that ran across the road in front of our car on our last day in the park.
It was incredible to spot a leopard lounging in a tree.
We also saw an incredible herd of over 200 buffalo that slowly crossed the road all around us. It was incredible to be surrounded by them on all sides.
Typical Day
We got up early and left camp at daybreak (6am). We stayed out for 2-3 hours, often enjoying breathtaking sunrises and what we deemed "the best coffee shop in the world."
After our morning drive we would return to camp where Gordon would have a full breakfast prepared and ready for us.
After we ate we usually retired for a nap, some quiet time, or a walk around camp.
We would meet back up for a late lunch and a second trip out into the park for the afternoon.
We would stay out in the park until it started to get dark and we were required to come back into camp.
We would have dinner with Neil and Gordon in the evening, and most nights stayed up having drinks and chatting with them for several hours.
Other Activities
My husband and I enjoyed seeing the sights of South Africa while in country.
We were there in part to go to the World Cup and enjoyed visiting many different sights and cities as we travelled around to different games.
Highlights included sightseeing in Cape Town, whale watching, bungee jumping, wine tasting, driving the Garden Route, and visiting the beach in Durban.
We loved Cape Town and enjoyed visiting Table Mountain and Robben Island. We rented a car while we were there and really enjoyed driving around the Cape and surrounding areas. We would highly recommend it.
Tips and Advice
Give yourself enough time to really experience the bush. We were so glad we had almost a full week to experience it without rushing.
With six days we had the time to slow down and spend the afternoon at a watering hole just listening to the sounds around us, or to sit in the midst of a herd of buffalo for an hour.
The slow pace really fit with our desire to really experience the Kruger.
Warm
clothes
! It was really cold in the mornings and I was really glad to have long underwear, hat, gloves, etc.
More Kruger Park Safari Reviews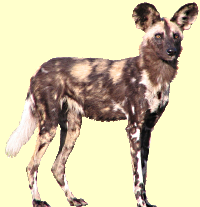 Join in and write your own page! It's easy to do. How? Simply click here to return to South Africa Safari.