Addo Self Drive
by Claire Nelson
(United Kingdom)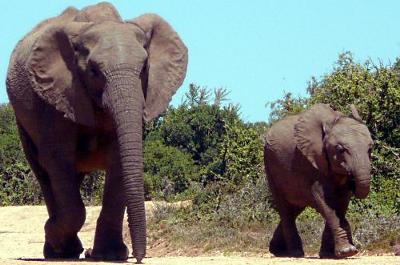 Addo Elephants
Lots of elephants seen on our Addo self drive safari, tortoises, zebras, monkeys, baboons, hartebeest, warthogs, goshawk, ostrich, kudu, lions, hippo, giraffe. The highlight was seeing a baby elephant although the lions were pretty impressive too!

The safari was a small part of a larger tour of South Africa but during these two days in Addo we also watched traditional dancing by a group of very talented teenagers from a nearby village.

The traditional dancing was definitely the highlight of the trip.
Safari Company Performance
We did a self guided trip at Addo Elephant National Park but our guide at Schotia was knowledgeable and enthusiastic and the transport was excellent.
There were several different types of vehicle so that, for example, those who didn't want to be in the sun could sit in a covered vehicle. There were about 40 people on the tour but it was split up and each vehicle went to a different area for a period of time so you didn't feel claustrophobic.
All in all it was a very well run trip and we loved it.
Accommodation
The Elephant House, Addo. It was very nice and well designed although very expensive. The rooms were a good size and there were nice extras like a complimentary back massage with a lovely local girl. The pool area was very welcoming and there were plenty of seating areas.
Food
We did the Tooth and Claw trip and had a meal at Schotia which consisted of rice, roasted squash, chicken, and beef in a sauce, peas, roasted potatoes and mushroom sauce. Dessert was traditional malva pudding. The hotel did evening meals which were traditional too – my husband ate ostrich.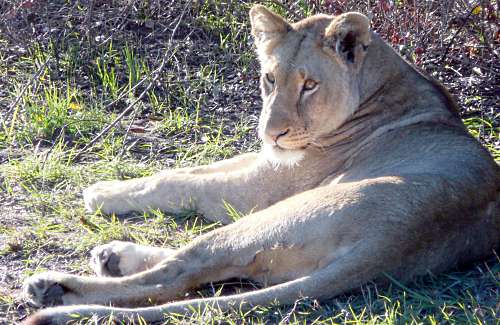 Typical Day
Up and breakfast then off on a self guided tour of Addo Elephant National Park until lunch time. There are several roads though the National Park with different degrees of road surface so we just headed off down tracks spotting wildlife.
We would head back to the hotel for lunch and then either go back to the National Park or on the second day we went off to the Private Reserve and that took all afternoon and into the evening.
On the first night we ate at the hotel but the second night food was included in the tour so when we came back to the hotel we had a couple of drinks and went to bed.
Disappointments
There were no disappointments, it was all how we had imagined it.
Tips and Advice
Do the Addo Elephant National Park under your own steam rather than paying for a tour as it is easily drivable and for the entrance fee of R200 (that's total price not per person) you get a very detailed map too.
How to guide your own safari in Addo
Useful Luggage
The one item which is a definite must is a camera.
Claire Nelson's Safari Details:

Rating: 9/10

Safari company used: Self drive booked via our hotel at Addo. (make an enquiry)

Parks visited: Addo Elephant National Park and also Schotia Private Game Reserve in South Africa.

Date of safari: 24th November for two days as part of a larger 3 week tour of South Africa.

More Addo Safari Reviews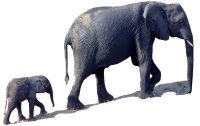 Join in and write your own page! It's easy to do. How? Simply click here to return to South Africa Safari.