Kariega Game Reserve
by Sarah O'Sullivan
(Ireland)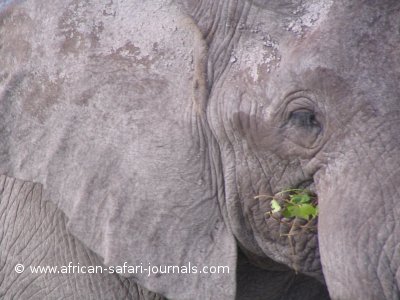 One evening we were walking back to our room just behind a giraffe – the guide walked with us. We could just see the enormous, magnificent giraffe outlined in front of us against the night sky, he had very heavy footsteps and I think he kept hoping we would go a different way because he walked most of the way back with us, checking over his shoulder for us to branch off :
Safari Lodge Performance
Our safari was at Kariega Game Reserve, a private reserve near Port Elizabeth.
We stayed in a Fish Eagle suite which was magnificent, with a private plunge pool and beautiful view over the surrounding landscape.
The lodge was great; you went out with the same people twice a day and our guide was very experienced, even getting us out of a tight spot with some wild elephants.
He tried really hard on every drive to make sure we saw lots of wildlife, they had spotters on other parts of the reserve radioing in as well.
After your drive each evening you have dinner with your fellow guests and guide, which was actually really good.
We wished we had stayed longer at Kariega, it was fantastic!
Food
I can't remember many specifics about the food, but we both remember it being really good.
We ate some local food, a lot of meat; even springbuck and things like that!
The food was actually really delicious in Kariega, mostly served in an outdoor 'Boma' which was very atmospheric.
Wildlife
We saw nearly all of the big five bar one – buffalo.
We saw giraffes, impala, rhino, lions, wildebeest etc.
We had a very close run in on the wild side of the reserve with a herd of wild elephants who really did not like the look of us, we rounded a corner too fast and came face to face with them. Safe to say it was the longest two minutes of my life.
We were facing up a hill into the herd, and after some time our guide just let the handbrake off and we slipped very quietly away down the hill. Phew!
We came across the two male lions that same night when they were getting ready to go hunting. We sat in the pitch black listening to them talking back and forth to each other.
Occasionally they switched on search lights so we could see them rolling around in the grass – a little too close for comfort in an open top jeep with no tranquiliser gun! The sound of those lions calling practically shook the ground; it was a really amazing, primal sound, and a totally unforgettable experience.
On another small game reserve we went to on a half day trip (can't remember the name but it was just off the Garden Route) we had a really inexperienced guide, open top jeep, and a two year old male lion trying to get into the jeep with us; and literally stalking the jeep like a cat would.
Now that was terrifying!
Typical Day
We woke and had breakfast in the Boma with our guide and fellow guests, and went straight out on our morning drive which lasted about 3 hours.
When we got back it was free time, lunch, a swim, lie down etc.
Then out for our evening drive, which included stopping at a scenic spot each evening for 'sundowners' from a cooler of drinks they had on board.
This was never as relaxing for us as it might be, we were a bit on edge - where the guide thought it was great to have a rhino so close by we were wondering how fast they could charge us!
Other Activities
We also went on a beautiful boat trip down their section of a lovely river at Kariega.
An amazing experience was canoeing down there; when we stopped paddling and sat in silence it was so peaceful; just the sound of fish eagles overhead.
Little waterbuck were sitting in the reeds along the side of the river, it was just beautiful.
My husband went to a village in Kwa-Zulu Natal and said it was a really great experience; they did drumming, traditional dancing, demonstrating traditional crafts etc.
Tips and Advice
Just go!
Oh, it was May and we had no waterproof jackets with us, which we had to buy. So I would say what would have been most useful is a light jacket, it got pretty cold on the night game drives.
Sarah's Safari Details:

Rating: 9/10

Safari company used: Independent travel arrangements (make an enquiry)

Parks visited: Kariega Private Game Reserve, South Africa

Date of safari: 25 May: 4 days on safari

More South Africa Safari Reviews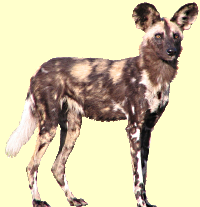 Join in and write your own page! It's easy to do. How? Simply click here to return to South Africa Safari.