Day Safari In Hluhluwe-Imfolozi
by Han Scheele
(The Netherlands)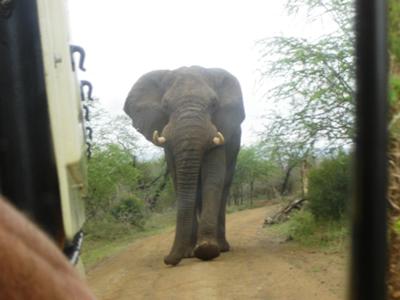 Elephant bull in musth
We saw bushbuck, waterbuck, impala, gnu, buffalo, nyala, zebra, giraffe, kudu, lion, cheetah, wild dog, white rhino and elephant. We spotted an elephant bull in musth that drove the women in the group crazy.
Safari Company Performance and Accommodation
We stayed at Maputaland Guest House, 1 Kabeljou Street, St Lucia. It was very nice.
The food was delicious; mostly continental style.
Gisela Orban of the guest house made a reservation for us for a day trip to Hluhluwe-Imfolozi with EuroZulu.
Rick Pascoe, our guide was great.
He explained a lot about the lives and behavior of the animals we saw and particularly their place and roll in the ecological system.
It was very instructive.
We were 8 people in our group, plus Rick. We drove around in a Toyota 4 wheel drive.
Other Activities
Township tour in Cape Town, Kirstenbosch Gardens (great!!!), Boschendal Wine Estate, journey from Cape Town to Jo'burg by hired car (more than 5000 km), Sani Pass Tour, St. Lucia Wetlands, Swaziland, Blyde River Canyon, Moholoholo Rehabilitation Center (Brian Jones is very instructive and great entertainer), 3 day trip in Kruger Park (Letaba, Satara, Orpen), 2 days Timbavati Nature Reserve (leopards!!!), visit to family in Jo'burg.
South Africa Observations
The kindness and friendliness of the people (black as well as white) was a highlight. The amazing immense gap between poor and rich, black and white. Two complete different cultures and worlds.
We will come back again!
Unfortunately, the threat of becoming victim of crime was permanent perceptible in the cities - more than we expected.
Tips and Advice
Just undergo the atmosphere and enjoy it.
Choose from a number of nature reserves: they all are different. It may give you a better total impression.
My wife and my little Sony 4,1 mega pixels digital camera were most useful!
Han's Safari Details:

Rating: 8/10

Safari company used: Euro Zulu (make an enquiry)

Parks visited: Hluhluwe Umfolozi Game Reserve, South Africa

Date of safari: Wednesday 12 November for 1 day

More EuroZulu reviews »

More Hluhluwe-Imfolozi Safari Reviews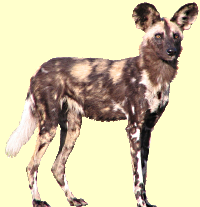 Join in and write your own page! It's easy to do. How? Simply click here to return to South Africa Safari.