Northern Kruger Safari
by Richard Merritt
(USA)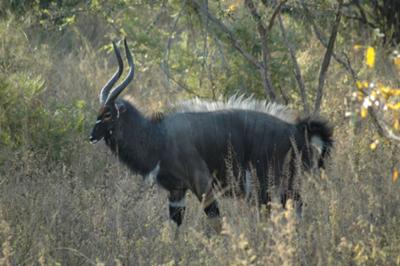 Nyala bull
The highlight of our trip was Neil and his unbelievable knowledge of animal behaviour, biology, and African history. He was an amazing guide and one of the most knowledgeable individuals I have met regarding African wildlife.
Safari Operator Performance
We used Bearded Heron Safaris, heard about it from colleague who took the same safari with Neil.
They were excellent - Tina and Neil set up the entire trip for us and responded in a timely matter when we had questions.
They also have kept in touch.
Also, the knowledge of animal behaviour and biology by Neil was amazing! He is truly a great field biologist.
Accommodation
We stayed at Punda Maria Rest Camp in the northern Kruger in bungalows.
It was very comfortable and met our standards for what we thought we were getting.
Food
Typical breakfast was continental style because we wanted to get out and see the animals.
Lunch was usually packed for us and dinner was back at the Rest Camp.
Dinner often was a barbeque or restaurant on the grounds.
Wildlife
We saw a lot of animals, especially animals that many groups don't normally see.
We saw some unusual birds, owls, snakes, and ungulates, but we did not see all of the Big Five.
One of the highlights was the mating ritual of the Nyalas that we saw and the hyena troop that we saw the last day. We were very close to them.
We saw many elephants on this trip.
Typical Day
Woke up, grabbed some coffee and a breakfast roll, and then got in the jeep and off to see the animals.
This usually lasted until noon, when we either came back for lunch or ate on the road.
Sometimes we would be back in the afternoon, but if we wanted to go out, Neil would take us out again.
He went out of the way to make sure we saw everything we could. In the late afternoon, we would go out again until dark and look for more animals.
Occasionally, there would be a night sighting trip.
When we got back to camp at night we often had a campfire or talked over the day's happenings or BS'ed about everyday life in general.
Some great stories by Neil which kept us going. Being the fact that I am an entomologist, we traded knowledge of different animals.
Neil was very engaging with a good sense of humor.
We also visited a burial site where there were some interesting relics and history was presented.
Disappointments / Regrets
We did not see lions or hippos on the trip, we just missed them by minutes.
The food at the camp was not something to write home about, because there were some initial problems with getting the food into the camp I believe, but it was not an issue.
Tips and Advice
It was a little cool when we went out for morning trips and in the evening, so bring some warm
clothes
for those times.
Remember your camera!
More Kruger Park Safari Reviews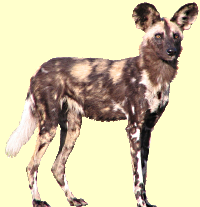 Join in and write your own page! It's easy to do. How? Simply click here to return to South Africa Safari.