South Africa Holiday Adventure
We booked the South Africa holiday through a local travel agent. We joined other people, we were about 8 in total, and followed a set itinerary. It was all very natural - our driver was a natural comedian without even trying.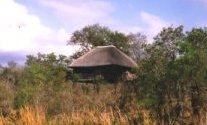 Which safari company did you use for your South Africa holiday and how did they perform?
The friendly service was what stood out most - as it was our first time in South Africa and mum and I were two girls on our own, doing our thing! So it was great to feel so welcome and at ease in a new country.
The guide was exceptional. No pretences, just a genuine man who was very knowledgeable about the environment and wildlife.
I would recommend them to anybody planning a similar safari.
Was there anything you didn't you like about them?
No, we were all treated well, loved every minute.
| | |
| --- | --- |
| Where did you stay (name all you can remember and where they are situated), and what was it like? | |
We stayed at Mohlabetsi Safari Lodge. It was just like a motel type room as far as facilities go, but more of a natural feel to it, with natural African made decor. Really lovely.
| | |
| --- | --- |
| How about food, what did a typical breakfast, lunch and dinner consist of? Did you eat any local or traditional food? | |
Dinner was traditional African meals, cooked on open fires and prepared by the locals.
Breakfast was coffee and rusks and later home style cooked eggs, bacon, veggies, toast, cereals...
Our South Africa holiday was blessed with sunny weather - it was about 25°C+
| | |
| --- | --- |
| What wildlife did you see? | |
Elephants, giraffes, lions, cheetahs, zebras, buffalo, rhinos, hippos, antelope, hyena, baboon, many colourful birds!
What would you say was your wildlife spotting highlight?
Seeing two elephants for the very first time. They were so HUGE and these two had there trunks wrapped together - like these elephants were lovers!
Were you satisfied with the amount of wildlife you saw?
Yes.
| | |
| --- | --- |
| Describe a typical day of your safari from the moment you woke up until you went to bed. | |
Get up to fresh coffee and rusks!, then early morning bush walk to see native wildlife with an experienced guide, who took a rifle with him, in case any big, hungry animals came too close!!! Listening to stories about the land and learning about different aspects of the environment.
Then we went back to have breakfast. Soon after we would go for a drive through the national parks, stopping off at various places to explore and sight see. Stop off for lunch at a new destination before driving back to where we were staying.
We would have a few hours to do as we pleased, such as go for walks, meet the locals, buy nice jewellery and hand made items.
At night we would sit around the campfire have dinner and relax. Some nights we went on night tours in search of the wildlife.
| | |
| --- | --- |
| What was the highlight of your South Africa holiday? | |
Seeing all the wildlife for the first time. Hearing the powerful roar of the lion. Definitely the lion!!! Just such a powerful creature.
Was there anything that didn't meet your expectations on your South Africa holiday?
No.
Can you offer any tips and advice to others planning a similar South Africa holiday?
Go for it! If you love adventures or looking to re-ignite your spirit, then a South African Safari is a perfect choice. The wildlife is so inspiring and to experience a safari really does put things in perspective as far as opening one's eyes to the natural world and gaining a deeper understanding about the environment and wildlife.
What was the most useful item in your luggage?
Hiking boots! I couldn't have gone far without them!!!
| | |
| --- | --- |
| How would you rate your safari, on a scale of 1 to 10? | |
9.
| | |
| --- | --- |
| Safari Location: | South Africa: Kruger National Park, private game reserve, Blyde River Canyon |
| Safari Company Used: | Connect South Africa Safari Tours, booked through a local travel agent |
| Duration: | 1 week in October |
| Rates & Availability: | Plan your own safari. Make a South Africa holiday enquiry |
More Kruger Park Safari Reviews