Kruger Park Self Drive
by Sandra Lundgren
(Sweden)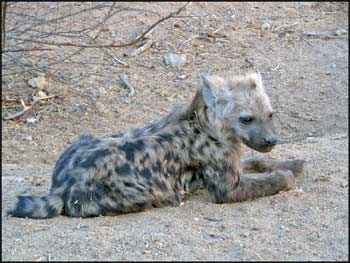 Hyena Pup
We stayed in the Kruger Park at Crocodile Bridge, Berg en Dal, Sirheni, Letaba (where thieving vervet monkeys stole apples from our fridge), Satara (very rude waiter at the camp restaurant) and Skukuza. We booked directly with Kruger, and arranged for our own transport. The accommodation was of good standard but for some reason they only have single beds.
Food
The food was not great. The food served in restaurants around the park is very mediocre, with the exception of the restaurant at Skukuza where the meals were still not excellent but much tastier.
Breakfast: egg and toast sandwich with bacon.
Lunch: usually none since we ate a big breakfast.
Dinner: braai with boerewors, whatever vegetables the shops were selling.
Wildlife
We saw quite a lot: Impalas, lions, a leopard at night, a cheetah, giraffes, lots of buffalos, wildebeest, white rhino, many elephants, zebras, vervet monkeys, baboons, wild dogs, hyenas, nyalas, crocodiles, hippos, Lilac breasted roller, hornbills, Steenbok, Waterbuck, Bushbuck, even a very rare Lichstenstein hartebeest, hyenas with a puppy, warthogs and more.
My personal highlight was the lion sightings.
Typical Day
5am: Alarm goes off. Getting ready to be the first car at the gate when it opens.
Sightseeing until a late breakfast in a picnic spot/restaurant, then more sightseeing (
with usually a snack break in the late afternoon
) until it is time to go back in the camp before the gates close for the day.
Dinner and back to bed relatively early.
Disappointments & Regrets
We did not see any lion/cheetah/leopard cubs.
Regrets: forgetting binoculars at home (
bird watching
) and not having a more powerful camera lens.
Tips & Advice
Travellers should teach themselves about photography before going if good safari pictures are important to them.
To turn off the engine while taking pictures to avoid camera shaking.
The most useful items in my luggage were sun lotion, sunglasses and camera.
More Kruger Park Safari Reviews