Gomo Gomo Lodge Review
by Anne Paterson
(UK)
We followed a leopard that was stalking an impala. We found the leopard around late afternoon one day and kept following it until darkness.
Safari Lodge
We stayed at Gomo Gomo in the Timbavati Reserve, for the whole duration of our trip.
They were wonderful and nothing was too much trouble.
The accommodation was excellent and the nice thing was that the bedroom window in the rondavel did not have any glass in it.
It only had wire netting and we could lie and feel the bush breeze wafting over us in the night whilst listening to the sounds of the bush.
There was nothing at all that we could criticise. We had such a lovely time that we are planning to return in the future and stay longer.
Our guide was very professional, knowledgeable and friendly and seemed to love his job.
Food
The food was lovely! We had scones and tea and shortbread first thing in the morning, then went out on our safari ride.
We had tea and muffins, and then breakfast which was cereal and cooked food.
Lunch was salad and chicken or meat and on the afternoon safari we had a drink of our choice, as well as muffins or biscuits.
The evening meal was at the boma and was a three course dinner consisting of local menus.
Wildlife Highlights
We saw elephant, hippo, leopard, lions, buffalo, baboons, mongooses, hyenas, snakes, owls, warthog, giraffe and lots of antelopes.
One night at when we were having our evening meal in the boma which was in a circle with a fire in the middle.
The riverbank was separated from us by a large fallen tree trunk.
Suddenly we noticed that the cook was frozen in the midst of serving the food and staring behind us at the tree (which was about 2 meters behind my back.
There was a buffalo peering over the trunk and trying to figure out what was going on.
Our guide whispered along the row that we were not to move and we all fell silent (I had my eyes shut tight).
Luckily after a while it lost interest and wandered off. Phew!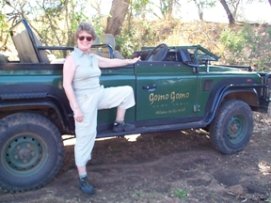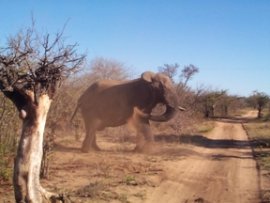 Typical Day
We woke around 05:30 and washed and dressed and waited for Morne, the ranger, to knock on our door (we were not to open the door until he knocked).
Then we went for our pre-safari snack and ate it overlooking the river. 06:00 we were off in the jeep until about 08:30 when we would stop and have out tea and muffins.
Then we carried on until about 10:30 and went back to the camp.
We then went for a wee swim in the pool to cool off and at 11:00 we went on a walking safari with Morne for an hour.
Then we could sit and watch the riverbank until lunch at 13:00.
After lunch we had some free time until 16:00 when we were off in the Jeep again until 17:30 when we stopped for a drink and a nibble.
We it got dark we used the spotlight to point out any animals. That was tricky because when you are travelling along in the dark all the flying beasties fly straight into your face so it is best to keep your mouth shut.
Then we went back to camp at around 19:00 and had our evening meal in the boma at 19:30.
We could meet together in the bar before our meal once we had been collected from our rondavel and after our evening meal it was straight to bed as we were really tired.
It was a highlight seeing the sky in the bush at night and experiencing being cut off from phones, newspapers and TV.
Other Activities
We visited Cape Town and also had 6 days at Sun City.
It was very nice but nothing compared to the Safari.
Tips and Advice
I wish we had stayed longer at Gomo Gomo.
Take advantage of everything on offer including the walking safaris and don't miss out on anything.
Even if you are a bit scared, just trust your guide.
The most useful item in my luggage was
binoculars
.
More Timbavati Safari Reviews
Join in and write your own page! It's easy to do. How? Simply click here to return to Africa Tour Operators Reviews.