Plenty of Wildlife on Self Guided Safari
by Neil and Sandy Burditt
(USA)
Giraffe close up
We were thrilled with the 44 animal species we saw. Neil is a birder, so he was thrilled with the variety of bird life. I can't imagine seeing more on a guided safari.
Logistics
We went to Kruger, Hluhluwe, Mkhuze, Imfolozi, Ukhahlamba Drakensberg parks. We went along the coast below Durban.
Most of our bookings were made as we went along.
We rented a Toyota from Hertz. It worked well.
We had good maps of the reserves. We had information on good areas for particular animals. Joburg was easy to get out of.
The staff of the parks were friendly and helpful. Places were clean.
The weather was perfect. It was in the 70's °F
(mid 20's °C)
during the day and blue sky everyday but 2 out of 28. No mosquitoes.
Accommodation
We stayed at Kruger Park Lodge one week. It was very nice.
This is the only place we used a laundry facility and it was done by a maid.
We stayed at Mopani lodge one night in a chalet which was also nice.
Make an enquiry for Kruger Park »
Food
We did self catering mostly for breakfast and lunch and ate dinners out for Kruger. The variety of meals in the parks was limited.
For the rest of the trip we used B&Bs. We bought our food out of the parks in local groceries.
Wildlife
We were in the car many hours (8-10 hours a day) and had no time restraints except to leave the parks by 5:30. We went on many side roads and drove slowly.
Neil's first thrill was a herd of elephants almost as soon as we got into Kruger. For me it was the herd of zebras. We saw so many animals up very close and could just sit and watch them as long as we liked.
We saw the big five, although the leopard was just a glance. The white rhino's size was a surprise. We loved seeing so many baby/teenager animals.
The only guided safari we went on was a night safari with a Kruger ranger. He was very good at spotting animals.
SPECIES WE SAW IN SOUTH AFRICA JULY/AUGUST 2011:
Elephant, Leopard, Kudu, Small spotted genet, Impala, Tree squirrel, Klipspringer, Giraffe, Zebra, Tsessebe, Baboon, Warthog, Nyala, Vervet Monkey, Crocodile, Hippo, Jackal, Pigmy mongoose, Turtle, Waterbuck, Ostrich, Blue Wildebeest, Bat, Cheetah, Black Rhino, Cape Grey mongoose, Swamp mongoose, Bushbuck, Steenbok, Big Rock antelope, Gray Duiker, Sable antelope, Lion, Hyena, Ghecko, Bushpig, White Rhino, Samango monkey, Eland, Cape Buffalo, Chameleon, Rabbit, Otter, many birds.
Typical Day
We got up at 5:00 for breakfast, made a lunch to take and went to the park. We spent 8-10 hours driving around the park. We left at 5:30 pm and went to dinner and to bed early.
Photography
We took about 1200 pictures between us with our little Canon cameras and we got some wonderful photos.
Safari photography tips (e-book) »
Tips and Advice
The trip more than met our expectations. In the future I would like to stay at lodges inside Kruger so there would be less driving.
Take a good guide book. Get good maps. Be prepared to spend time and drive slowly, always watching.
We found a small guide to South African mammals and for senior citizens, like us, compression socks (good for plane and long drives) very useful.
Learn how to guide your own safari (e-book) »
More Kruger Park Safari Reviews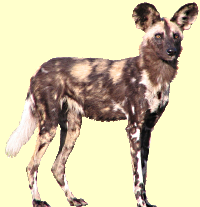 Join in and write your own page! It's easy to do. How? Simply click here to return to South Africa Safari.