Black Rhino Charge
by Ken Pearson
(England)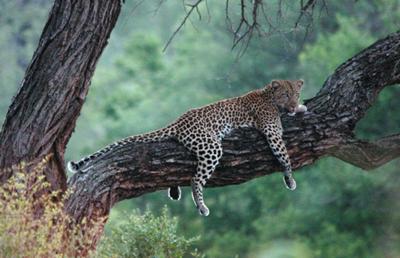 Leopard in a tree
Meeting Neil Heron, getting to know him and learning so much about the Kruger and all of the fantastic wildlife that this magnificent place supports, was a highlight. I think South Africa has got a very good ambassador.
Safari Operator Performance
I checked the websites on the South African Tourist Board etc., and read all reviews available. Once I got in contact with Neil and Tina Heron who run Bearded Heron Safaris, our choice was made.
We were so pleased with them on our first safari that we booked with them again for our second one. Their service is faultless; we really liked the personal touch.
We were cooked the foods we liked - Bearded Heron was in regular contact with us way before we arrived in South Africa, they catered to all our needs and what we wanted out of our holiday.
They advised what we needed to bring and Tina even sorted out overnight accommodation for us in Johannesburg.
Neil is a top notch guide, his knowledge of how the Kruger works to sustain all of the plants, insects, birds and animals, the whole eco system, is impressive. So too is his undoubting love of this remarkable place.
He conveyed the information in a pleasant informal way throughout our game drives and if someone wanted that little extra time in getting that perfect photo it wasn't a problem. In fact he often predicted what the animals were about to do.
All our many questions were answered in a way that someone who could have been new to wildlife watching would be able to understand, his interpretation was great even to me a wildlife watcher for nearly 50 years.
The length of game drives wasn't fixed and rightly so, it all depended on the sights we came upon.
After all this was a privileged opportunity to be able to see up close the daily workings of truly one of the last wild and natural habitats in Africa, and to marvel in the fantastic wildlife the Kruger supports and to have the sort of guide that Neil Heron is you'll not want it to end.
Accommodation
On our first trip we stayed at Talamati Rest Camp, a small private camp situated alongside the dry N'waswitsontso River.
Accommodation was basic but clean and comfortable. A very tranquil and relaxing place with 2 hides - one overlooking a small waterhole.
We also stayed at Olifants Rest Camp which is on a hill overlooking the great Olifants River with absolutely spectacular views.
We stayed in Nshawu, a luxury guest house with panoramic views of the river, the bush extending as far as the eye could see. We spotted various animals and birds from there. I wanted to stay here forever.
On our second Kruger safari we just had to return to Nshawu. It was at a different time of the year and the Olifants River was in full flow. The sound was immense, giving us an entirely different view although equally fantastic.
We also returned to Talamati Rest Camp and added a new camp to us, Biyamiti Bushveld Camp.
A bit bigger than Talamati, same amenities, very clean and comfy. The camp also had a hide. Another very relaxing rest camp.
Food
For breakfast we opted for an English, cereals, bacon & eggs etc. Lunch would be freshly made sandwiches or a salad, fresh fruit or a yogurt.
Dinners were meat dishes including some very large steaks, chicken and lovely traditional South African sausages. These meats were beautifully cooked over an open fire and served with rice, potatoes and mixed vegetables.
There was a choice of soft drinks, beer, wine and bottled water.
Wildlife
We saw all of the big 5 animals: Lion, Leopard, Elephant, Buffalo, White Rhino, also Black Rhino, Cheetah, Black-backed Jackal, Hyaena, Genet, Serval, Zebra, Hippopotamus, Warthog, Giraffe, Kudu, Duiker, Impala, Wildebeest, Sable, Baboon, Vervet Monkey and crocodile to name some of the better known species.
We also recorded over 150 different species of birds.
Some of my favourite moments:
On my first walk in the African bush I could not believe it when we came face to face with a Black Rhino (the much scarcer of the two species of Rhino).
Both Neil and an experienced park ranger, armed for our safety only, quietly told us to be perfectly still. The wind was in our favour, this magnificant creature was just 50m away and didn't know of our presence, it was dozing and had its back to us.
We all marvelled in our only sighting of this rare animal. Suddenly the breeze shifted direction, the Rhino picked up our scent and within seconds it shot through the bushes and was standing 90 degrees to our right. For such a large animal it was light on its feet; it hardly made a sound crashing through the undergrowth.
We quickly moved to behind the guides. The Rhino then started charging towards us. Fortunately for both the Rhino and us this was only a mock charge - after a few paces it pulled up, turned and quietly went about its business.
Rhinos have poor eyesight but a very keen sense of smell. It didn't actually see us when we kept perfectly still, and became a little uneasy after picking up our scent. It got our hearts pounding but what a fantastic experience.
We had a female Leopard walk in front of our vehicle closely followed by its one year old son; we watched Water Thicknees try in vein to protect its nest from a 30" Monitor Lizard; tightly packed flocks of Quelea (hundreds of tiny wings displacing the air which resounded across the bush) and the dozens of Steppe Eagles waiting to feast on them.
Coming across over 100 vultures of 4 different species feasting on a dead Giraffe, both the sight and sounds were very memorable, a true glimpse of nature in the raw.
But what shades these highlights is the roaring male Lion in the middle of the night on border patrol within 200m of our room at Talamati. What an unbelievable experience: the ground we stood on vibrated. The feelings that went through me, the tingling, the shock and excitement and perhaps a touch of fear was awe inspiring.
Typical Day
We chose to be up early, have a hot drink and cereal after which we climbed aboard Neil's surprisingly comfy open sided safari vehicle, ready to leave camp as soon as the gates opened (we didn't want to miss one available minute of safari time).
During the drive, when a fitting opportunity arose, we had tea/coffee plus a large amount of lovely home made rusks.
After the game drive we'd return to camp to tuck into a large English breakfast and have a rest.
Then we were back out on safari. The length of this game drive depended on where we were heading: if we were moving to another camp we'd perhaps have a packed lunch. If not we'd return to camp for a welcoming lunch prepared by the chef Gordon, who just happens to be a master in the kitchen, an entertainer and a thoroughly nice guy.
We'd have time to chill out before we went out on another game drive to take in a sunset and have sundowners.
We made it back to camp, had a shower and changed for dinner.
In the evening we chilled out and talked about the day, Gordon told us some amusing tales and Neil was a fantastic host. His love, knowledge and understanding of the Kruger really rubs off on you. I found him very easy to get on with and long before our holiday was over I was able to call him a friend.
In Closing
My camera equipment was most useful to try and capture some amazing moments, ever more so having let the Bearded Heron guide us.
The stunning environment of the Kruger ensured that my wife Carole and I arrived home completely de-stressed and relaxed. If only this feeling could be bottled... priceless.
The amount of time spent on holiday in South Africa could never be enough, especially on safari in the Kruger National Park.
We will be visiting again.
More Kruger Park Safari Reviews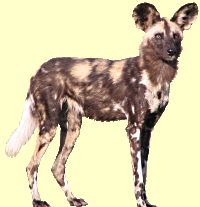 Join in and write your own page! It's easy to do. How? Simply click here to return to South Africa Safari.