Personal Attention on South Africa Safari
by Martin Allen
(UK)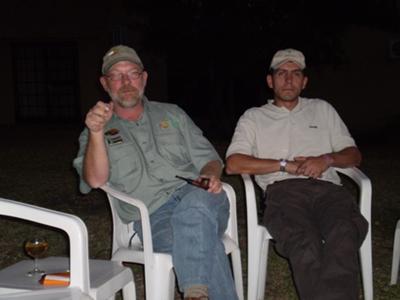 Neil sharing his knowledge
The highlight of our trip was meeting Neil and Marco. Neil's sheer enthusiasm and passion for Africa and its wildlife and people is unending! He does a very good job of trying to impart some of this onto his guests, to give them an insight into his world.
Safari Operator Performance
We used Bearded Heron Safaris, whom I found through the internet whilst researching safari companies.
Their performance really was outstanding, we cannot fault it one little bit, from beginning to end we were made to feel as though we were the most important people in the world.
The service was of a very high standard and fully based around our likes and dislikes, and of a personal nature, like being with your own family, really very welcoming.
Our guide and host Neil Heron is a very knowledgeable and professional guide, also very understanding and would take the time to try to teach us in the ways of bush lore and values of the eco systems.
He was very ably assisted by Marco the hospitality chef who fed and watered us with whatever we required. All in all I feel that we were in very safe and able hands which made my family at ease instantly.
Accommodation
We were met at the airport and taken to a delightful B&B in the suburbs of Johannesburg where we were able to get over the flight and have a relaxing day, before heading to the Kruger.
When we arrived at the Kruger Park we were taken to Talamati which is a private area of the park in which houses around a dozen traditionally thatched rondavels of which our party was housed in two of them, our guide and chef were next door which would be our base for meals and socialising etc.
The area was very tranquil and well presented, there were also a couple of hides placed fairly close to a waterhole which was great for photography and a sense of being almost among the animals.
Neil our guide would also come down and give us a lesson about the history, game, the flora and fauna that surrounded the accommodation.
The accommodation itself was very clean and comfortable and at night we were treated to the sounds of the bush with the local baboons barking overhead in the trees and lion calls from the ravine a mere 20 yards from our cabin.
We stayed at Talamati for two nights.
From there we went to Pretoriuskop which is a fairly large complex consisting of rondavels for the tourists.
We were very fortunate to be staying at a private lodge called Pierre Joubert Guest Lodge which consisted of four cabins placed around a square of ground these were very well presented and were for the exclusive use of my party which was great.
The centre piece of the accommodation was the main house which was a traditional thatched house with beams and a wooden exterior staircase; also there was a braai area and sitting veranda.
The inside of the lodge consisted of beautifully presented wooden interior, all the hard woods of Africa.
Food
Our typical day would consist of early breakfast being around 4.30 am which was generally cereals, toast, hot drinks and fruit juices, fruit and basically anything you cared for.
Once early breakfast was done Marco would make up our individual flasks and a few little treats that would be produced throughout the early morning game drive.
Once we had finished the drive we would all be looking forward to our main breakfast which would consist of a full cooked breakfast with local sausages etc. and all the trimmings that you could wish for, with endless teas coffees juices etc.
It seemed that nothing was too much trouble.
On the day that we changed camp we went on our morning drive only to be met by our chef Marco en route who had set up a breakfast camp for us and proceeded to cook our full breakfast right there which was an amazing touch.
Tina Heron had already asked us for our list of foods that we liked and any dislike allergies etc.
After our breakfast we were treated to lunch which once again was freshly prepared for us and would be perhaps avocado stuffed with tuna and a salad or in my son's case a peanut butter sandwich. It really goes to show the lengths they go to cater for their guests.
On the afternoon drive we would take a selection of drinks and snacks with us and as ever Marco would make up a pack of sandwiches if we required it, we were also given Neil's own home-made biltong which was superb.
The evening meal would be a very fulfilling thing sometimes consisting of a braai with very large steaks or chicken fillets - basically whatever we liked. They would do their utmost to supply also all our beverages - from beers and wine to whiskeys and vodkas were always available inclusive of the price.
To have all this prepared for you by our own hospitality chef really is great!
Wildlife
We saw common duiker, bushbuck, impala, waterbuck, kudu, blue wildebeest, a lot of elephant which were one of my favourites, giraffe and an array of rhino. We also saw hippo in the water and on land which was great.
We chased lions for a while to be rewarded with a sighting of a group of three in the dry river bed - well worth the chase!
We also had a few encounters with warthogs one of which got chased off by a rather irate white rhino!
Also buffalo and primates - the rather noisy baboons and some vervet monkeys going about their cleaning rituals.
The smaller animals we saw were dwarf mongoose that lives in an abandoned termite mound, some tree squirrels and scrub hares.
The fish eagles were a treat to see and we were fortunate to see vultures on a kill, which was awesome!
We saw various hornbill species and an array of other birds too numerous to mention but spectacular all the same.
Probably the highlight of our trip was watching a bull elephant in musth in the middle of the road. He was quite happy with us and slowly ambled along. This all changed with the arrival of another vehicle ahead of the elephant, effectively blocking its path.
Neil spotted a potentially dangerous situation and took a side road to get ahead of the elephant. We pulled up again to resume our watching and the elephant appeared to have calmed down a bit but with the other car a little too close behind it. He got a bit anxious and then without warning raised his trunk, extended his ears and decided to try and catch our car but we managed to outrun it.
Typical Day
We'd get up at around 04:30, have breakfast, then head out on the morning drive - we were treated to the most spectacular sunrises. At the waterhole we would snuggle into our blankets and drink our coffee and biscuits and watch and wait with an air of excitement and expectancy and we were never let down. After about 2 hours we would start heading back to camp all the time looking for game and stopping to view.
Back in camp we would be treated to a hearty breakfast, then freshen up or take a nap. Then either go for a walk perhaps to the hide or just generally amble about taking in our surroundings. At times Neil would also give us a botany lesson or generally explain our surroundings. After lunch an afternoon drive - you get an enormous sense of well being in these tranquil surroundings. Head back to camp, wash up and change for dinner which could consist of a braai or eating indoors, drinking sun downers etc. Neil would tell us about the constellations etc, we'd listen to the sounds of the animals then head off to bed in order to be up and ready the next day.
Tips and Advice
Take plenty of film. My video camera was probably the most useful thing I took.
Do as much research into the places that you are likely to visit.
Anyone thinking of doing a safari should do it if possible - I guarantee that the experience will be well worth it, especially if you use the same operator as we did.
More Kruger Park Safari Reviews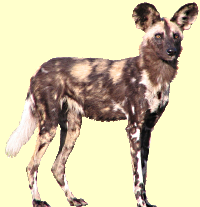 Join in and write your own page! It's easy to do. How? Simply click here to return to South Africa Safari.