A Kruger Park Holiday Worth Waiting For
by Jo-Ann Meiring
(Kirkwood, Eastern Cape, South Africa)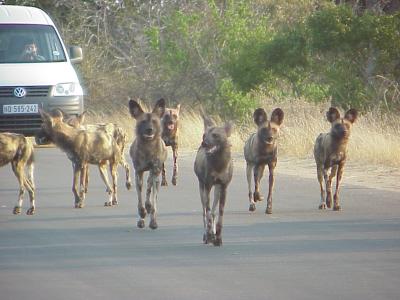 Wild Dog Pack
16 years!! That's how long it took for us to return to the Kruger National Park. 2006 was our year. The twins had outgrown their hyperactivity and the budget was perfect.

We booked our place at Lower Sabie Camp for 5 days and excitedly counted down the days to our departure for paradise.

On entering through the Kruger gate, the very first game we spotted was a leopard with its kill - this barely a kilometer from the gate.

That night, we had a nocturnal visitor in the form of a hyena who emptied the trash can behind our tent (giving me heart failure). He also decided that the space between our tent and the twin's tent was the perfect spot to sit and relax!!

Day 2 had us seeing elephants, rhino, lion, buffalo, leopard, crocodiles, hippos and ever so many different varieties of antelope.

It also brought forth a huge rock monitor paying us a visit, as well as a snake deciding it wanted to live under our tent.

On day 3, we spotted our normal herd of elephant crossing the road (between Lower Sabie and Skukuza). On our return, in the same place, we saw a pride of lions. Suddenly, an elephant came roaring up the embankment and chased away the lions. Out came the binoculars for a closer look. The lions had killed a baby elephant and the aunties and uncles were furious!!

Later on, while sitting on the deck at the Lower Sabie restaurant, an elephant strolled below us, crossed the river and scared the living daylights out of a buffalo that had been wallowing in the shallow water.

Day 4 had us idling by the camp gate waiting for it to open. Barely out, and we spotted two hyenas strolling up the road. A few kilometers later and a family of rhino were right next to the road. Stunning!!

Our afternoon drive had us stuck in a traffic jam while a huge herd of buffalo crossed the road. Literally a few meters further on, we came across a leopard resting in an enormous tree right next to the road. Such a regal animal!!

Day 5 - departure day. On our way out, we saw 4 hyenas with bloodied mouths rushing in and out of the bush. Horrific sounds of pain and fear were coming from some or other antelope in the bush. This continued for about 15 minutes and then - silence!

A few meters down the road, and a pack of wild dogs came running up the middle of the tarmac. They too were full of blood and seemed very nervous about something. Less than 200 meters further on, a lioness came strolling out of the bush and crossed the road right in front of us.

It was a holiday truly worth waiting for - just not another 16 years. It is confirmed - 2008 is once again time to make the 1600 kilometer trip to the Kruger National Park (aka PARADISE)!
Jo-Ann Meiring's Safari Details:

Safari company used: Self Drive (make an enquiry)

Parks visited: Kruger National Park in South Africa

Date of safari: 5 days

More Kruger Park Safari Reviews