Hyena Raids Cheetah Kill
by Terry Woodall
(Oregon, USA)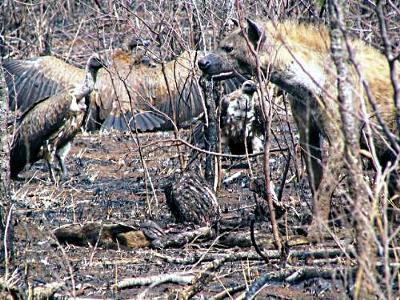 Hyena and Vultures at a Cheetah Kill
We saw a huge Python cross the road, and a rhino fifty feet away on foot while we were on our guided walk. The rhino ran away. We also saw a cheetah before his hunt, saw the kill with vultures and hyena stealing a bone, and the cheetah retreating from the kill. This was very close up with an extended view.
Safari Company Performance
The Safari Company we travelled with, EuroZulu Guided Tours, was great. They were very personalized. Jeff, our guide was great, and always went that extra mile for our experience. We were four in our group - our family.
Accommodation
We stayed in a tent camp, Mpila; and Lidiko Lodge, St. Lucia.
St. Lucia Estuary was amazing!
Wildlife Highlights
We saw everything except the leopard.
We heard animals around our tent at night and daytime, impalas wandering about, as well as warthogs banging the garbage can.
We enjoyed a hike in the Drakensberg.
Other Activities and Disappointments
Apart from our planned activities, we visited a Zulu village.
We were disappointed that we didn't book enough days at Mpila. We would have liked more days for self guided activities.
Tips and Advice
If you like wildlife viewing, give yourself plenty of time. Self guided drives are easy in this area.
Hiking boots were very useful on our trip.
More Hluhluwe-Imfolozi Safari Reviews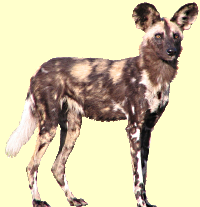 Join in and write your own page! It's easy to do. How? Simply click here to return to South Africa Safari.