Kruger Park & Elephant Sanctuary Weekend
A weekend in the Kruger Park is always a great experience, even though it can get busy during school holidays. As we have noticed before, the animals are oblivious of human calendars and we were blessed with some fantastic sightings.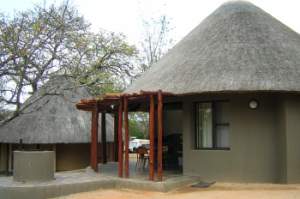 We stayed in the following Kruger Park accommodation:
Pretoriuskop Camp:
We stayed in one of the basic huts (no electricity, no fridge) this time. It is a detached rondavel (round bungalow with thatch roof) which has mosquito netting on the windows and a double-door system to keep the bugs out as well. The unit had 2 single beds, a basin, table and 2 chairs, a braai (BBQ) and sufficient hanging/packing space for a short stay.
Ablutions and kitchen facilities (2-plate electric hotplates, washing-up and boiling water always at hand) are shared and you have to bring your own utensils and plates. Bedding as well as towels and soap are provided and the units are serviced daily. The hut was fine but could use a bit of renovation… and for the price it was good value.
The huts are arranged in a big circle (as in quite a few of the Kruger Park camps) and it is quite cosy when everyone lights their fires at night and you sit outside enjoying dinner and listen to the bats flying overhead or squeaking in the nearby trees.
I was looking forward to seeing the new information centre at Pretoriuskop, but it wasn't open during our brief visit (opening hours 9am-4pm on weekends only).
We had a quick peek at one of the bigger units with en-suite that had recently been renovated (they are still busy with more units) and it really looks good: spacious, clean and modern but not over the top.
Lower Sabie Camp:
We stayed in a basic hut, a level up from the one we stayed at in Pretoriuskop. It was a semi-detached hut with 2 beds, mosquito netting and its own veranda with braai (BBQ). Again, bedding, towels and soap were provided and this time we had a fridge and electricity too. No utensils or plates were provided and the bathroom and kitchen facilities were communal.
Renovations are still taking place at Lower Sabie and the building operations is obviously not very pretty, but once they're finished it's going to be beautiful. Some of the river facing units are already finished and although you are fairly close to your neighbour in some cases, you have stylish yet plain décor leading on to your personal stoep (veranda) with wooden finishing and a river view.
Lower Sabie remains one of my favourite Kruger Park camps. Wildlife viewing in the area is great, but also from camp as there is a large deck overlooking the water where you are almost guaranteed to see hippos, crocodiles and a variety of birds.
We prefer to self-cater and bought our groceries and drinks outside the Kruger Park at a supermarket (much cheaper). Also, we prefer to have our breakfast in the car while watching wildlife at a dam, much better than sitting between four walls, in my opinion!
We arrived really late on our first night, in fact after the shop had closed and therefore we couldn't have a braai as planned. So we decided to put the take-aways restaurant at Pretoriuskop to the test. We ordered two cheese burgers with chips for take away (R70 in total) and enjoyed it at our hut.
In the morning we made a flask of coffee (boiling water is always available, on tap, at the communal kitchens) and had it with rusks while sitting at a dam. This is a bit of a tradition!
We wanted to cook a nice brunch at Skukuza Day Visitor Centre, but by the time we arrived there after all our nice sightings (around 1:30pm on a school holiday Saturday) there was no gas available. There were lots of people around and we didn't feel like waiting 45 minutes for gas, so we moved on.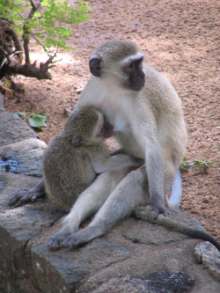 We finally had "breakfast" at Nkulu Picnic Spot where it was thankfully quieter and gas was available. Monkeys can sometimes be a nuisance at this spot but they were fortunately at the far side from where we were sitting, with a nearby staff member watching over them, ketty (slingshot)* in hand.
* The monkeys become a nuisance in the Kruger Park only because people feed them. They become cheeky and try to steel food off people's tables, plates, even out of their hands (it happened to me once). If such a troop's behaviour becomes unmanageable, the whole lot has to be shot. So, that's why you shouldn't feed the animals!
On the second day we had our brunch at a more decent time, at the N'wagovilla Hill picnic spot. It was a rainy day and we had the place (and the gorgeous view) to ourselves for most of the time, except for the cleaning ladies and a whole lot of birds.
Later in the day we stopped for fresh scones, cappuccino and a white hot chocolate at Skukuza's Nature's Cafe while being watched over by the resident fruit bats. It was excellent!
Food isn't much of a priority when we visit the Kruger Park, wildlife viewing comes first!
| | |
| --- | --- |
| Weather During Our Kruger Park Visit | |
It was a bit overcast on our first day in the Kruger Park, yet nice and warm (mid 20's°C/high 70's°F) - the perfect game viewing day, really.
On our second night it started raining around 7pm and it didn't stop until the next afternoon when we left the park. We were very happy for the animals and people of the Kruger Park because it was the season's first rain! They really needed it as many of the water holes had already dried out and the bush really needed to recover in large areas where recent fires had raged.
While it is true that you don't see as many animals during rain, we still saw a fair bit. The main thing was that the much needed rain finally came.
| | |
| --- | --- |
| Wildlife In The Kruger Park | |
A large area around Pretoriuskop recently burnt down and the wildlife was a bit scarce in the area although we did see zebra, kudu, waterbuck, impala, elephants and a duiker in the vicinity.
In fact it was in the burnt area that 2 bull elephants entertained us with their antics. They were fighting although it wasn't serious at all; just testing each other's strength.
The Kruger Park's dams always deliver in the dry season and on our first day it was still the dry season. We saw hippos, crocodiles, terrapins, impala, fish eagles and other birds at the Mestel, Shitlawa and Transport Dams.
The 10km stretch leading up to Transport Dam (from the west) delivered amazing sightings for us:
3 spotted hyenas, 2 of which were mating right in the middle of the road;
bird fest: a hooded vulture and juvenile Bateleur on the ground, feeding and not really bothered with one another. Later they were joined by 2 more juvenile Bateleurs and another eagle (I think it was a tawny eagle). We enjoyed watching them for a good while as they were each trying to get a piece of the pie. I don't know what species the prey was but it was interesting to note the Bateleurs weren't interested in the intestines while the hooded vulture did eat of it.
3 cheetahs lying under a tree, about 200m in - this is where a good pair of binocs come in handy;
a leopard close to the road but so well camouflaged that you only saw the white tip of its tail. After a little while it got up and walked into the bush;
oh, and a leopard tortoise seen very shortly before the leopard… perhaps an indicator species?!
Later in the day, along Kruger Park's "old faithful" road, or "Eloff Street" (the road between Skukuza and Lower Sabie), we came across 2 different lion sightings. Of course there were a "million" cars, being a weekend in a school holiday, but it was still wonderful:
3 lionesses, apparently lazing about, when suddenly one got up, then moments later the second, and moments later, the third. They were spreading out a bit and moving slowly along the road (lucky us!) with their eyes fixed on something in the river bed (Bruce saw some kudu just before we got to the lions). Seeing them stalk their prey was really special, even though the kudu sensed them and the hunt was over fairly soon.
Again 3 lions but at first we only saw one male and one female, right in the road. We couldn't get a clear line of sight due to all the cars, but it was very obvious that they were mating (even if just judging by the faces of the passengers in the car directly in front of them). They didn't look in much of a rush at all, in accordance with mating lion behaviour. But suddenly, they got to their feet and decidedly jogged away. Why? We saw the cause of it soon: a second male coming out of the bush and onto the road. We're not sure if he was of the same pride or if he was competition for the mating male but it was obvious they didn't want to stick around and wait for him.
Despite such a wonderful variety of animals seen across the 2 days in the Kruger Park, I am tempted to call it our "hyena weekend". Apart from the mating hyenas near Pretoriuskop, we saw a further 6:
2 came to drink at Sunset Dam just outside Lower Sabie when we were sitting there enjoying the sunset and maximising our time "out" (-side of the gates). They were on the far side but even without binoculars we could see that the one was clearly of much lighter colour than the other, a very greyish white. I don't know if it could be an albino but because he still showed his spots, I think it may have been.
Near Afsaal Picnic Spot, towards the end of the day, we came across 2 young hyenas walking all along the road, sniffing here and there. They looked a bit young to me to be out hunting by themselves, so I'm not sure what they were up to.
Not 5 minutes after seeing the 2 youngsters, we came across a mother and another young hyena. It was very special, because the mother lay down in the grass and the pup then suckled for quite some time. We had to leave them or miss the gate closing time.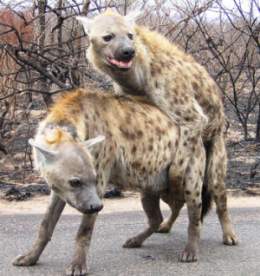 Other game not mentioned yet but seen during our 2 days in the Kruger Park were steenbok, blue wildebeest, klipspringer, warthogs, chacma baboons, giraffe, vervet monkeys, bushbuck, white rhino, black backed jackal and common reedbuck.
Bird list (most of them): fish eagle, white breasted cormorant, African darter, Egyptian goose, black bellied korhaan, blacksmith plover, grey heron, three-banded plover, hooded vulture, bateleur, tawny eagle (think so), Burchell's coucal (many on the rainy day), hadeda ibis, lilac-breasted roller, crested francolin, goliath heron, black-crowned night heron, African jacana, African darters, ground hornbill, helmeted guineafowl, fork-tailed drongo, African wattled plover (lifer!), African spoonbill, mocking cliff-chat, African scops owl, blackeyed bulbul, starlings, sparrows and swallows. Apart from the hooded vulture we also saw Cape and white backed vultures although I am still finding it very difficult to distinguish between the two.
Kruger Park Wildlife Spotting Highlight
I couldn't possibly single out a highlight. All of the above were great and I didn't even go into detail about the ordinary game like the entertaining warthogs, elegant giraffes and my favourites the elephants
I love watching any wildlife, no matter how big or small. Time and time again I am awestruck by the way God created everything to the finest detail. Even snakes, spiders and bats become beautiful then.
If I absolutely HAD to pick three Kruger Park highlights, it would probably be:
The leopard - seeing one close to the road and for more than 5 seconds is always very special. It's such a beautiful but elusive cat.
The hunting lionesses, for being able to see that behaviour.
Mating hyenas - you certainly don't see that every day. And the noise they made!
| | |
| --- | --- |
| Other activities during our trip | |
En-route to the Kruger Park, we made two stops:
We had a great breakfast in Nelspruit, at the Botanical Gardens restaurant, Makulu Manzi, where you constantly hear the waterfall when you sit outside in the fresh air.
After breakfast we entered the gardens (R15 per person) and walked to the waterfall viewpoints, then on to the rainforest section complete with raised wooden walkways (apparently so that the hippos can pass underneath). There is also a vast collection of cycads, some baobab trees and much more. I'm no botanist but it was a very relaxing time with few other people around and we even got to see and touch some Madagascar plants and saw a family of dwarf mongoose running about.
We spent about 2 hours walking around but it was too short to cover all the paths. I would have liked to walk the river trail for instance, but apparently that takes about another hour.
We visited The Elephant Sanctuary of Hazyview (one of three branches in South Africa) for a "Trunk-in-hand" program. It's very easy to find with plenty of signboards leading from the main road to the sanctuary.
Our group was about 16 people strong, most of whom were already enjoying tea, coffee or fruit juice on the veranda outside reception when we got there. We were introduced to our guide, Eldin, who gave a short briefing on what to expect and proceeded to lead us along a natural path into a forested area.
As we settled down, along came Kasper and Kitso, the resident "ellys". They are 21 and 3 years respectively and as in natural circumstances, it shows. Young Kitso gets more easily distracted and he apparently receives a lot of guidance from the older Kasper, on how to be an elephant bull.
Eldin and the handlers gave us information about the two particular elephants as well as about elephants in general, all the while the two were standing on the "stage" and waiting for their cues.
The elephants are trained to lift their legs, or kneel down - all in natural positions - so that visitors like us can see what the underside of an elephant's foot looks like (smooth), what its skin feels like (rough) and even how wet their tongue is! This training is also so that the ellys can be checked and treated without darting them, should the need arise.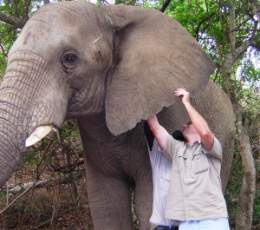 After the "meeting" in the bush, we proceeded to an open area where those who wanted to could walk trunk-in-hand with the African elephants. Believe me, you step carefully as a 4-ton beast follows a mere metre behind you! I will certainly not try this with a wild elephant.
Eldin is genuinely interested in elephants and their wellbeing, and departed a wealth of information about the elephants' behaviour as well as their biology in the two hours that we were there. He sticks to the facts but also throws in a joke or two, a great guy and guide.
We were taken through the whole set up including the stables where Kasper and Kitso overnight.
If it wasn't for the sanctuary, these two individuals probably wouldn't be alive today. This organisation really is a sanctuary in the true sense of the word and although it is used to bring elephants and tourists together, it is done in a highly professional, educational and responsible way.
It's a very peaceful place and it was good to get up close and personal with my favourite African animal.
During school holidays and public holidays you simply have to exercise patience and tolerance in the Kruger Park. Purely due to the amount of people and vehicles you are going to come across car pile-ups along the busy roads, and possibly have to wait for gas at the picnic spot around peak meal times like we did. But hey - wouldn't you rather face that than a mid-city traffic jam or a boring weekly meeting?
We now know that you can't enter Phabeni Gate less than 1 hour before the gates close. We had to rush down to Numbi Gate and still didn't make it. End of the story is, we had to pay R150 to be escorted to Pretoriuskop Camp. (This option is available for Kruger Park camps within 10km from entry gates and should ideally be arranged prior to arrival.)
Other than that (which turned out okay as we got the chance to chat to Colin who mans the gate and had a few interesting stories to tell), it was great. In fact, we were only supposed to stay the one night but enjoyed it so much that we booked that second night last-minute.
| | |
| --- | --- |
| Tips or advice to people planning a similar safari | |
When booking Kruger Park accommodation, make sure you know exactly what's included and what not. Although utensils can be rented at most camps, it's better to come prepared. All units are serviced daily, and bedding, towels and soap are always provided.
When visiting the Kruger Park in the rainy season, I recommend people allow enough time (at least 3 full days) in case they do have a rainy day like we had, when game is scarcer.
What was the most useful item in your luggage?
If you'd like help arranging your Kruger safari, make a Kruger Park enquiry »
8. It would have been a 10 if we didn't arrive so late the first night, and if there were fewer people/cars.
| | |
| --- | --- |
| Safari Location: | South Africa: Kruger National Park |
| Safari Company Used: | Self-guided/independent |
| Duration: | 2 days: 28-30 September |
| Traveller Details: | Wilma & Bruce Whittaker, South Africa |
| Rates & Availability: | Plan your own safari. Make a Kruger park enquiry |
More Kruger Park Safari Reviews