Cha Luangwa Safaris Review
by Annemieke Spaan
(The Netherlands)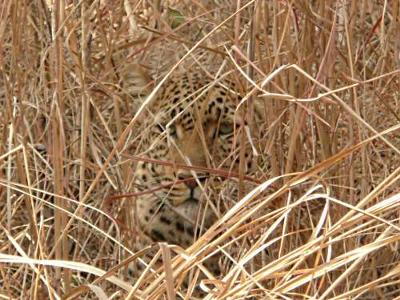 Leopard Blending In
We spotted 4 leopards. One of them we saw was during daylight. The leopard was lying down in the grass just a couple of meters away. We were all taking pictures when it suddenly jumped up and roared. That was really scary for a moment, but then it ran off. Many animals had little ones as well: we found a lion family with five cubs.
Safari Company Performance
Gavin and his crew from Cha Luangwa Safaris performed very well. As he has only a small safari camp with 5 tents, the service is very personal.
We originally booked for 4 nights, but we enjoyed it so much that we decided to stay one night longer to be able to do another walking safari.
He helped us change our flight to Livingstone and our reservation in the accommodation there.
The guide (Isaac) was from the Mfuwe area and very knowledgeable about wildlife but also about the people in that area. He also had a good sense of humour, which made the safaris good fun.
Our group consisted of 5 people. Gavin has his own 1972 Chevy that he turned into a game viewing vehicle.
It was a great car with good looks, a bit heavy to cross dry river beds though. We also did the walking safari, which was incredibly interesting.
We did not go into the park, but stayed on the other side of the river. We were in a group of 7, plus a guide and a scout (with a big gun).
The guide focuses on the small things that you do not see from a game viewing vehicle, like footprints, droppings, plants, trees, and insects. There is much more time for explaining the bush, than when driving around.
We also did see elephants, giraffes, hippos and pukus/kudus/impalas while walking around.
We walked in the afternoon to a bush camp, where we had sundowners and dinner. In the morning we walked back to the normal camp.
At one point we came rather close to an elephant (which is not particularly good), but following the guide's instructions, we just walked backwards slowly behind some trees, while the scout stayed where he was in front of the elephant.
It wandered off in a different direction after that.
Accommodation
Gavin rented camping ground at Wildlife camp, where he put up big walk-in tents. The tents are probably 16m
2
, so you could walk around easily.
It had proper beds and even a cupboard. He did make en-suite bathrooms behind the tents, but unfortunately he was not allowed to use them yet.
In front of the tents was a covered dining area where our group could sit down in the shade.
The campground had a lot of trees, with squirrels and monkeys in them. The monkeys weren't too cheeky; they would just steal our cookies on the table when we were not around.
Then there was a nice bar with swimming pool next to it, with big lie-down chairs.
The bush camp had smaller tents, but still with proper beds in there, so quite luxurious I'd say.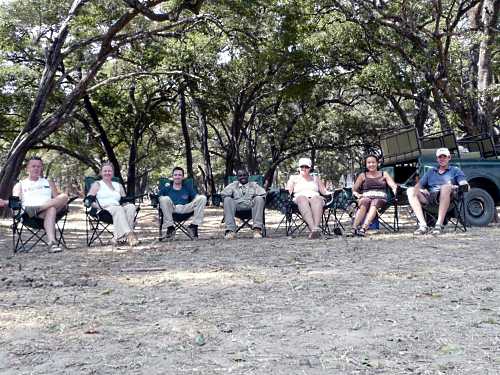 Food
They took good care of us. Normally we would start with tea/coffee and some cookies before going on the morning activity.
During the drive we would have some more coffee/tea and breakfast after coming back to the camp. They made different things, like omelettes, scrambled eggs, toast, etc.
One day we had a bush breakfast, which was a big English breakfast but on a beautiful spot next to a salt pan, swarming with crowned cranes.
Lunch would be around 2 or 3 pm, consisting of bread with different salads for example. On the day that we were gone the whole day the Chef prepared great sandwiches.
In the evening we had different dishes, like spaghetti, rice with a stew, etc; always with some salad next to it.
And I forget sundowners: at some great spot in the park we would stop for sunset, having some Amarula or wine with crackers and cheese, tomato or chips.
One evening we had a big BBQ with different kinds of meat, sauces and salads. All the dinners included wine. We would not get hungry on this trip.
Wildlife Highlights
Some of the wildlife we spotted include elephants, hippos, giraffes, zebras, kudus, pukus, impalas, waterbucks, white-tailed mongoose, crocodiles, warthogs, baboons, vervet monkeys, hyenas, buffalo, owls, crowned cranes, all different hornbills, eagles, vultures, genets, etc. etc.
What I really enjoyed as well is the amount of animals that you see, sometimes 4 or 5 different kinds of animals all together in the same view.
Typical Day
Every day was quite different in this camp, it was a varied schedule:
Day 1: we arrived at the camp in the morning, where we could relax for a bit before the afternoon/night drive (from 4 - 8pm). After that dinner and to bed.
Day 2: we got up at around 5.30am for the morning drive (6 - 10.30am). Then breakfast and relaxing at the pool. In the afternoon we went on a walking safari to the bush camp. Dinner and to bed.
Day 3: we walked in the morning back to the regular camp (7 - 11.30am). Then relaxing. In the afternoon we went to an educational centre for school kids in the region. Night drive back to camp, dinner.
Day 4: Full day drive (7am - 8pm). Breakfast, lunch and sundowners in the park, BBQ when we got back to camp.
Day 5: Bush breakfast at a salt pan. Then we normally should have left, but we stayed for the afternoon walk to the bush camp, had dinner there and returned to camp to stay up 'late' in the bar drinking Mosi (very good local beer).
The following morning to the airport to fly to Livingstone...
Other Activities
Not in South Luangwa, but in Livingstone we did the helicopter ride, jet boat through the gorge, we swam on top of the
Victoria Falls
and had a beautiful luxury sunset cruise.
It is a big circus, but it is good fun.
Disappointments
It was what we expected and more. Can't think of any disappointments.
I do remember one disappointment though: we slept so well at night, that we did not hear any of the animals passing through the camp, the footprints were there in the morning...
This is not a 5-star safari operator, so everything is quite basic. But it definitely surpassed our expectations: the way we were treated, fed, and taken care of.
The animals are the same, if you're sleeping in a luxury chalet or in a tent.
Tips and Advice
Remember to pack a camera with good zoom lens.
Pack light: you don't have to bring sleeping bags or towels, everything is provided for. Just enjoy.
More South Luangwa Safari Reviews