Robin Pope Photographic Tour
by Jeff Smith
(USA)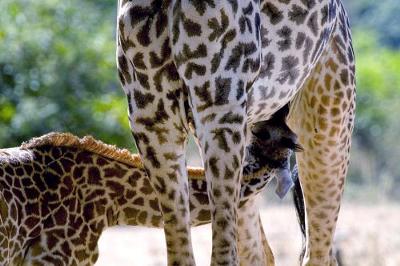 Baby Giraffe Nursing
In terms of unusual sightings how about: Lions mating right next to our car, lions swimming across a river to get to the other side, a leopard with his kill in the tree, a nursing baby giraffe, an elephant standing straight up to grab the largest branches from the tree and it just goes on from there.
Operator
I attended a photographic tour with professional photographer David Rogers. The tour was run by Robin Pope Safaris.
I found out about this company through Africa Geographic as I was looking for a specific tour operated with a professional photographer.
The trip could not have been any better. First of all, David Rogers is an outstanding photographer and great teacher. The experience of travelling with him for a week was invaluable. With only three others on tour the amount of professional and personal time we got was amazing.
Our tour guide, Jacob, was also outstanding. With a keen understanding of photography, Jacob knew when to leave to catch just the right light, where to go and provide an uncanny sense of knowledge of the African geography and wildlife.
Accommodation
We visited two different camps within the South Luangwa Park region.
The first camp we stayed at was Nkwali, overlooking the South Luangwa River, the accommodations were excellent. The food and service was also outstanding. I particularly liked they fact they don't charge a premium for single travellers.
The second camp we stayed at was Nsefu. This camp is actually located right in the national park. Once again we were treated to great accommodations, terrific views, along with great food and service.
Food
Breakfast consisted of hot porridge, toast, fruit along with juices and hot coffee and tea. It was served riverside with great views of the morning sunrise.
Lunch somewhat depended on what we wanted to do that day. At times we chose to bring lunch and "eat on the road." Other times we came back to camp after our morning run and had a relaxing lunch while we worked on our photos.
Typical Day
Wake up calls came early, usually around 5am. We all wanted to catch the morning sun for our best shots. After a casual breakfast along the river we would be off on our morning safari.
We were usually back by noon for lunch and "rest." However we were quite the energetic group and spent our time processing our photos on our computers.
We would head back out in the later part of the afternoon to catch the best sun, staying until dark were we looked for animals more apt to be seen in the evening. We'd then head back to camp, freshen up for dinner, and process more photos. We were quite busy!
Game Viewing
We used a Toyota Land Cruiser, open sides and no roof with tiered seating. There were four photographers, David Rogers our pro, Jacob our guide and an armed guard.
The wildlife we saw was once again amazing. It would be easier to list what we didn't see; Rhinos (
but there aren't any in the region
).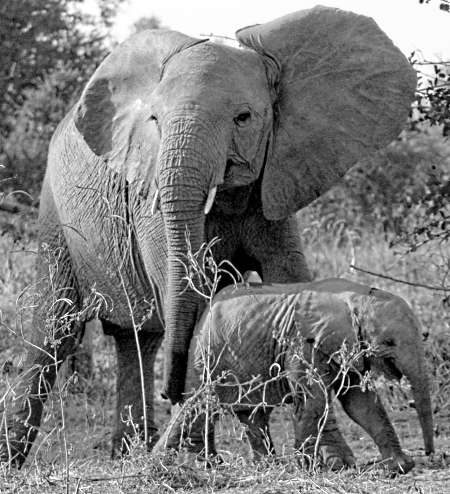 Ups and Downs / Tips
The highlight was having David as our pro and a great guide in Jacob.
My only disappointment is that I did not see any Rhinos.
If your goal is to take pictures this is the way to go. My camera was the most useful item in my luggage. I ended up with nearly 3,000 photographs.
Rating out of 10
A 12 all the way.
More South Luangwa Safari Reviews