Zambia Africa Safari Travelogue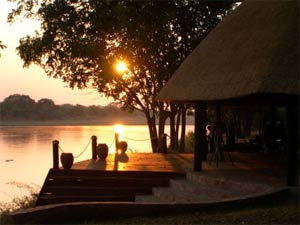 Where did you stay? At one camp, or travel around to different camps?
We started and ended in Johannesburg (tour of Joburg, tour of Soweto and day in Pretoria), then to Victoria Falls Thorntree Lodge, then in Zambia Africa, Lusaka, Mfuwe, then onto Robin Pope's Nkwali Camp, Tena Tena Camp, Kawaza Village, Nsefu Camp, Fly Camping, back to Tena Tena Camp, back to Thorntree Lodge, then on to Chobe National Park in Botswana for a day before returning to Joburg. It was over tooo quickly.
They have three or four different set ups. Where they are, in all three of their camps, they get flooded during the rainy season so they have to evacuate all their camps. At two of their camps, the 1st and the 3rd ones had permanent structures. One was called a rondawel. They were kind of permanent with outdoor showers.
The other semi-permanent one is kind of a tent structure for the dry season, on a solid foundation. So they take the tent down but the firm foundation is there. Of course the walking safaris were tents. They would walk ahead of us on the walking safaris and set up these beautiful little tents with these... well actually, I should tell you this one story! It was the most exciting...it was scary for the ladies.
On the Zambia Africa walking safari, we did a fairly long walk the first day and they set us up in a wide open place with a huge tree. They got there ahead of us so they set up the shower, I've never actually seen anybody set up a shower before, an outdoor shower with hot water and everything. And they had our tents set up. We thought, well that's fairly nice, but there's really not much happening... you could use some lions in the distance, but there's really not much happening.
About 11 o'clock at night, all of a sudden, we hear lions that we swear are right outside our tents. You would think they're no further than 30 feet away, they were right there! So of course, we were awake the whole night because these lions were howling and you could hear other lions maybe 2 or 3 km away echoing, so they're coming in. So of course, we stayed in our tents all night, we didn't move, we didn't get much sleep.
We found out the next day that they'd actually built the set-up in a semi-circle - maybe 150 yards across for the staff on the one side, the tents in the middle and our two tents and the dining tents were on the other side. The lions apparently were just on the outside of that, a gathering of lions that had come in. So that was the scariest part of our trip.
So it's true, if there's one tip when you go camping in the wild, that you should keep zipped up?
Yes! Well, also keep a fire going. The big thing is having the fire, because the animals will come close, whatever it is, but they won't come right up to a fire. I guess it's stay inside your tent. I guess as well is to keep fairly quiet. If you make a lot of noise... I mean if it's a wounded animal... if it's a wounded hippo he would run through anything, right?
The other people would like to tell you this... I didn't think of it at first. I'd actually skinned my knees and got quite a few scrapes because the first night, when we were at Victoria Falls (Thorn Tree River Lodge), there was a noise outside. We were all outside having drinks. So I walked out with my camera to see what the noise was, and of course I came to a sudden stop. I could see just faintly there was a hippo maybe 10 feet from me, I mean 10 feet! And I've got my camera with all its fancy gear and wide angle lens and the flash and everything.
So I very slowly lifted my camera and I took a picture. You do not see hippos in a picture! I must have taken 10 flash pictures. The animal didn't move and there was absolutely nothing on my screen. I guess because they're black they actually blend right in? I literally could not see a thing.
All of a sudden the animal snorted and that's all it took! I took off like a shot! I ran as fast as I could and I fell over a couple of these stumps that they put next to the gravel pathway and of course everybody had a delightful time, because I'm the one who's supposed to be all knowledgeable about animals and here I am, running away from a hippo.
It was pitch black, I'm slipping, falling and my camera's going everywhere and they're just howling, laughing at me! They didn't see the hippo.
| | |
| --- | --- |
| I did want to ask you about the food. You say they cooked for you - was it 3 meals a day, did they provide everything? | |
Oh, you couldn't believe how much they provided. And we had snake meat one night, and the snake was just beautiful. I think I'm the only one that ate it between the four of us, but I just loved it. I don't know what it was... very dry meat, no fat at all.
They had unlimited wine, beer and all that stuff - which we do't drink a lot of but - the food was delightful. A lot of it was native to the area, so you'll get special greens and like nothing we'd be used to at home. It was just beautiful. And they would cook everything on their campfires! So we're standing and talking with the staff, watching the food being cooked on the fire.
Two things surprised me.
One was: in the daytime it would get up to probably 30 degrees C. But during the night it would go down to, in some cases, 6 or 7 or 8. You have a dramatic change in temperature we weren't expecting at the end of July/beginning of August. We don't get that in Canada. If it's 30 degrees during the daytime, it's say 20 degrees at night, but never a drop like that. We found that really quite surprising.
So of course in the morning you get up and you have all kinds of clothes on. But it must be portable clothes because you have to unzip them, take them off by probably 10 o'clock in the morning.
The other thing I noticed - everything was natural. They actually made sure that everything was natural. I didn't see a piece of tinfoil, I didn't see a Coke can, I didn't see any garbage anywhere - it was just absolutely pristine. I don't know how they do that.
So they're seriously an eco operator where they look after the environment as much as the community?
They're absolutely adamant about keeping it as natural as they can. And I mean the school... everywhere we went, other than Kafue, everything was just exactly as I'd want it to be. I couldn't believe how pristine and natural it was.
And everywhere we went, and everything they did, they kept trying to make it obvious to us that they want to impact the environment and the ecosystem as minimal as possible when we go in there. It's almost hard to believe that they're that good, that they could actually do that, that they actually think that way but now that I've talked to them ever since our safari, I've realised that's really the way they are.
They're absolutely genteel and I guess that's why they get good staff from the local people and that's why they get along so well with everybody.
| | |
| --- | --- |
| How was the weather in Zambia Africa and did your safari company live up to expectations? | |
It was the end of July, the start of August so it was well into the dry season - no sign of malaria, no flies, no mosquitoes, nothing. I mean it was just absolute perfect weather.
Safari company performance?
We had 7 staff: a guide, a scout and just these beautiful people from all the camps and they took us out every day, twice a day, with the sundowners and all that good stuff and we saw one other vehicle the whole time. When we get into one of the camps for supper there may be two or four other people having supper with us.
We also went to the school that Robin Pope supports and just a beautiful school. There must have been about 70 or 80 children there from lower grades to higher grades. It was just delightful to see how they were doing, and how they were growing the school and how, of course females were now staying in school longer than they used to. They don't stay in school very long apparently. Now all that seems to be changing.
It's great when you come across a company who don't just say they're supporting the community but they're actually actively supports the community.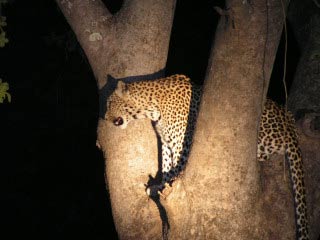 Yes, and I'm kind of critical about that. I watched for all of the little signs and they, from what I could see... they've been there a few years and doing absolutely an excellent job; everybody seems to appreciate what they're doing and of course, all the staff of Robin Pope Safaris - and I'm not trying to advertise them or anything - all of their staff are local.
They don't bring people in from England or anywhere else. All the people are developed in Zambia Africa, and they were so knowledgeable. I mean, I've been studying animals for 30 years, I tried to trip a few of the guides up, but they knew everything ... amazing. They were very friendly and warm and just delightful.
If it wasn't for the money, I'd go back there every year. And I keep in touch with them. They have a newsletter called "It's Monday".
Make an enquiry with Robin Pope Safaris »
| | |
| --- | --- |
| So there weren't any disappointments, not for your whole holiday? | |
I guess about the only disappointment I had was probably Johannesburg. I didn't expect it to be as rough as it is. Johannesburg is a lot like Detroit in the US - bars on the windows, and as they said to us, you don't walk around at night by yourselves or anything like that. But it was the bars on the windows and the way the streets looked and the attitude of a lot of the African people ... I can see there's a long way to go there.
We were there a day and a half before the safari and a day and a half afterwards. So we did the tour, we went up to Pretoria, so we saw all of that, and I found all of that history delightful. It was really interesting. Oh and we also did a tour, we went right into Soweto, into the very poor parts you know where they have drinking water for 12,000 people in one place, we saw all of that. We took food in with us, the whole thing is when you go in, you got to contribute.
The amazing part of that was, we saw some families in real shacks ... but they keep it clean, and they have respect for each other.
| | |
| --- | --- |
| Do you have any tips or advice to give people who are planning to go to Zambia Africa as well? | |
The packing is easy, they really tell you. We went with very little.
Oh, the other part I didn't tell you - whatever you're wearing during the day, if you put it in a pile, the next morning it's all ironed and pressed, ready for you to wear again!
I guess the key, that I found, is wearing the very thin stuff with zips. [Safari clothing tips]
If you're going on a walking safari, make sure you take rugged enough walking apparel.
The other thing is Peaceful Sleep [insect repellent], the strangest term I've ever heard, always make sure you have it on. We didn't get any mosquitoes but I guess the key is the screening [mosquito nets] that they're trying to get all the young people to use when they go to bed and make sure you have DEET or Peaceful Sleep on all the time.
There really isn't any advice I can give people other than be prepared for a delightful time and really take a lot of pictures. Just make the most of it, it's pretty expensive to get to Zambia Africa from Canada.
Just enjoy every moment, and explore... ask all kinds of questions because the people there are delighted to give you any kind of information. The more interested you are, the more it seems to please them.
| | |
| --- | --- |
| How would you rate your Zambia Africa safari overall? | |
11 out of 10.
I couldn't imagine it being any better than it was. Other than seeing a kill every day. Absolutely no complaints for any part of the trip. We had these 7 or 9 flights, transfers everywhere.
I guess the big thing was, that really let me know how good it was: on the last day in Zambia Africa we decided to go into a game park in Botswana and you have to go over the border from Zambia to Botswana. They asked us if another couple could go with us in the vehicle because they didn't have any way to get there and the hassles they had getting through into Botswana! At some point they were going to have to pay them $200 or something, there was some problem.
I don't know what it was. We went through as slick, back and forth with absolutely no problems because Robin Pope Safaris had set it all up for us. That really let me know - because up until then I thought well, that's great, everything's working fine, because I'd never experienced any problems - they were so professional, they were so clean about everything. It was just... beautiful! Just perfect.

More Robin Pope Safaris reviews...
| | |
| --- | --- |
| Safari Location: | South Lungwa National Park in Zambia |
| Safari Company Used: | Robin Pope Safaris |
| Duration: | Three weeks in July/August |
| Traveller Details: | Charles Beach, Canada |
| Rates & Availability: | Plan your own safari. Make an enquiry |
More Zambia Safari Reviews