Huge Lion Pride
by Gary MacFadyen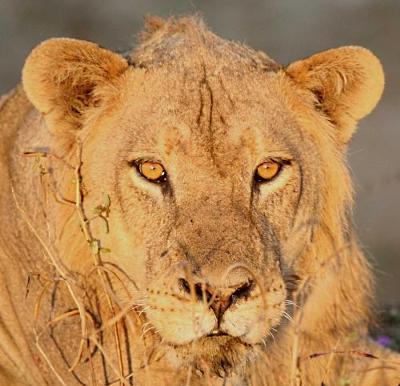 Lion Stare
The wildlife highlight of our most recent trip was seeing the Mwamba lion pride near Kaingo. There were 17 lions and this was apparently only half the pride. We had never seen more than 8-10 lions at one time before.
Accommodation and Food
Kaingo Camp is very nice because of its small size and more remote location. There are far fewer vehicles here than near the Mfuwe park entrance.
Don't worry about the long drive in because this is essentially a game drive. The Shenton Safari guides we have had have always been great: Innocent in 2007 and Mwila in 2008.
Highlights were seeing our friends amongst the staff at the lodges, the scenery and atmosphere that defies words while on game drives, the opportunity to bring my brother-in-law, who is a great friend but wouldn't plan a trip like this on his own.
Kaingo has the best food of any safari lodge we have been to.
Wildlife
We found the 17 strong lion pride just before dusk on our last night, but Mwila was kind enough to take us back the morning we departed and we found them in beautiful morning light. Some of the young males had a level of curiosity in their eye contact that made the encounter a little more interesting than normal.
The hippo hide at Kaingo is very nice and unique to our experience. The hippos were more active during our visits in 2007 than 2008.
The year before, the highlight was the 3 female lions with their 6 cubs and more in the bush too small to come out. I don't think they were part of the Mwamba pride, and if so, we did not see them in 2008.
Typical Day
Early wake up and tea or coffee, game drive for 3-4 hours, full breakfast, break, lunch, hippo hide, afternoon tea, afternoon game drive, dinner, then sleep.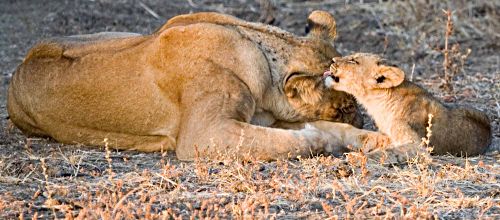 Tips and Advice
Don't ever miss a game drive (
or walk
). That will be the one where everyone else sees the one thing you've never seen before.
Stay at one lodge for at least 5 days or more: some days are just slow and you might end up thinking there is not much wildlife.
Be patient when you find interesting wildlife rather than zipping around trying to check animals off the list. We have seen so many amazing things by waiting for situations to unfold or looking a little bit longer than the other vehicles. Get to know the guide: ask about his family and experiences.
Under pack your clothes and have the lodge do laundry (
every day if need be
). My wife wears clear safety glasses at night to protect her eyes from dust.
Cape Town is a great city to lose the jet lag, especially for travellers coming directly from the US, although it is a full day of travel from Cape Town to South Luangwa NP.
We like Cape Town for activities (
surfing lessons at Gary's Surf School in Muizenberg
), beautiful scenery and great food for reasonable prices.
The most useful items in my luggage were clothes and a camera, in that order only because of necessity.
More South Luangwa Safari Reviews