Off The Beaten Track African Safari
When Kim and her husband travel, they try and avoid package deals and crowds. Their hopes for an African safari was no different. She sent us her review in which she shares the secret to having a crowd-less safari - even in August, the most popular safari season...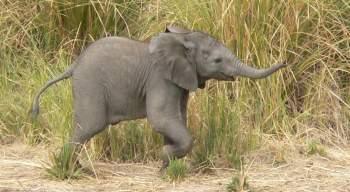 Firsts are always so exciting. Doing, seeing, experiencing something that has never happened before.
We had looked forward to our first trip to Africa (and saved for it, too) for several years. My husband and I are seasoned travelers so we decided "no" to package tours.
At a family reunion we met an older couple who had been to Africa 14 times. F-o-u-r-t-e-e-n. Travel tip: We latched onto them for the next several weeks - having several long conversations about their experiences. It was, bang-on, the right thing to do, for they suggested remote, off the beaten track areas, chock-a-block with animals and hardly any humans. Perfect!!
Don't know anyone who's been on safari before? Read first-hand reviews and trip reports here »
| | |
| --- | --- |
| Off The Beaten Track: Soweto, South Africa | |
August the 9th we landed in and were whisked to the Grace Hotel to relax for a few hours before Elizma Petsch collected us in her car for a tour of Soweto. Elizma is a white, South African woman with red hair.
We were headed into a black area ripe with a history of violence which our South African friends back in Texas warned us about. "Don't go to Soweto. But if you do take a big tour bus and don't get off the bus!" These people lived in Jo'Burg most of their lives and had never been to Soweto. [Definitely off the beaten track for locals; even for international visitors, pre-2004.]
Elizma is known and loved by the people she took us to meet: like "Googie" - Winnie Mandela's cousin who was the official tour guide of her old home and "Wandi's" - a Shebeen (bar) where we had some food and a drink and my husband talked about jazz singers with the owner.
So not only did we ride through Soweto in a car driven by a white woman, we got out of the car and broke bread with Sowetans who were charming and proud of the new housing being built there.
It was an amazing, emotional experience.
| | |
| --- | --- |
| Off The Beaten Track: Getting To Selous, Tanzania | |
The next few days saw us negotiating our way to our first camp at the Sand Rivers in the "Selous". This huge World Heritage Site is in Tanzania so we flew to Dar Es Salaam then out to Sand Rivers.
The waiting room at Coastal Air saw people like us, with little luggage and dressed in the usual drab safari colors, waiting for their little planes to take us to the four corners.
Safari clothing: tips and advice »
Ted and I ended up in a four-seater with one engine, the kind of thing you experience when you travel off the beaten track. The pilot kept tapping the nav system to get it to work. As it was just sitting on the dash board it kept sliding off. Finally he handed it to our flying buddy who was going to a camp near ours.
It's times like these that I know we have crossed the safety line and this could well be our last flight anywhere. The stormy weather popped the little plane around (call letters: FUN 1) like those ping pong balls in lottery drawings. The pilot saw that I had my head between my legs and so he deftly navigated around the big thunderclouds, making the ride as smooth as possible.
As we descended to the off the beaten track Sand River area, we saw our first giraffe and hippo. We were ecstatic. We are in AFRICA!!
We landed on what we thought was a dirt road and it well may have been but, for our purposes, it was a landing strip for FUN 1. Our guide, Festo took us on a circuitous route to the lodge. We locked eyes on our first impala, Cape buffalo and zebra.
| | |
| --- | --- |
| Off The Beaten Track In Tanzania: Selous Game Reserve | |
The Sand Rivers lodge itself is beautifully built and we were shown to our open-air room, overlooking the river. As our host was briefing us I couldn't listen I was so excited to see hippos in the river RIGHT THERE making those funny noises (which we learned to sleep through as they never stop).
It was as if my eyes couldn't open wide enough to take it all in. That afternoon we began a walk that would take us to a part of the river even more remote and off the beaten track than the rest of the place where there really wasn't anyone else around.
We had arranged a "fly camp". So it was Ted and I and three guides. We boated over to an island in the middle of the river and the guys set up camp and began dinner. A drop shower was set up in the trees with a canvas screen around it. Warm shower in the African air and English Leather soap - what could be better? A Scotch whilst taking in our first African sunset in a very off the beaten track location, that's what!
Rarely do I think this hotel or that spa is worth the money we pay for it. But this. This is worth it.
We fell asleep with a blanket of stars so close and the Milky Way so clear that we almost couldn't sleep for the brightness.
The next night we moved back to the lodge and spent the next few nights in our private hut overlooking the river.
With the overhead light on in the room we had of course bats to-ing and fro-ing as they made a dent in the insect population. They were so close to our heads we could feel the breeze as they deftly flew by. Well, except for one bat. It didn't navigate our heads very well and sometimes brushed our hair.
In the morning we awoke to scratching sounds as the bats, weary from a night of hunting, found their way up into the fronds of our home. When I commented on this the manager told me that most tourists think they are birds coming in to roost. She hadn't the heart to tell them the truth lest it freak them out.
| | |
| --- | --- |
| Off The Beaten Track In Tanzania: Ruaha National Park | |
The next few days saw us move to the Ruaha River Lodge on the Ruaha River, also off the beaten track even though it's a national park in Tanzania. Mercifully, the plane we took was not FUN 1.
This Lodge was spectacularly located and our cottage was rudimentary but comfortable.
The first night Ted woke me up as he had heard something LARGE near our hut. As I opened my eyes I saw the dusk form my window eclipsed by a very large body. It was an elephant right next to our hut. Luckily he/she didn't lean on it! Quite heart-thumping at 4 in the AM!
Sand River was a different, less service-oriented camp than the previous or the last but we saw lots of lazing lions and trumpeting ellies but the drives were long and hot and that made for a long day.
| | |
| --- | --- |
| Not So Off The Beaten Track In Kenya: Nairobi | |
A few days later we were at a Holiday Inn in Nairobi, eating fajitas and drinking Tusker beer. This is a huge city and a very mixed bag. Many, many destitute people here - the well-educated who speak several languages drive taxi's. They are the lucky ones.
As we left for the airport to wing our way to our last off the beaten track destination - Robin Pope Safaris in the South Luangwa Valley in Zambia - we noticed about 15 large safari vans, all lined up to show their passengers the "wilds" of Africa in Kenya. We wondered at our good fortune.
| | |
| --- | --- |
| Off The Beaten Track In Zambia: South Luangwa National Park | |
Robin Pope is a real person and his wife, Jo Pope actually runs the camps, which are all off the beaten track. Both are amazing people. Robin was raised in the area and a crack guide, a reputation built on "walking safaris" where you move from camp to camp, walking and seeing what there is to see with a guide, a ranger and a tea-carrier (this is true) who can make a fire in about three minutes with a stick, a rock and some dry grass.
So we are here for three days of walking along with a couple from the UK. We set out at 6:30 am and were usually in camp by 10:45 am - quite enough walking for blanched gringos who did not work out enough before the trip. Although cool in the morning, this time of year - August - that cool quickly wears off to be replaced by searing sun that drains the energy of middle-aged people fairly quickly.
We saw many birds, got fairly close to hippo and giraffe and surprised an ellie.
We marveled at the amount of fertilizer beneath our feet and our guide, Bosti identified them all - from antelope to zebra and everything in between as well as what they had eaten. All the animal poop is the proverbial "elephant in the living room" - it is everywhere.
We also saw a honey guide. Legend has it that it will lead you to a honey tree. You can take some but must leave some for the bird. Otherwise, next time it will lead you to a lion! I know some people like that.
Service bouquet: It's Ted's birthday today and so the guides brought out a little cake, singing "Happy Birthday, dear Teddy" - a term of endearment he had not heard since childhood. He just beamed. At our evening drive the crew had gone ahead and set up champagne river-side. What is amazing is that I had only told the staff of Ted's birthday that very morning. This group of people act in the moment and are flexible. They are also happy with their work and each other which makes for a spectacular holiday for us.
Make an enquiry for your own Robin Pope Safaris trip »
Even just hanging around camp there are always animals - impala, grey monkey, elephant, pied kingfisher...and that was just one afternoon.
On a particular night drive we were able to pick up a pride of lion and follow them on a hunt. We never saw a kill - only the aftermath - but I think that our "following" activities do interrupt the hunting process to some extent. It may deter the hunter or the hunted to a different path. These animals must kill in order to survive. I wonder just how many starve due to our human quest to be voyeurs of the kill.
At our next camp the group went for a walk to the lagoon. I was prostrate on my grass-stuffed bed due to heat exhaustion. Travel tip: ALWAYS drink more water than you want. It is quite easy to become dehydrated, especially when the camp has an "open bar" policy.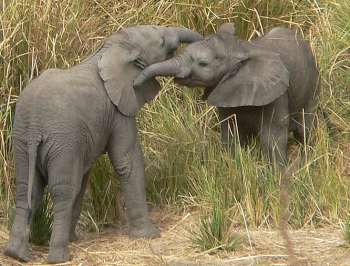 About two hours later Ted returns, very excited and regales me with this story: "We took a short walk to the lagoon and followed the dry bed along until we saw some giraffe. They were quite close and we watched for about 40 minutes. I was looking right at giraffe knees - about 30 feet away. All of a sudden a young giraffe started and there was a loud growl. LION. We had walked up on a stalking lion - only about 30 feet away. All the animals scattered." What an exciting story.
This is truly a camp that is erected at the beginning of the season and comes down at the end. Mainly because the area is flooded in the rainy season. So everything is built from grass. It reminds me of the 3 little pig story. It would be quite easy for a hippo to lean up against the hut with an aim to scratch her butt and then watch as our little hut collapses. Of course this never happened, nor has it. But it sure looks like it could.
For our last night with Robin Pope Safaris we ended up at a lovely lodge - Nsefu. Several private rondavels with open air baths and large, lovely beds. We had a great night drive, spotting a giant Fish Owl - quite a handsome bird - as well as two porcupines. Very rare to see them; we were pleased!
We returned to camp where the staff had set up a large banqueting table, replete with candelabra, linen and silver. Reminiscent of the 1920's. Exquisite dinner. How do they do that?
| | |
| --- | --- |
| All Safaris Must Come To An End, Even Off The Beaten Track Ones | |
The next day ended our Safari Camp(s) experience as we made our way back to the U.S.
There was an old gramophone in the bar at Robin Pope Safaris and once or twice we cranked it up. Something in our genes recognized it as the language of our most recent ancestors and we grew silent, thinking of the past. The bar can hold opportunities for silent reflection in the heat of the day when everyone else is napping.
There are several guest books from the years Robin Pope Safaris has been operating and I found a quote that summed up our experience with this group:
"Aim, at least, the perfection of everything that is worth doing at all and you will come nearer it than you imagine; but those always crawl infinitely short of it whose aim is only mediocrity."
- From Lord Chesterfield's Letters.
The Robin Pope group strive for perfection and many, many times they reach it.
More reviews about Robin Pope Safaris »
| | |
| --- | --- |
| Safari Location: | South Africa: Johannesburg; Tanzania: Selous, Ruaha; Kenya: Nairobi; Zambia: South Luangwa |
| Safari Company Used: | Robin Pope Safaris |
| Duration: | 3 weeks: 9-30 August |
| Traveller Details: | Kim Kelly, TX, USA |
| Rates & Availability: | Plan your own safari. Make an off the beaten track safari enquiry |
More South Luangwa Safari Reviews