Zambia Lion Kill
by Gwyn and Leslie Pettit
(UK)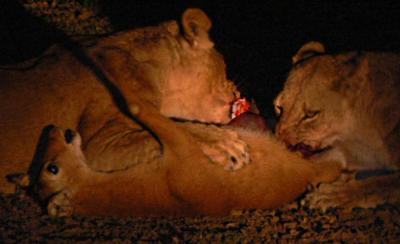 Lions Taking Down a Puku
A sundowner by the river, near a herd of grazing puku, was ended abruptly just after dusk by some approaching lions. Within minutes, we had a grandstand view of a very gory lion kill. We were able to video it all, at close range, and take some excellent photos.

The next night we also arrived soon after the same lionesses killed an antelope and had a grand view of the lions squabbling and swearing over the carcass while being watched by hyenas and harangued noisily by baboons.
Operator Performance
We had visited Zambia previously in 2004 and 2006 and loved it. From our previous visits, we selected Shenton Safaris.
They performed extremely well. We specially liked the feeling that we were valued guests and that they enjoyed our company.
The guides were excellent, especially Patrick Njobvu and Ian Salisbury, both of whom were skilled, knowledgeable and friendly and they also managed to instruct us without the slightest condescension.
Expert Africa (
travel agent
) made an error with our Lusaka-Mfuwe flight but, after a tense hour, we were able to sort it out in Lusaka.
Accommodation
The camps were Kaingo and Mwamba, both small camps with excellent facilities but also with a natural feel. Kaingo is a more permanent camp on the Luangwa river and Mwamba is a true bush camp.
Mwamba was our favourite for its setting, atmosphere and game viewing, but Kaingo had a number of viewing hides which enabled round-the-clock game viewing.
Food
Good and plentiful. Mostly European style but with, in addition, a good choice of local food at breakfast.
Breakfast was 'full English' and lunches were more casual than dinners, which were three course meals served more formally.
Dinner at Mwamba, in the open and in the dark, was always a memorable experience with an excellent atmosphere, good conversation and good food.
Wildlife Seen
A good range of Zambian wildlife although daytime viewing of carnivores was not as good as in September 2006.
We had excellent views of giraffes and elephants, both individually and in family groups, with plenty of time to watch them in more detail. There were many sightings of hippos with good action, although not as many as in September.
Good views of buffalo and wildebeest on the day-trip up country to the baobab forest. Gwyn is particularly interested in birds and we had some excellent times looking at them. Patrick was knowledgeable, patient and helpful.
Particularly memorable were a morning trip to Pelican Lagoon just to look at birds. We have some excellent photos of most of the water birds but also raptors and less dramatic birds such as bronze-winged coursers. Watching nightjars at sunset was also memorable.
There were fewer big cats about in June than in the previous September. We saw fewer leopards and had no good daylight sightings of lions – and no male lion except once in the extreme distance, but this was compensated for by two good views of night kills.
Animals were generally more dispersed however the bird sightings were better.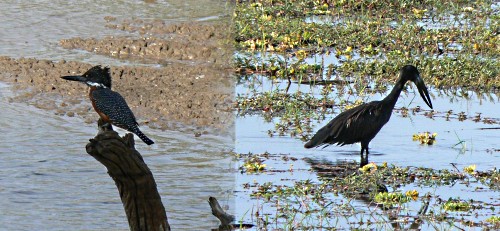 A Typical Day
Waking in the dawn for coffee by the campfire, watching the sun rise in a blue sky, was magic.
The morning game drive or walk would be from 6.30 to 10.00 with an enormous breakfast served on our return. Both camps enabled us to bird-watch whenever we were in camp, or we could visit one of the hides or the nearby ebony grove at Kaingo.
Following a lunchtime game viewing, we had an informal lunch and siesta, followed by tea beside the campfire. An evening game drive started about 4.00 pm.
Sundowners were served beside a lagoon or on the riverbank, followed by the spotlight night drive when a different experience of the wildlife was possible.
Finally we would return to camp for showers, drinks and a semi-formal dinner before bed in a luxury bamboo-and-thatch chalet, with a chorus of owls, hyenas and the occasional lion roaring far away.
Some days we made walking trips, with gentle walks of a few km. These were unpredictable, depending on animals and birds seen but always fascinating.
The highlights: the experience of being away from the pressures of home life, and of being immersed in the bush. The climate of the Luangwa is a perfect contrast to our English weather. The sunsets were so predictable.
More South Luangwa Safari Reviews