Shenton Safaris Review
by Ruth
(Worcestershire, UK)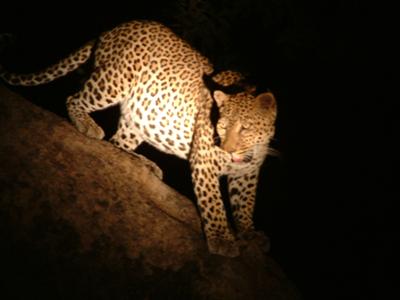 Kaingo - Leopard
I went on a 150th birthday safari. Two friends and I all hit the big 5-0 together, and kindly let my husband join us on the celebratory holiday, most of which was organised by a friend in Livingstone.
Safari Destination
We travelled in, and spent 3 delightful weeks in Zambia, Namibia (
Caprivi
) and Botswana (
Chobe
). The South Luangwa (
Zambia
) section was the final safari, and had a lot to live up to after the previous impressive experiences, but it managed to do so.
We made our own arrangements for the travel, flying from Livingstone via Lusaka to Mfuwe in Luangwa, a bit of an adventure in itself, particularly with all the bush fires.
We stayed several days with Shenton Safaris in their small but well equipped Kaingo camp, and the experience was great.
The guides were knowledgeable, the camp comfortable and the surroundings incomparable, deep in the South Luangwa National Park. Most of the time we felt as if we had the whole park to ourselves.
Wildlife Highlights
On arriving in camp, we were greeted with "Have a quick drink if you like, but there's a leopard in the tree just outside camp if you want to go and take a look."
Did we want to....?? The leopard had killed an antelope (
a puku, I think
) and dragged it up the tree. We watched him for some time in daylight, and noticed he was very aware of us and growled and hissed alarmingly. However, the real magic came that evening when we went back to watch; he was much more relaxed at night, and we sat for a good hour just enjoying this magical creature.
We were joined by a semi-circle of hyenas arranged tidily behind us and dribbling in anticipation of any morsels dropped by the leopard!
We saw pretty much everything we had hoped for and more, lions, elephants, hippos galore, Thornicroft's giraffe, wonderful birds, including the Pels fishing owl, which I believe avid twitchers would die for! At the smaller end of the scale, we were delighted to see honeybadgers, and the elephant shrew fascinated us, as did the bush snake dangling in the tree by the camp kitchen.
Night driving found us a dramatic lion pride hunt. Three beautiful lionesses stalking impala - girl power!
There had been a hippo fight shortly before we arrived, and there was sadly a corpse in the river just in front of our chalet. However, this did mean that as the days progressed, more and more crocs arrived until they were stacked 3 deep on the riverbank. Shining a torch across at night revealed some 200 pairs of glowing red eyes.
The hippo hide provided amazing opportunities for close encounters, particularly as, sadly, the rains had not been so good that year and there was quite a concentration of animals for the time of year.
'Sundowners' at Fish Eagle lagoon were wonderful, the play of light on the lagoon kept us oohing, aahing and snapping photos for all we were worth.
Finally, the "trademark" walking safaris were everything we had hoped for: eyeball to eyeball with the elephant matriarch and her herd across a stream was unforgettable and romantic. Sitting down on our packs, lined up watching the Cooksons wildebeest who were in turn lined up watching us was more a comedy moment, but equally memorable.
Accommodation & Advice
Kaingo camp, approached through a magical ebony grove, is in the heart of South Luangwa: the chalets flank the river, and are simply but tastefully furnished. I don't think the frogs in the bedroom or the large and cheerful gecko in the lavatory are standard issue, but they probably should be.
Our tips for people planning their own safari are - take advice, sun cream and far more film/memory cards than you think you'll need.
More South Luangwa Safari Reviews