South Luangwa Wild Dogs
by Ian Cross
(Australia)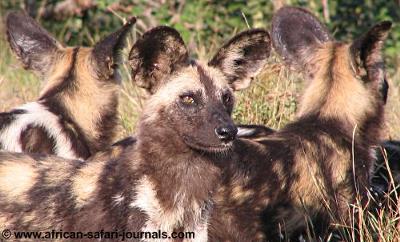 Wild Dog Pack
South Luangwa is home to the Thornicrofts giraffe and Cookson's wildebeest however the highlight of the trip for me was seeing a small pack of wild dogs.

Predators were in abundance and one morning we saw lions of the Hollywood pride take a buffalo cow. A number of leopards were seen including a mother and cub.
Safari Company Performance
My trip was self organised via email although that was not too difficult as I had already visited the South Luangwa Valley staying at Kaingo and Mwamba camps the year before in October.
As a keen photographer Shenton Safaris has a great reputation among wildlife photographers as their camps are situated in an area known for its plentiful game and great predator interaction.
They provide an excellent service. Their guides are very knowledgeable and informative to their guests. Nice touches are bean bags to rest your cameras on in each vehicle as well as cloth dust covers for your equipment.
Derek Shenton and his staff have constructed special hides from which guests can view and photograph wildlife in perfect safety. Nothing is too much trouble for the staff and you are made to feel very comfortable the moment you arrive.
I travelled by myself and this was never a problem. The game viewing was conducted in open 4wd vehicles. It was never crowded, hardly anymore than 4 people to a vehicle so everyone had plenty of room.
Accommodation and Food
Kaingo and Mwamba for 10 nights. All the accommodation was of an excellent standard and service likewise.
The food at all places was excellent. Tea, coffee and biscuits before the game drive. Bacon, beans, eggs and tomatoes after the game drive and lunch and dinner meals were varied and of high quality.
Wildlife Highlights
Where do you start, there are so many highlights.
Along the river areas hippos, buffalos and massive Nile crocodiles were common. Antelopes such as puku, impala, kudu, bushbuck and waterbuck were seen on most game drives.
Another feature of the park is the large amount of bird life. Along the lagoons storks, herons pelicans and spoonbills are everywhere. However the three highlights for me were the beautiful crowned cranes, the giant eagle owl and seeing Pel's fishing owl in broad daylight not once but twice.
As well as the animal and bird life, the area around Kaingo boasts some beautiful old ebony tree groves while a short drive from Mwamba the baobab forest is well worth a visit.
Another highlight for me apart from the wildlife was flying down the gorge over the rapids below Victoria Falls in a helicopter at low level.
Typical Day
Wakened by the beating of a drum at about 6am, a quick hot shower, tea and biscuits by the fire and you are off on your game drive.
Return about 10 am depending on what you have seen to a hot cooked breakfast. Then you have until about 3pm to rest, enjoy lunch and prepare for the afternoon game drive.
Sundowners are taken as the sun sets. A spotlight is set up and the night game drive commences to look for nocturnal animals. Back at the camp for dinner and to bed for an early start the next morning.
Tips and Advice
Pack light and don't take brightly coloured clothes.
Try to take a change of clothes in your hand carry on luggage in case your checked baggage goes missing. This can be a problem staying within hand luggage limits as you want to carry your camera gear with you on the aircraft.
A pair of binoculars is handy for game drives and a pair of walking shoes or runners is necessary if you want to take part in the walking safaris.
In Zambia it can get very cold in the mornings during the winter months and on the evening night drives so take a fleece or down vest, warm hat and gloves.
More South Luangwa Safari Reviews