Zambia Adventure Safari
We started off in the canoe quite early in the morning, so the sun wasn't too bad. We stopped for a few hours at lunch time, so we missed the worst (hottest) part of the day on the water.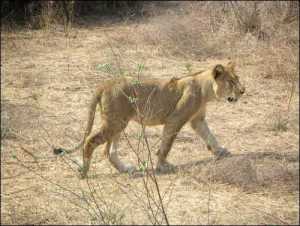 Which safari company did you travel with?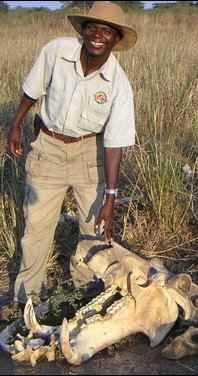 Chachacha Safaris. We stayed in their hostel in Lusaka (Zambia, Africa) - and we went from there with them on the adventure safari.
Was it a pre-designed itinerary or tailor-made for you?
It was pre-designed, but I was travelling with 8 friends, so we took up the whole safari and we were able to make a few small changes to suit our needs. It was really great.
And how did you get to hear about them?
I have a friend who was living in Zambia and he recommended them. We looked them up and the reason we chose them was because they had a canoeing element, a walking safari and obviously the regular jeep safari. So we liked the diversity of that for our adventure safari.
How did they perform?
Nothing we didn't like, we loved everything. Really great staff, great guide. When we went on the canoe safari it was very well organised, very safe.
They provided all the food, which was of an excellent standard and it was all inclusive in the adventure safari price.
There really was nothing that we could complain about.
| | |
| --- | --- |
| How did you travel to Zambia? | |
We flew from Dublin to London, and then we spent some time in Kenya. And then flew from Kenya to Zambia. We didn't go on safari in Kenya, we were volunteering there.
Get advice on finding cheap flights to Africa...
| | |
| --- | --- |
| Where did you stay and what was it like? | |
The Chachacha hostel in Lusaka was very nice. We were housed in dorms there with bunk beds, mozzie nets and then you had a bar, cooking facilities and a small swimming pool. It was good.
For the adventure safari we started at Mvuu Lodge and we camped there for one night. We did a sunset boat cruise there.
The next day we moved on to the Chongwe Community Bush Camp and then we were based there for the remainder of our adventure safari.
It was very good, it was in tents - and they were mosquito-proof. They were really good, they provided beds, mattresses and we had the option of renting sleeping bags but we just brought our own.
In each of the camp sites we had our own toilet and shower facilities, but not en-suite like the luxury tents.
| | |
| --- | --- |
| How about food, what did the typical meals consist of? | |
We had breakfast, lunch and dinner included and then snacks and sundowners as well.
Breakfast was usually fruit or yoghurt with some sort of bread or maybe eggs.
Lunch was salads, sandwiches, that kind of thing.
Dinner was some sort of meat and generally rice. It was really good.
We had excellent weather, we were really lucky. Nice and warm and clear skies.
| | |
| --- | --- |
| What wildlife did you see? | |
Yes, we saw a lot. We saw lots of elephants, we were lucky to see some hunting when we saw the lions as well as some cubs, buffalo.
On the canoe safari day we saw lots of hippos, crocs, that sort of thing.
With the walking, did you get quite close to the wildlife?
We did, it was quite controlled. We had an armed game guide with us so we always felt quite safe. Then John, our safari guide, was telling us a bit about tracking and the flora and the fauna in the area which was really interesting.
What would you say was your wildlife spotting highlight?
One day John took us to see a mother lion and cubs, that was just really fascinating.
| | |
| --- | --- |
| What was a typical day like on your adventure safari? | |
We woke up generally quite early, and they provided us with breakfast. We normally went on a game drive in the morning, stopped off at one of the islands or a wildlife spot for lunch, then have an afternoon game drive, came back to the camp to have showers and change and have some dinner and then went on an evening game drive.
| | |
| --- | --- |
| Did you do other activities apart from wildlife viewing? | |
We went to see the Victoria Falls straight after the safari. They give you the option to get the raincoats before you go into the Falls area, well we didn't think we'd need those. So we just viewed it in our shorts and t-shirts and got absolutely drenched. But it was lovely, really an amazing sight.
Some of my friends did the bungee jump, but I didn't. I preferred to just watch from the bridge.
| | |
| --- | --- |
| Was there anything that didn't meet your expectations on the trip; any disappointments or regrets? | |
No. No regrets at all, it was excellent.
Can you offer any tips and advice to others planning a similar camping safari?
Bring a torch, neutral clothing, I think good footwear was pretty much essential.
And keep an open mind, it's a good experience in general.
Did you have any problems with mosquitoes?
No we were ok. We were all on malaria tablets and loads of insect repellents and mozzie-proof tents so we were fine.
What was the most useful item in your luggage?
I would think a torch was probably the most useful.
| | |
| --- | --- |
| How would you rate your safari, on a scale of 1 to 10? | |
An 11. It was really good.
| | |
| --- | --- |
| Safari Location: | Zambia: Lower Zambezi National Park |
| Safari Company Used: | Chachacha Safaris |
| Duration: | 5-day safari, end June |
| Traveller Details: | Claire Byrne, Ireland |
| Rates & Availability: | Plan your own safari. Make an Adventure safari enquiry |
More Zambia Safari Reviews