Zambia Hippo Haven
by Maggie and Peter Manson
(UK)
Pile of Hippo's
A fish eagle calls as we watch a family of elephants on the other bank and some hippo's grunting midstream.

Suddenly there is a loud rustling behind our outdoor bath and grabbing the camera, I come face to face with a medium sized hippo plodding up the bank.It is as surprised as I am, but stays long enough to be photographed.

We spend some time with the lionesses and six cubs from the Hollywood pride and after sundowners by the river we return after dark to watch the adults preparing to hunt.

On the way back we spot a bushy-tailed mongoose, hyenas and genets. Shortly afterwards we spot a leopard in a gulley chasing impala.

Just as we reached Kaingo another leopard shoots across our path, taking no notice of us.

After an hour or so we return for a delicious buffet lunch served on the deck built out over the river and presided over by Stumpy, an oversized crocodile.
Accommodation
During our Shenton Safaris trip we stayed at Kaingo on the banks of the Luangwa. We also stayed in Mwamba, a small bush camp on the (normally) dried up Mwamba, a tributary of the Luangwa, both of them situated in South Luangwa National Park.
The camps are extremely well-run, family-owned, personal, very comfortable with top class guiding, with a mixture of driving, walking and use of hides.
Food and Wildlife Highlights
The food was excellent and plentiful – at 6am coffee and biscuits and at 10am a cooked breakfast is served.
At 1.30pm there's a buffet lunch, and at 3:45pm tea and cake. A 3 course dinner at 8:30pm wraps up the day. Occasional elaborate picnic lunches in the bush or by the river with vegetables and fruit fresh from the camp's garden, were enjoyable.
The wildlife at South Luangwa are excellent for lion (Hollywood and Mwamba prides) and leopard, as well as elephants, hippo, giraffe, crocodiles, puku, Cookson's wildebeest, zebra, baboons, and vervet monkeys.
Waterbuck, bushbuck, warthogs, hyena, huge herds of Cape buffalo, impala and kudu. Wildlife that was less often spotted include eland, civet, honey badger, mongoose, squirrel, scrub hare, porcupine, tree frog, chameleon, monitor lizard, genet and elephant shrew were also spotted.
A huge variety of birds included guinea fowl, various vultures, lilac-breasted rollers, lillians, lovebirds, Cape turtle and other doves, as well as ground hornbills, grey and yellow-billed hornbills.
As well as grey and purple crested louries, glossy starlings and herons, egrets, pelicans, spoonbills, marabou, saddlebill and yellow-billed storks.
Other birds we spotted include hammerkop, kingfishers, oxpeckers, white-fronted and European bee-eaters, carmine bee-eaters (in season), coucal, green woodhoopoe, fish eagles, various other eagles, pearl spotted owl, Pel's fishing owl, eagle owl, wood owl, and sausage trees in flower.
The highlight of the trip was the carmine colony.
Typical Day
Having been awake half the night anyway listening to elephants tramping through camp or the not too distant roars of lion and leopard, sleep is finally banished by the 5.30am wake-up call and the clunking of the bucket shower being filled with hot water.
Some twenty minutes later we make our way to the campfire serenaded by a pearl spotted owl. Coffee is brewing and a plate of tasty biscuits will keep up our strength for the walk from Mwamba to Kaingo.
It pays to make an early start to catch the wildlife and avoid the heat of the day. The 6km walk traverses open grassy and scrub areas as well as ebony groves.
Accompanied by our very knowledgeable guide and armed scout, we encounter impala, warthogs, an elephant, a group of wildebeest, a fish eagle, snake eagle and giant kingfisher. We stop for tea under a sausage tree by a lagoon inhabited by a grumpy old hippo.
We arrive in time for a big cooked breakfast with our hosts and the other guests. We then settle back into our luxurious hut on the river bank with time to write up the diary or snooze in the hammock.
Around 12:00 we take a drive with the other guests to the hippo hide, rebuilt each season into the bank on a bend in the river.
Today it is fairly quiet, even soporiphic, as we watch the odd yawn, oxpeckers snacking on the animals' backs and baby hippo's following their mothers and avoiding the big males.
The deck is a good place to watch bird life on the river and elephants crossing in the distance. After a siesta and a quick shower, in response to the drums we gather again for tea and cake before heading out on the afternoon drive.
Back at camp everyone gathers at the bar and then we sit together for dinner.
Exhausted and exhilarated by another day full of surprises we retire to be lulled to sleep (or not) by leopards, hyena, baboons and a very large animal (that hippo again?) pottering round our hut.
Activities and Disappointments
We visited photographic hides – hippo and carmine hides are particularly rewarding.
We also visited the Tribal Textiles in Mfuwe who supply fabrics to many of the local camps. (If you miss this, there is a small shop in Mfuwe airport and a larger one at Lusaka.)
Unfortunately time was too short, photos could have been better, and we didn't get to see an aardvark!!
Useful luggage, Tips and Advice
We couldn't imagine the trip without our camera. A word of advice to anybody planning the same safari: be patient and be prepared to spend time observing the wildlife.
Bring good
binoculars
. Pack really light as there is a daily laundry service. Buy the CD of wildlife sounds from the Valley.
More South Luangwa Safari Reviews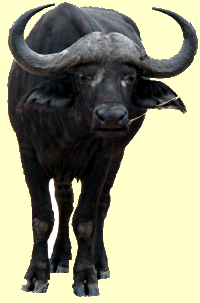 Join in and write your own page! It's easy to do. How? Simply click here to return to Zambia Safaris.