Zambezi River Safari
Hélène visited Africa for the fourth time and she sent her feedback to my questions via e-mail to share the experience...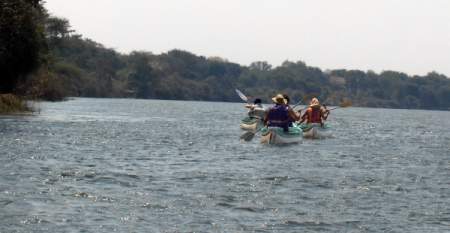 Which safari company did you travel with?
I visited Botswana for one day only on the 20th, and travelled by minibus and local transport which was good to meet a lot of people (big part of the journey!).
From 23rd-28th, I went on safari with Chachacha Backpackers (located in Lusaka, Zambia) on a pre-designed safari itinerary.
I was in a group of 7 people and we drove around in 4-wheel drive land cruisers/Land Rovers and also went in canoes on the Zambezi River.
And how did you get to hear about them? Did you book over the internet or once you got there?
I used Lonely Planet and the internet. I also heard about Chachacha from friend who is living in Zambia. I booked my entire safari over the internet.
Was there anything you didn't you like about them?
No, they were really great. The guide was great - professional, thoughtful, patient, helpful.........
Would you recommend somebody else use them for their safari?
Yes. In Zambia you don't have so many alternatives for backpackers except in Livingstone where most of the backpackers, campsites and companies for safaris and activities around the Zambezi River are located. So Chachacha is a quite a unique choice but good choice!!
| | |
| --- | --- |
| Where did you stay and what was it like? | |
Chachacha Backpackers' campsite (near Chongwe river camp): really nice campsite just near the river with beautiful view and all facilities (wonderful hot shower under the sky).
| | |
| --- | --- |
| How about food… what did a typical breakfast, lunch and dinner consist of? Did you eat any local or traditional food? | |
The food was good ... we ate too much!
Breakfast would be bread, cornflakes, juice, coffee/tea, marmalade, fruits, yoghurt and sometimes English breakfast (but I don't like it so…)
Lunch was normally sandwiches, chips, cheese…
Dinners were barbecue, European and local food! Excellent.
Not too hot because it was in the winter. We had clear days and cold nights (sometimes really cold!).
| | |
| --- | --- |
| What wildlife did you see? | |
Wildlife common in Zambia and Botswana were elephant (a lot), lion, zebra, hippo, warthog, kudu, eland, bushbuck, buffalo, waterbuck, antelope, dik-dik, impala, gazelle, wild dog, hyena, mongoose, vervet monkey, olive baboon, guinea fowls.
Particular wildlife I enjoyed to see was giraffe (Botswana), 1 leopard (Zambia) and crocodiles (a lot in the Zambezi River).

What would you say was your wildlife spotting highlight?
At night when the animals went to drink at the Zambezi River.
I have a really good memory in Lower Zambezi NP canoeing on the Zambezi River with hippos and crocodiles: ouah!!
Also during a walking safari in the same park. At one point we were surrounded by elephants. I realised human beings are nothing compared to nature. We are so small!
Were you satisfied with the amount of wildlife you saw?
Yes, particularly in Zambia. Zambia is still not so touristy compared to Tanzania (visited in 2003), so you feel closer to animals and nature!
| | |
| --- | --- |
| Describe a typical day of your safari from the moment you woke up until you went to bed. | |
We'd wake up, have breakfast and then go on a canoeing or walking safari in the morning. After that was lunch, 1 or 2 game drives in the afternoon or 1 game drive in the afternoon and 1 night game drive.
Then it's time for a shower, dinner and lot of discussion around the fire!! Lot of stories and fun!
| | |
| --- | --- |
| What was the highlight of your trip? | |
In Zambia in the campsite: we spent all night sleeping with an elephant eating a tree just 2 meters beside a tent. I didn't sleep really well because I was scared by this huge animal but I was really excited at the same time!
Can you offer any tips and advice to others planning a similar safari?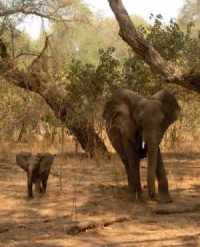 Practical advice: It's better to spend a minimum of 5 days on safari, because 2 or 3 days is too short to enjoy wildlife.
"Heart advice": Enjoy everything with no prejudice. Open your eyes, listen the nature! Be a child!
What was the most useful item in your luggage?
Torch or flashlight
Mosquito repellent
How would you rate your safari, on a scale of 1 to 10?
Zambia: 9
Botswana: 8 (too short)
I just lived day by day and tried to enjoy everything I have done; everything I have seen.
| | |
| --- | --- |
| Safari Location: | Zambia: Lower Zambezi National Park, Botswana: Chobe National Park |
| Safari Company Used: | Chachacha Backpackers |
| Duration: | 1 week in August |
| Traveller Details: | Hélène Pinaud, France |
| Rates & Availability: | Plan your own safari. Make an enquiry |
More Zambia Safari Reviews