Mwamba Camp Impressions
by John Milbank
(Australia)
One of the best parts was the scenery and just being in the bush, and for most of our stay at Mwamba camp, having it to ourselves. The river, the oxbow lagoons, the ebony glades, almost always hosting grazing, browsing and hunting animals. It's truly a paradise.
Operator Performance and Accommodation
Shenton Safaris is a family operation with one small to medium sized camp (
Kaingo
) with a magnificent outlook over the Luangwa River and one small camp (
Mwamba, just three chalets
) in a delightful bush setting next to the Mwamba River.
This is an uncrowded part of South Luangwa National Park, a couple of hours or more from the park entrance at game-drive speed.
My favourite was Mwamba camp, with its reed and thatch accommodation…the smaller, simpler and more intimate, the better for me. Staff attention was excellent, guides were good and hard-working.
Our group numbered six, so we filled Mwamba camp and had it to ourselves for 5 nights. We stayed 2 nights at the main Kaingo camp as well.
Food was good…simple and well-prepared, which is how I like it, not fancy or extravagant in either cuisine or quantity. Highlight was a braai one night at Kaingo camp…our cook on that occasion was our guide.
Wildlife
There were several wildlife highlights, including two male giraffes fighting, a leopard on a kill, another very relaxed leopard sauntering along close to our vehicle in daylight, lion beginning a buffalo hunt (
aborted by a tactical mistake which lions sometimes make
), and close-up views of hippos afforded by one of Shenton Safaris' noted hides.
We went to the hippo hide twice, once in the middle of the day and once just before dawn to watch the hippo activity as the sun came up over the Luangwa River.
Elephants were seen often, including a family group which visited Mwamba camp one night and caused us to prudently vacate the campfire area in case our presence upset the matriarch who browsed on the camp shrubbery for quite a while.
Typical Day
The Shentons offer a third activity each day, a midday drive, walk or visit to a hide…and we took advantage of this on a few occasions.
Otherwise, our days were as typical as any other of the better safari camps I've been to: before dawn wakeup; coffee before the morning drive, a morning tea break during the drive; breakfast after the morning drive; after which we usually chose to have our daily showers; then midday activity followed by a short rest period (
we often used this at Mwamba to watch the wildlife in front of camp—baboons, bushbuck, ever-present bee-eaters etc
); afternoon tea preceded the late drive which was interrupted by a stop in the bush or at a scenic spot for sundowners before the spotlight was switched on to look for nocturnal animals.
The night drive was followed by dinner back at camp, then coffee around the campfire to end the long day.
Disappointments
I don't make a big thing about disappointments because I don't favour safari destinations where there's a member of the big five behind every bush.
We didn't see as many lion and leopard as we expected on this trip, but that's as it should be — nothing should be guaranteed in a wilderness area.
While we had several good sightings of lion and leopard, the big cats were generally elusive on this occasion. Our guides worked very hard to find them, and as a result some of our group found the night drives quite tiring and would have welcomed an earlier return to camp.
That last hour of a long day can do that to you when the animals are staying out of sight and the cloak of darkness hides the scenery.
Highlights
Firstly the scenery and isolation and secondly, the surprise sundowners that the Kaingo camp staff put on for us on our last night.
Our guide drove us to Fish Eagle Lagoon, where we expected nothing more than a scenic end to the day…much to our surprise, waiting for us was a small table set with bubbly and finger food.
More South Luangwa Safari Reviews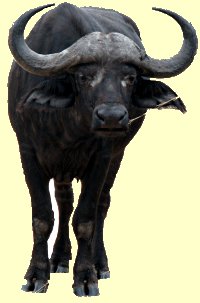 Join in and write your own page! It's easy to do. How? Simply click here to return to Zambia Safaris.