Wild Dog Safari
by Judith Price
(Australia)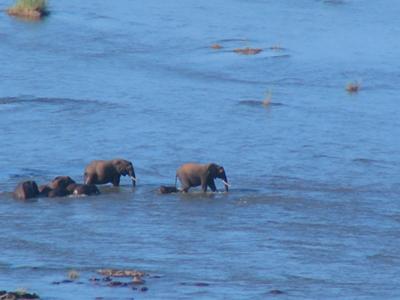 Ele river crossing - Olifants Camp, Kruger
Jacob at Robin Pope Safaris was one of the best guides we have ever had. Extremely knowledgeable and knew a lot about photography – i.e. how to position a vehicle, best light, good framing etc. He was the best!
Safari Operator Performance
We used Africa Safari Co Australia. They have handled our two previous trips.
We self booked Kruger though.
Robin Pope Safaris in Zambia for the 7 day Wild Dog Week.
RPS provided excellent guiding.
Kiki (Kayala) the camp manager was an excellent Service manager and provided us with fresh milk every day when they were told that we hated powdered or UHT milk. That was very impressive for a 7 day stay.
Accommodation
SOUTH AFRICA
We spent three days in the beautiful Melrose Boulevard Apartment (Seasons in Africa) in Jo'burg's Melrose Arch district.
Then
Kruger National Park
.
The first three days at Pafuri Lodge in the north of the park (Wilderness Safari and Adventure Co). Excellent 4-star accommodation, meals and service.
Guiding was good – but not a lot of wildlife. Still a great way to start the trip.
Then 10 days self drives Kruger staying in SanParks lodges.
1 night at Shingwedzi – fantastic wildlife in that area. Adequate accommodation, adequate food.
3 nights at Olifants Camp in a river view chalet. Adequate accommodation, adequate food.
WOW! Family of eleven elephants crossing the river in front of our chalet, excellent game viewing all round on day drives. Meals were adequate but very expensive. Service was good. Shop and other facilities excellent for self drivers.
On to 4 nights at Lower Sabie - good accommodation (new river side chalet); food was average and hugely expensive.
Here the wildlife was astounding! Elephant, buffalo, giraffe, zebra, lion, white rhino, hundreds of impala, wild dog, cheetah – Wow! Wow! Wow!
(Find out how to guide your own safari)
ZAMBIA
Then up to
South Luangwa
in Zambia to visit Chipembele Wildlife Education trust for a several days – an excellent education centre and their conservation programmes in schools is very impressive.
1 night at Flat Dogs Camp (South Luangwa) - excellent service, great accommodation and excellent food.
Stayed at Robin Pope's Nkwali Camp for 7 days on Wild Dog Week (Africa Geographic safari); went out daily with the researchers from Zambian Carnivore Project – to track wild dog.
The telemetry told us they were in the area – but we only 'almost' found them.
Still South Luangwa was beautiful bursting at the seams with chameleon, snakes, tortoise, birds, leopard, elephant, buffalo, giraffe, lion, puku, impala, crowned crane! Amazing week.
The food and service at Nkwali was superlative – excellent food, service and guiding – 5 stars!
Food
Western fare – all good quality.
Flat Dogs and Nkwali's food was of very high standard.
Breakfast light porridge and toast – brunch substantial – bush breakfast at Nkwali to die for – eggs, bacon, tomatoes, beans, toast and champagne = perfect!
Wildlife
See above!
The best sighting was being charged on foot by an elephant whilst on a walk and living to tell the tale – WOW!
Leopard female up a tree at night with a dead puku calf – her grown daughter (leopard) circling the tree making "I'm so cute" poses and noises and Mum snarling and hissing down at her.
A 2 inch chameleon spotted at night whilst travelling along a road spotlighting! Amazing!
Typical Day
Woke at 5am and had first coffee, porridge and on the boat to cross the Luangwa River by 6am.
Into a vehicle and on the tracks by 6.30! It's full on safari-ing.
I recommend staying in one afternoon or morning every three days – the lodges are luxurious and if you are in the 'bush' animals come in and the sights and sounds in the camps are just as amazing as being out and about!
Other Activities
We spent an entire day visiting primary schools in Mfuwe.
We also visited the Apartheid Museum in Johannesburg and found it to be a truly heart-breaking testament to the oppression of people – but also the hope and future of South Africa.
A whole day trip to Sterkfontein and Maropeng was another highlight we could have happily spent two days exploring the caves and the interpretive centre at Maropeng, rather than the 4 hours we had there. Thoroughly recommend it - it's extensive and World Class.
Disappointments / Regrets
That the month wasn't two months… only real disappointment was each other after too may G&T's?
We overnighted in Pilgrim's Rest – that is a seriously spooky town with very strange ambiance and people.
We were disappointed that God's Window and the Panorama Route was fogged in on our days there… But that's nature for you! You'd think God could keep his own window fog-free!
Tips and Advice
Rest every few days – stay in camp and catch the life as it goes by.
The most useful item in my luggage was the elastic travel clothes line when self-driving.
We LOVE southern Africa and spend every waking moment dreaming, saving, plotting and planning our next trip.
Safari packing list »
Judith's Safari Details:

Rating: 8/10 excellent

Safari companies used: Africa Safari Co Australia, Robin Pope Safaris, Self Drive

Parks visited: Kruger National Park in South Africa, South Luangwa in Zambia

Date of safari: 28 February for 30 days

More reviews for Robin Pope Safaris, and Kruger self-drive safaris...

More South Luangwa Safari Reviews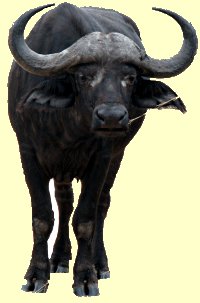 Join in and write your own page! It's easy to do. How? Simply click here to return to Zambia Safaris.