Affordable Luxury Safari
by Nancy Row
(Southern California, USA)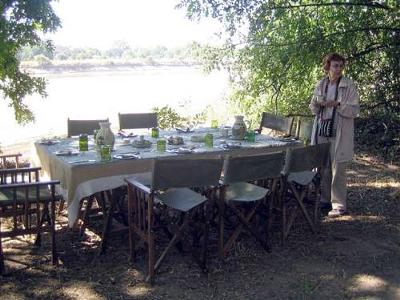 Outdoor Dining At Its Best
My son wanted to remain at Kaingo camp; my friend has wanted to repeat our whole experience. Since it was so perfect, I hesitate to 'try' to repeat it. Even though I had requested affordable luxury, I really did not expect it and boy was I wrong. I felt like how I would imagine Adam and Eve and their experience in the garden: remote, beautiful and full of God's creatures. Jules and Derek Shenton brought it all to life.
Accommodation and Food
I had requested an affordable luxury safari and that is what we got. We had beautiful, well appointed huts with all the amenities – way beyond our expectations.
Our meals were outstanding in every location. Everything was fresh and prepared to our individual request and satisfaction. Buffets of everything you could possibly want with the chefs in each camp working their magic.
Wildlife Sightings
Rather than name all we saw I will say that we did not see the rhino (
we did not go to the tourist park in South Africa where we would have seen those – our choice
). But we saw just about everything else.
One highlight was returning back to camp, sharing the road with 21 lions; another – when a teenage elephant made motions to charge our vehicle; and night viewing.
Typical Day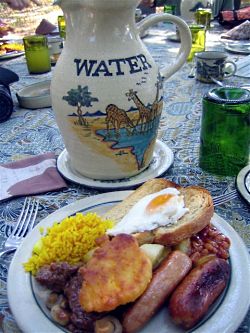 Kaingo camp: wake to the sound of drums early morning, coffee and light fare (biscuits and fruit); game drive for several hours and return to a FULL breakfast (
individual ordered
); nap, read and talk with the owners, review the photos we had taken, lounge by the river (
on a secured raft
); lunch and then a walking safari or visit the hides for close up viewing of hippo and elephant; later an afternoon game drive until time for sundowners; return to camp to a wonderful dinner and then a night game drive – back late and camp fire and bed.
My husband, a family friend, our adult son and myself travelled together. At each camp our game drives were in an open 4WD vehicle with elevated seats. It was cool so blankets were provided and each drive was spectacular.
Other Highlights and Tips
Apart from the many, many game drives with very impressive guides who not only pointed out the animals, but helped us learn so much of their habits of all the animals and were very knowledgeable about all the flora and fauna – being so remote yet we had all the luxuries – and so many staff to take care of us all.
We were the only four at Kaingo Camp and there were 18 staff members to bid our every wish. It was so interesting talking with our hosts – learning about what keeps them at the camp, etc.
One very important tip is to travel light. We did and it was very easy to take our many flights. Laundry service is available at all the camps.
The most useful to take with is a pair of good walking boots (
and of course a camera, extra chip and battery
).
More South Luangwa Safari Reviews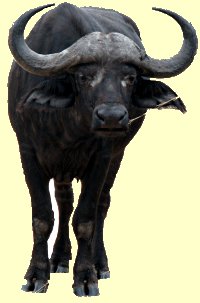 Join in and write your own page! It's easy to do. How? Simply click here to return to Zambia Safaris.