Luangwa Safari Leopard
by Annabelle Peacock
(Australia)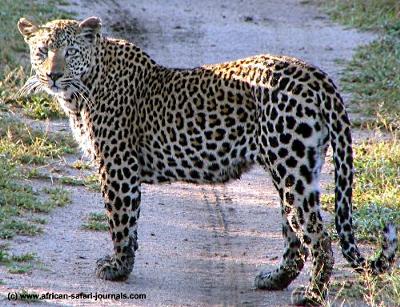 Nimble and Graceful Leopard
My Luangwa safari wildlife spotting highlight was seeing my first leopard. They are much smaller than you would expect and move so incredibly nimbly and gracefully. At first you couldn't be sure if it wasn't just a trick of the light, they are so great at hiding, and then sure enough it leapt up a tree.
Safari Company Performance
Amazing. We were blown away that Shenton Safaris managed to so effortlessly provide 5 star service in the middle of nowhere.
The guides were incredibly well informed and nothing seemed like too much trouble. There was a real authenticity about the place, the people are passionate about their work. And the game viewing was incredible, and let's just say the food was brilliant and I still feel full! There was nothing I didn't like.
I travelled with my husband and we went on game viewing in a 4wd with 2 bench seats (
apart from driver
) The most we ever had along on a game drive was 6 people. Absolutely luxurious.
Accommodation and Food
We stayed at the Kaingo Camp and the Muamba Camp – they were stunning, and quite different.
I felt so spoilt to be able to be in beautiful, luxurious yet earthy feeling accommodation and still be right there with nature.
Breakfast had everything from muesli, fruit and toast to a full hot breakfast. And we already had the freshly baked cookies with the early drive. There was fresh cake at morning tea.
Lunch was salad and something tasty, and dinner was what you would find in any great restaurant. We tried local things such as the tasty liquor made of the fruit the elephants love to eat (
Amarula
).
Wildlife Highlights
We saw everything! Leopard, lions with their cubs, hyenas, wild dogs, giraffes, elephants, warthogs, zebras, all sorts of birds, hippos, crocs, baboons and more.
The fact that it was so unspoilt meant there is heaps of game to watch and they seem to be going about their business without too much concern for us.
Typical Day
Wake up to the sound of the drums as an alarm (
much better than the usual alarm
). Have tasty coffee and biscuits and leave for drive at 6 am. Spend a couple of hours game viewing from vehicles. Brilliant.
Come back and have morning tea. Do a different type of animal viewing e.g. hippo hide. Have great lunch. And in the afternoon perhaps a walking tour and then another drive is offered in the afternoon/evening, including sundowner drinks.
Come back from the drive and have a drink and then dinner. There is a lot offered but also plenty of time to chill out around the beautiful camps.
Also visited the site called "the plot" where all the vegetables for the camps are grown.
Safari Advice
This place is so unique in many ways but particularly in that it is so deep into the park that there are no crowds and it's so authentic – if you intend to visit more than one safari area go here last, otherwise you might be disappointed by the others.
More South Luangwa Safari Reviews