Ontdek Kenya Review
by Mary Harper
(England)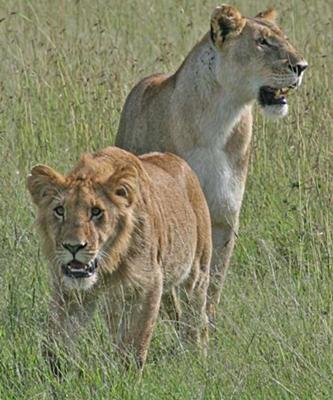 Lion Pair
Most of all I will never forget our last game drive with Ontdek Kenya in the Mara - sixteen cats in the space of two hours. Add to that over 250 species of birds in ten days thanks to Michael's vast knowledge, enthusiasm and ability to 'spot' and we had the most perfect holiday ever.
Safari Company Performance
Outstanding company, first class service. From our first contact with them they answered all our questions in depth and asked us almost as many questions as we asked them to ensure they understood our wishes and needs.
We wanted to cram in so much and they gently steered us to a slightly less frenetic itinerary whilst taking on board all our major 'must visit's. We were as interested in the birds as in the animals and our guide, Michael, was a leading expert on Kenyan birds but our driver Elijah also had an excellent knowledge of the animals and really came into his own finding wildlife in the Masai Mara.
Ontdek Kenya also arranged for us to have a specialist guide, Benjamin, in Kakamega Forest where the birds are very different and he was also superb. We mixed walking with the traditional vehicle safari – balance was perfect.
Anne's attention to customer satisfaction was exemplary – met with us twice during the tour and was on the phone to our guides every day! A highlight for us as avid travellers were the wonderful conversations on the road with Michael and Elijah and we learnt so much about Kenya from them, from politics to education and daily life. And then there were the discussions about conservation, global warming, pollution, recycling, it went on and on.
They must have been exhausted with our endless questions! We feel very privileged to have shared our ten days with two Kenyans who kept us safe, and informed, and entertained throughout.
Group Size and Vehicle Logistics
We had a private safari as my friend and I are keen photographers and wanted to be able to take our time over taking photographs so there was just the 2 of us and the 2 Kenyans for most of the trip (
Peter, one of the owners, was with us for the first 2 days
).
Ontdek facilitated this at a very competitive price and it worked out cheaper in fact than a group safari would have done with several other companies.
Our vehicle was a 4wd Landcruiser with roof viewing and in very good condition with seat covers with loads of pockets for lenses,
binoculars
etc so that everything was to hand.
Wildlife Highlights
Where to begin – walking amongst giraffe and zebra and colobus monkeys at Crater Lake, great blue turacos soaring above my head in Kakamega with monkeys swinging through the treetops, wallowing elephants, irate rhinos, jewelled sunbirds in the flower beds at the Rondo Retreat, our first pride of lions in the Masai Mara.
That last desperate bid to find cheetahs, the one animal I wanted to see above all others. Elijah and Michael had obviously spent the previous evening cross-examining other drivers and we set out early on that last morning in completely the opposite direction from the airstrip (
we had a 10 o'clock flight
) hell bent on finding those elusive cats.
It was a beautiful morning and we made steady progress in the wrong direction until suddenly – there they were, two cheetahs sitting in the long grass quietly dozing in the early sun. We stayed as long as we dared, alone with the cheetahs (
we had no radio – such bliss!
) until I tapped my watch and said 'time to go guys'.
Reluctantly Elijah started up and we made our way quietly back onto the main track and the next thing we knew we were caught in the middle of a massive lion hunt with 10 lions onto a herd of zebra – great excitement!
Again we stayed as long as we dared (
the zebra got away
) but just as we got up speed (
we really were running late now
), I spotted 2 caracal (
a rare sighting for the Mara in June I'm told
) and as we reversed back to see them 2 serval cats materialised right in front of us. What a send-off. And we caught the plane...just.
Typical Day
4th June 2007. Up in the dark, awesome dawn chorus, and a spectacular sky just beginning to suffuse with pink, the Mara River picking up the reflections of the sky beneath our balcony.
That huge croc is sat on the opposite bank again and downstream a solitary hippo blows gently in the one deep pool, just a pair of ears and nostrils breaking the surface of the water in the early light. Vervet monkeys watch us from the trees as we head down the path to reception, where Michael and Elijah are waiting, always early, always smart, always smiling.
Packed lunches stowed, cameras ready, bottles of water at hand, off we go, crashing from pothole to pothole until we get out onto the main tracks of the Mara. We are set for the day. A troop of baboons are going about their business as we leave the lodge and a bachelor herd of impala graze close to the track.
Poor Elijah hasn't got into the swing of birding safaris yet and has to keep explaining to other vehicles why we are stopping every few hundred metres as the three of us – Michael our guide, Jenny and I, spot some spectacular bird in the bushes. There's a lot of head-shaking but oh, you non-birders miss so much!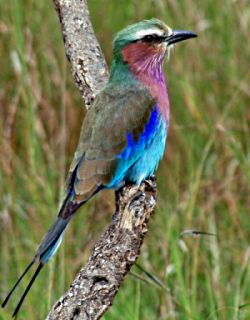 It's a great day – we try and stay away from other vehicles and our forays onto the lesser used tracks bring us special rewards as we search for – and find – the elusive brown parrot. We come across a huge herd of elephants enjoying a gloriously muddy wallow, a family of zebra belly deep in the long grass, and as we stop to watch a stunningly beautiful lilac-breasted roller eating the most enormous grasshopper a lone black-backed jackal comes and flops down on the track right beside us!
A lion sleeps in the dappled shade of clump of bushes, well fed and content, and nearby we have a lesson from Michael on the different vultures feeding off the recent kill. Lunch beneath a lone tree. A beautiful lizard is attempting to blend with the bark and we have an entertaining photo shoot, standing on the vehicle seats to get as close as possible.
Still no sign of the migration – a few small herds of wildebeest on the move but with no great sense of purpose, although the zebra numbers are swelling daily, but then, we knew we were too early really.
It's been a long day and storm clouds are brewing so we head back just as many people are coming out for the evening drive but we take another long break for Jenny, a talented landscape photographer, to capture brooding skies and trees silhouetted against the evening light.
We have the lodge to ourselves when we get back but the staff bring us out late tea and cake, but without the usual meal-time guards our plate of cake falls prey to a marauding vervet monkey who grabs a large slice and races back up the tree to eat it, mocking us from the safety of his branch (
and closely observed by a family of mongeese under the platform
).
I cover the cake with a plate thinking I'm really clever, so this time he grabs a handful of sugar sachets and retreats to his branch to suck on those instead. Still chuckling, Jenny and I head back to our rooms for a shower before dinner. Dusk falls – that sudden African night – and I find a bush baby peering at me from the tree right beside my balcony.
What a treat! Then dinner, a call home to the long-suffering husband, and, unusually for Jenny and I, cocktails in the bar. Well, it was my birthday.
Mary's Safari Review Details:

Rating: a perfect 10/10

Safari company used: Ontdek Kenya (make an enquiry)

Parks visited: Aberdares, Lake Nakuru NP, Kakamega Forest, Lake Naivasha, Hell's Gate, Crater Lake and Masai Mara in Kenya

Date of safari: 27 May to 7 June for 12 days

More Kenya safari reviews »