Glorious Safaris Review
by Dawn Bessant
(UK)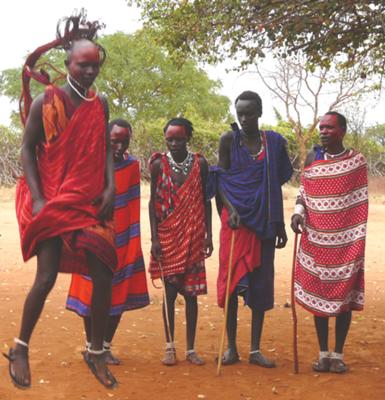 Masai tribe visit - It was very brief but one that I shall always remember. The Masai showed us their traditional dance with chanting and jumping. They showed us around their village and explained a bit about their way of life.
Our wildlife spotting highlight would probably be watching a group of lions stalking a herd of buffalo. What a breathtaking experience. We also visited a Masai tribe.
Safari Operator Performance
We heard about Glorious Safaris after it was recommended on Trip Advisor.
My husband and I met up with the owner of Glorious Safaris as arranged on the first day of our holiday to pay the balance of the safari trip.
The man seemed friendly enough my only complaint was that he could not find our deposit in his bank account.
He made a follow up phone call during the safari to say that he could still not find the payment which was mildly irritating as we knew that we had paid it. However this was soon rectified and we were not bothered again.
On the first day of our safari our guide was waiting outside on time as promised. He introduced himself to us and was courteous and friendly. He was very attentive and we all soon became good friends.
On first impression our safari bus seemed a little shabby, it even broke down on the Mombasa ferry! This did not turn out to be a problem though as it performed very well on the bumpy uneven tracks, as did our driver.
We could not fault our guide's keen eye to spot the wildlife, and drive and talk all at the same time!
We saw so many animals, although not the big five there are just too many to mention. Our guide's patience was unsurpassed and he even got in just the right position so as to get a good shot of the wildlife whilst I was taking a picture.
His knowledge of all of the animals was very good; he always knew what they were and explained some of their behaviour to us.
There was always enough bottled water in the icebox provided and we were always asked if everything was ok.
The advantages that we had by booking with this company was that it was a very competitive price in comparison with other tour operators.
We had the whole bus to ourselves and didn't have to share with a group of other people.
We were also pleased that the money went directly to the Kenyans themselves.
One of the disadvantages would be that if anything went wrong you would probably not be covered by insurance.
Accommodation
On our first night we stayed at Ashnil Aruba lodge in Tsavo East. The room was very tastefully furnished complete with
en suite
bathroom.
There were patio doors out onto a terrace that had a view onto a waterhole. Unfortunately the waterhole had dried up but we did get to see lots of exotic birds in the trees that were around and elephants meandering along in the distance.
There was also a swimming pool, but we did not get the time to use it.
My only complaint about this lodge - and the entire safari - was that there is no air conditioning, only a couple of fans. This meant spending a very hot and sticky night there.
Our second lodge was at Finch Hattons, Tsavo West. This place had a very colonial feel to it and a lot of history.
We stayed in a tented lodge in the most beautiful setting amongst trees and lakes. It was very tranquil we had a little babbling brook next to us and from the terrace, a view of the lake where we saw many exotic birds and crocodile babies. There were full grown crocodiles there too but according to the staff these were not a problem!
Our accommodation was very luxurious and reminded me of colonial times with its dark wooden floor and decor; it fitted in very well with the setting.
There was a toilet at the back and a shower, also a mini bar should you fancy a drink or 2!
Sleeping in the tent at night had its advantages as it was very cool and comfortable.
There was a swimming pool.
This lodge is not recommended for children under 12 years old.
Food
In the first lodge the food was very nice, a standard breakfast choice...cereal egg, toast.
I had pasta for dinner and was very happy that I was able to get a vegetarian meal. I remember that there was a fair choice and that it was buffet style.
The meals at the second lodge were unsurpassed the food was definitely of 5 star calibre.
We had 3 courses for breakfast in the main historical colonial style building.
At lunchtime we had 3 courses and were able to view the hippos from the terrace as we ate and this was a fantastic experience!
In the evening we were served in the main dining room with its fabulous historical setting.
I was very impressed when the chef cooked me a special vegetarian meal, and the desserts were delicious and presented beautifully.
Wildlife
We saw lots of wildlife including... lions, buffalo, elephants, ostrich, hornbill, baboons, various monkeys, banded mongoose, red kite, warthog, hippos, crocs, giraffe, various birds, zebra, antelope, gazelles, dik diks, oryx, jackal.
Typical Day
We'd get up early and go out on a safari drive for about 2 hours.
We'd head for our next destination/lodge and relax on the terrace and freshen up.
After lunch, have a sleep as we found it quite tiring getting up early.
In the late afternoon we would go out for another couple of hours on a safari.
After an hour's or so rest we would have our dinner.
After spending some more time out on the terrace we retired to bed.
Other Activities
We did a walking safari to Mzuma springs, a beautiful forest with the source of water that supplies Mombasa. It had fever trees and lovely lakes and springs.
We had to take an armed guard with us for safety. He was very friendly and polite with a good knowledge of the area.
We saw crocodiles and fish in an underwater chamber and a troop of Sykes monkeys. We then had lunch in Voi which had breathtaking panoramic views of the surrounding mountains.
After lunch he asked us whether we would like to take an optional visit to a Masai tribe on the way home for an expected donation, normally £30.
After this they showed us how they make fire and my husband was able to participate and helped to make the fire himself!
They also asked him whether he would like to jump with them but he declined as he has a bad back!
I had my reservations about this visit at first as I thought £30 may be an expensive way to get some good photographs.
I was not to be disappointed though as the tribe were completely genuine, it was not just a set up for the tourists.
It was a mind blowing experience to be able to see their way of live and to interract with these native people.
I also came back with some very interesting photographs.
Photography
If you want to go home with some
decent pictures of the wildlife
, I would advise a camera with a reasonable zoom, maybe 7x or more.
Also something to protect your camera from the red dust that gets everywhere. A filter to fit over the lens of your camera to protect it from the dust. A decent camera cleaning kit to clean your camera when the dust does get on it.
Tips and Advice
I would advise people to take a high factor sun screen with them.
Don't wear any brightly coloured, white or expensive clothes. Black clothes also attract certain insects.
A light jacket or cardigan is a good idea as it can get chilly at night, and occasionally it may rain, also a hat to keep the sun off.
You may need insect repellent although we didn't find mosquitoes a problem.
Find out whether your safari supplies
binoculars
and if they do not I would definately take some with you.
If you are a woman, I would also suggest wear an adequate bra, as the roads can get very bumpy at times!!
The most useful item in my luggage was my
hat
.
More Tsavo Safari Reviews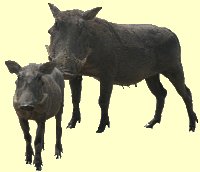 Join in and write your own page! It's easy to do. How? Simply click here to return to Kenya Safari.