Lindberg Holidays and Safaris
by Cindy Rubin and Nathan Frerichs
(USA)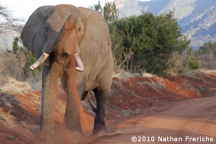 Angry bull
We saw everything. The highlights were when a black-maned lion walked within touching distance of our jeep, and when we were nearly charged by a bull elephant on a hillside road with nowhere to take cover.
Safari Operator
We heard about Lindberg through a friend who used them in the past. They're a small company, and we were happy with them. We didn't realize that we'd have a personal guide and vehicle until a few days before we arrived! This surely made our trip more expensive, but it also provided us with more personal service.
Our guide was good, but not stellar. He was very pleasant, and went out of his way to keep us safe. The main negative was that we felt he could have been more informative about the wildlife. We felt like he just drove and spotted animals for us (he was a good spotter!), but he didn't give us much information.
As a whole, we felt they communicated well with us, and they did make adjustments without charging us more when things came up during the trip (arriving at Ngorongoro, the park was no longer allowing foreign vehicles into the park. The company made arrangements to rent a vehicle on the spot, and did not charge extra for this.) We were very happy about that.
Accommodation
Nairobi Safari Club. Our first night was pretty bad – our aircon didn't work, and we couldn't open the windows. We were exhausted from our flight, but couldn't sleep due to no ventilation and it was so hot. On our last night there, we made sure the A/C was working. Overall the hotel was good for a one night stay before or after a flight, but I wouldn't want to spend much time there. Certainly nothing special.
Ngorongoro Wildlife Lodge - we loved it. The décor was simple and rustic, but fit perfectly for where it was located. The view from our room and the lobby and dining room was absolutely fantastic. The food was good but not great. The room itself was fine. The view and reasonable cost make this lodge a great choice!
Amboseli Serena Safari Lodge. Great ambience and décor. I can't really describe it, but we really enjoyed it. The people were very friendly and accommodating. Our room was cozy from the décor, but a reasonable size, with our own patio. Lots of vervet monkeys hanging out! The food was good.
Kilaguni Serena Safari Lodge. Comfortable and nice. The people were very friendly. We took a walking tour here which we LOVED. The view of a water hole was fantastic, with a constant parade of animals! The dining room was open air but covered, and very unique! The food was good. Our room was maybe a bit small with a lot of noise from our neighbors, but we were happy with it overall.
Kichwa Tembo Tented Camp. We LOVED this place - by far the highlight of our trip. The tents were relatively simple, but luxurious at the same time. We stayed in a "luxury tent," which was a little bigger and more secluded than the regular tents. The hospitality here was probably the highlight. Everyone: the guides, porters, butlers were so amazingly friendly and helpful. The food was some of the best I've had anywhere, not just in Africa. Our guide, Protus, was stellar. He went out of his way to try to spot the animals that we were interested in seeing, gave us a lot of information about the animals, and had a great sense of humor. Our butler was also terrific. He surprised us one night with a romantic candlelit dinner on the porch of our tent! We befriended a Massai man who worked at the camp, educating visitors about the Massai culture (which we enjoyed much more than our Massai village trip in Amboseli).
Food
Breakfast was usually a huge buffet! There were usually scrambled eggs, different meats, cheeses, crepes, potatoes, baked beans, baked tomatoes. Usually there was also good fresh fruit and cereal options. Always coffee/tea.
Lunch almost always started with soup. Soups were always delicious – usually the most memorable part of the meal! Most lodges had buffet lunches, with salad, some sort of meat and/or pasta. Usually with dessert.
Dinner also started with a delicious soup. The menu usually consisted of 1-3 appetizer and entrée choices. The food was always tasty at the Serena lodges, but really out of this world at Kichwa Tembo. Dessert was usually very yummy.
Wildlife
We saw the "Big 5" by the time we reached our third park. We saw one "kill." We saw leopards walk right in front of our jeep, as well as up in the trees. The walking safari was fun because we saw insects, wildlife poop and plants as well, which you can't always see from inside your vehicle.
Typical Day
We would awaken early, have tea or coffee at the lodge prior to a morning game drive. After about 2 hours, back to the lodge for breakfast. Time to relax before and after lunch (swim, a walking tour, a village trip).
Afternoon game drives were around 4pm, and then back to the lodge for dinner between 7-9 pm. An early goodnight to be rested for the next morning.
On days when we were driving between parks, we would leave after breakfast and might have a game drive en route or else no game drive that day.
Other Activities
We went to a Massai village in Amboseli, and were very disappointed. Our guide took us to a village, and it was only my husband and me visiting at that particular moment. The Massai were very welcoming, and showed us how their village was set up, and let us see the inside of their huts. But the end of the trip was a total tourist trap. We had already paid to enter into the village, and in the end they force you to look at all of their crafts, and they make you feel obligated to buy from them. My husband and I had already bought most of our souvenirs by this time. They charged us an outrageous price for the items we chose (we compared it with the prices in the lodge gift shops), and barely budged when we tried to negotiate. Ultimately the experience left us with a very bad taste in our mouths. If you go to a Massai village, I would just be prepared for this situation.
At Kichwa Tembo, we went on an amazing "Bush Dinner". It was an extra cost, but worth it. Our guide drove us out to a secluded area near the Mara River, doing a little night safari along the way. The site was beautiful: lit lanterns around the whole perimeter, a little tented "bathroom", a beautifully lit and decorated table, and a fire with chairs around it. A cook barbecued our dinner for us, and we had a host and a waiter who took care of us. We felt like royalty! They sang to us as they brought out dessert, and they made sure at every moment that we were having a great time. This was certainly the highlight of our trip. We will never forget it!
Regrets
We had no real regrets. If we could have spent a little more, we might have done more flying instead of driving between parks. The roads are not great, so prepare for long, dusty, and bumpy drives between parks. We were advised to have no drives more than 6 hours long. One day we did end up with a drive that was closer to 7 or 8 hours (due to road problems), and it was pretty long and painful. But we survived!
Photography
I was debating before the trip about whether or not to bring my 100-400mm lens. My decision was made when I read the advice in
Better Safari Photography
.
It's a large lens to be lugging around, but so, so worth it! I also brought a 28-135mm, but never took the 100-400mm off my camera (Canon EOS 5D).
I also brought a polarizer and a monkey-pod. Never used the monkey-pod, but the polarizer was a must-have.
Advice
Bring sunglasses, a good hat and anti-diarrheal medicine, just in case.
Cindy & Nathan's Safari Details:

Rating: 9.5/10

Safari company used: Lindberg Holidays and Safaris Ltd (make an enquiry)

Parks visited: Ngorongoro Crater (Tanzania), Amboseli, Tsavo West, and Masai Mara (Kenya)

Date of safari: 23 June for 13 days

More Kenya safari reviews »

More Tsavo Safari Reviews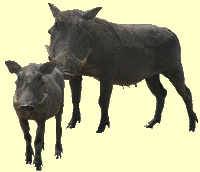 Join in and write your own page! It's easy to do. How? Simply click here to return to Kenya Safari.