Natural World Mombasa Safaris
by Jon Mills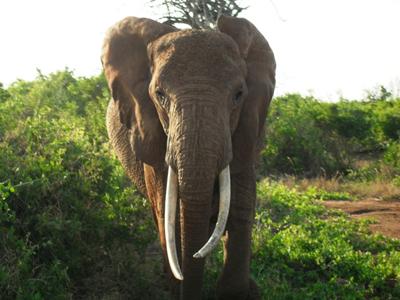 10 out of 10. I don't like giving anyone full marks for anything, but I really can't think of anything that went wrong. With kids, the short overnight 2 day option worked well. You want them itching for more, not moaning that they are tired and have had enough.
Safari Operator Performance
We went on our 2-day/1-night safari with Natural World Mombassa Safaris - found them on-line.
They were very good. Humphrey, their manager was mega efficient and helpful on line and met us at the beginning and end of the short trip to check everything was OK.
Peter, their driver was knowledgeable and alert. He got us into some great positions - close enough to an elephant to be charged, and cool and organised enough to have the escape pre-planned with no stress whatever.
Just an epic experience for the kids. Once the elephant had given up he chuckled and said – that was fun, let's do that again, and backed up again!
Accommodation
We stayed in a tented "eco camp" (Tarhi Sentrim I think). Fantastic. EXACTLY what we wanted; for a budget tented camp it was ace; no fences, waterhole 60 m away with lions and elephants drinking at night an lots of posturing between the two groups.
Hyena in the camp (scavenging at the kitchen tent, not being in any way aggressive). Lions roaring around all night.
Each tent had proper beds (which pleased my wife), mosquito nets, solar power, toilet/shower/sink. Spotlessly clean and well maintained. Our 7-10 year old kids thought it was amazing.
There was no need to leave the tent at night, and if a light came on, there were night watchmen around in seconds to check everything was OK – reassuring given the lack of fences and the youngsters. The food was excellent.
The next day on a game drive we stopped for a toilet break at a posh top end hotel and thought "you sad fools – you've paid 10 times what we've paid and had a tenth of the experience".
Food
Food was all in. Can't remember the details but it was good and there was plenty of it.
Wildlife
We saw heaps of elephants, lions at the water hole, in the distance from the camp, and a couple on the drives.
Several giraffe, monitor lizards, impala, Grants gazelle, waterbuck, duikers, Thompsons gazelle, baboons, hyena, kudu, hartebeest, warthog, hippo, zebra, secretary bird, eagle, ostrich etc.
I can't decide on the highlight so I asked my son and his selection includes the elephants and lions, at the waterhole and being "charged" was pretty special! Impala and gazelles lekking was interesting to see too. The giraffes were lovely.
Other Activities
We snorkelled off the coast on the reef, went on a Dhow river trip, and visited a local village.
We also visited a wildlife sanctuary on the north side of Mombassa (Haller park?) which was great for the crocs (they were spectacular, leaping for meat). Some were huge. The kids got to hand feed the giraffes from a raised platform.
Regrets
None, the whole trip was great. In a week my son learned to snorkel, saw a coral reef, had his first go at scuba diving in the hotel pool, went on a great "taster" safari, and saw some real poverty which was educational for him. He came back buzzing, stimulated, thoughtful and appreciative of the things we take for granted.
Photography
We just have a "point'n'press" camera and that is about all I can manage. We wanted to spend as much time as possible looking at the animals instead of through a view finder.
Tips and Advice
Go budget. It is much, much, much, better than the "luxury" nonsense. Even with the budget ones, you'll still feel like an imperial conqueror! Who wants manicured lawns when you can sit sipping a beer on a deck chair watching lions drinking a mere 5 second sprint from you ...
Go with friends; we went a two couples and three kids, so we had the mini-van to ourselves and that worked really well.
A
hat
was the most useful item in my luggage.
We should have taken GB pounds to pay for the safari. It would have saved hassle changing money. Humphrey did suggest this and we stupidly didn't take his advice.
More Tsavo Safari Reviews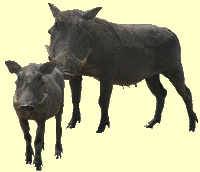 Join in and write your own page! It's easy to do. How? Simply click here to return to Kenya Safari.