Aruba Lodge Safari
by Karen Bawdon
(England)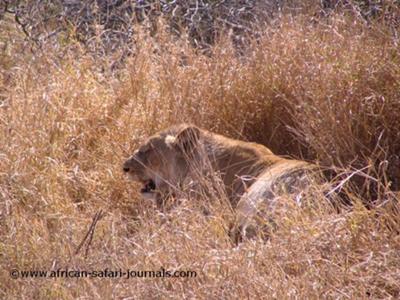 We saw plenty of scruffy Tsavo lions, including a group of lionesses stalking a gazelle. The lions were using the dried up river bed as cover, we didn't see if they made the kill as the hunt moved into a overgrown area but it was still fascinating to watch.
Safari Operator Performance
My safari was part of a longer holiday to Kenya which started on 8th October.
The safari was arranged through our tour operator and our hotel; I had checked before booking that we could do a safari through our tour operator.
Tour operator was First Choice, our hotel was Mnarani Beach Hotel in Kilifi Creek.
All in all the whole experience was brilliant, something that will stay with me forever...
We were given a packed breakfast/lunch for the coach journeying to
Tsavo
which was quite long - 4-ish hours.
Early the next morning we went on our first game drive.
Our guide (Shaquil) was excellent, funny, chatty and informative; he did his utmost best to make our experience as magical as possible.
Even stopping to grab a handful of berries off of a bush so we could all try some of what the baboons were eating.
Accommodation
Aruba Lodge - the place was gorgeous, very friendly staff, very clean, the food was superb with a good choice, you helped yourself.
The place also was designed to fit in perfectly with its surroundings.
Upon arrival we promptly dropped our bags in the room, donned our beach wear and were the first off our coach to bag a spot by the pool.
The pool was small and very cold which was actually a god send after our very hot dusty coach journey...
A tiny wooden post and wire fence were all that separated us from the wild animals.
It was a magical setting, lounging in the pool watching zebra grazing along with the occasional elephant or gazelle.
Food
Breakfast and lunch/dinner were self service with a large selection of dishes to choose from.
I loved the fresh fruit and various local fish dishes.
I love to try the local food, you'll never see me with chips on my plate whilst on holiday...
Wildlife
We saw a large selection of wildlife.
Plenty of giraffe, baboons, including a female with a two day old baby clinging to her, she sat not three foot from our jeep in the road, eyeing us suspiciously …
We saw all of the types of species from the deer family, from dik diks to a very photogenic Oryx stag!
I swear I saw a cheetah sitting on a fallen log, it moved into bush as we approached but there was no mistaking the fluffy black end to the very long tail…
As we were heading back to the lodge after our late afternoon drive a herd of elephants burst from the bush right in front of us and with them was a tiny baby one. I got some beautiful pics of them walking into the now orange sunset sky on the bright orange dusty road…
We didn't get to see the big five; I so wanted to see leopards but even though I didn't my safari was still perfect.
My wildlife spotting highlight was when I spotted a pair of furry black triangles in the overgrown bushy roadside we were passing.
I asked Shaquil to back up slowly as I was certain they were hyena ears, Shaquil wasn't convinced as hyena were known to be quite shy.
We backed up and sure enough 3 or 4 hyena were laying in a small area in the long grass, I was chuffed to bits and Shaquil was so impressed he asked if I wanted a job.
Typical Day
We had breakfast between 6.30/7.30am then went on a morning drive come back for coffee and lunch.
Then off on a second evening drive around 3pm until the sun started to set.
Then back for dinner and a chill in the bar area before heading back to the room to sit in the pitch black night on the balcony listening to the elephants crashing about and eating in the bushes about 25feet in front of where we were sitting.
Tips and Advice
Allow yourself at least 3 days of actual safari. My only regret was that I didn't book a longer one.
So long as you're a bit of a wildlife lover like me you will absolutely love it. I was fortunate enough to be able to go on one and for that I will always be grateful. My safari was amazing - in fact my whole two weeks in Kenya was magical.
Be prepared to get very dusty and sweaty, new holiday togs and new white trainers aren't advised.
Safari clothing advice...
My most useful item in my luggage was cleansing aloe Vera wipes, great for a quick fix for hot, dusty, sweaty faces.
The whole thing was wonderful - the beauty of the lodge its surroundings, the hospitality, the food..I'll never forget any of it..the beauty of rare nature in full blossom.
More Tsavo Safari Reviews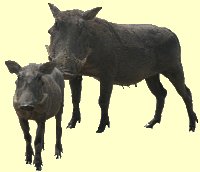 Join in and write your own page! It's easy to do. How? Simply click here to return to Kenya Safari.