Salt Lick Lodge Review
by Scott Johnston
(UK)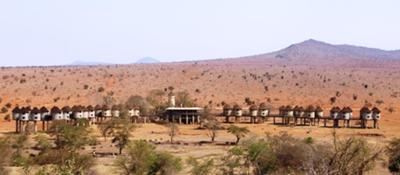 Sarova Salt Lick Game Lodge
The main highlight for us was the stay in Salt Lick Lodge surrounded by elephants and being able to see them not five feet away from us whilst having a drink and something to eat.
Safari Operator Performance
We went with Pollmans who was the company the travel agents (Thompsons) used.
They were excellent.
We had the same driver (Arthur) for the whole week. He was lovely and knew his stuff; he drove us nearly 1800km or 1200 miles in a land rover defender.
Accommodation
Day 1 & 2 stayed at the Keekerok Lodge (our favourite) in the Masai Mara. It was simply beautiful: set in wondrous grounds and fantastic scenery, the rooms were great and the food amazing.
Day 3 stayed at Lake Nakuru Lodge in Lake Nakuru for one night. Again an amazing view of the park from our lodge, could see for miles and miles. Room was ok a bit basic but fine for one night. Food again was amazing. People very friendly.
Day 4 stayed at Oltukai Lodge in Amboseli. Great room with views of the park. Food and people lovely. From our room you could see Mount Kilimanjaro. WOW!!!
Day 5 stayed at Saltlick Lodge (our second favourite) in Tsavo West. Simply the most amazing place to stay. It is built on stone stilts so that the elephants and other animals can walk right underneath you - a truly magical place. The rooms were great with amazing views and the food and people were very friendly.
Day 6 stayed at Aruba Lodge in Tsavo East. This was our last overnight stay surrounded by animals everywhere - a great place to finish our safari.
Food
As stated above, the food in all of the places we stayed was top class, from fresh local fish to amazing local fruits and dishes.
My personal favourite was the lamb sausages in a special sauce (I had at least 15 they were that good).
Breakfast was typically a buffet style where you choose whatever you wanted (no limits) from fruits to eggs and other things.
Lunch was the same but the variety of food in each lodge was impressive. Different types of meat and fish in sauces lots of different rice. Normally too much to choose from.
Dinner was the same buffet style in most of the lodges with meats and fruits and great desserts.
In all of the lodges the service and staff were kind friendly and couldn't do enough to make your stay welcome.
Wildlife
What wildlife didn't we see!!!
Lions, elephants, cheetahs, hippos, rhinos, hyenas, crocodiles, gazelles, giraffes, elands, oryx, were just a few.
Our main highlights were the visit to Tsavo East and West where we stayed in a lodge on stilts called Salt Lick Lodge surrounded by elephants. One was even under our window giving itself a back rub on a tree.
The other main highlight was on our second day in the Masai Mara. We were supposed to go out on our afternoon game drive at 4pm but our driver overslept by 30 mins.
So off we went a little annoyed but within 10 minutes from our lodge (Keekerok) we spotted a lioness right in our path, so we stopped to watch. Then another appeared and another and another, and we saw another 3 in the distance. Amazing heh.
So there we were watching all of these lions not 20 metres from our vehicle when the lions started to spread out almost like they were hunting. To our left about 50 metres away there was a lone zebra with its back to the lions.
I thought to myself can this really be happening - we are seeing a pride of lions hunting its prey. Then one of the lionesses peeled off and crouched down and started to edge closer to the zebra. At this point I'm thinking the zebra will see them and run away, right? Wrong.
The lioness got within 20-30 metres downwind of the zebra and waited. Suddenly in a truly remarkable burst of speed she ran towards the zebra and jumped on its back. The next thing you see is the zebra lying down and the lion with its mouth around the zebra's neck.
(At this point my safari was done to have see lions stalk and kill its prey was singularly the most amazing experience of my life).
Then the other lions came from hiding and begun to feast on its prey. In total there were 10 lions and 2 cubs. It took them over 15 mins to kill the zebra. I guess they were letting the younger ones learn how to kill its prey.
We stayed there for over 1
1
/
2
hours and were the only vehicle to see it from the start to the end. Our driver said it had been over 7 years since he had seen this before and that we were truly blessed to have witnessed such an amazing event right in front of our eyes.
Some people can go on a 100 safaris and never see this spectacle he said, some may never see it at all.
Thank God for our driver Arthur oversleeping. If he had been on time we would not have been in the right place at the right time.

Typical Day
Get up at 6am, pack our stuff for the day, go and get breakfast, then go for a morning game drive (4-5 hours) at around 7.30am. Have lunch then go for another game drive at around 4pm for 2-3 hours. Then get back, have dinner and go to bed.
Masai Village
The only other thing we did was visit a genuine Masai village and meet the people in Amboseli. We went there with great expectations but were very disappointed.
This was due to the fact that we were hurried around the village then led out to buy stuff from the local Masai people. We were quite pressurised to buy and we did not like it.
My wife went there to give the children some much needed pens, paper and calculators, but was only able to give stuff to a few children and the teacher, the chief's son took the rest.
My wife became very upset afterwards because it was something she had been looking forward to for many years, but like most people it came down to you spending money and not about learning about the people and their way of life.
Tips and Advice
Be prepared to tip a lot of the time and also be prepared to buy a lot of water. On our safari everything was included except for the bottled water which was very expensive to buy.
Also take sellotape with you to patch the holes in the mosquito nets. We never got bitten once. Also to use mosquito spray with at least 50% deet. Again with this we never got one bite on our whole holiday.
And take very high factor sun cream.
The information provided in "Better Safari Photography" was comprehensive and helped us a lot to prepare for our safari. There was nothing more to add from our point of view.
Avoid getting malaria »
Rating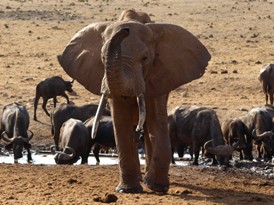 Honestly I would give it an 11 even with the Masai disappointment - it was simply the best experience of our lives. Truly life changing!
The scenery, the people, the animals - it was just amazing. Words cannot fully convey how good it was. It did not live up to our expectations, it surpassed them.
I hope this helps other people to experience the magic of a safari. It's simply the best!
Have got the safari bug now, all my wife and I have to do now is save up so that we can go again.
Scott's Safari Details:

Rating: 11/10

Safari company used: Pollmans (make an enquiry)

Parks visited: Masai Mara, Lake Nakuru, Amboseli, Tsavo East & West - Kenya

Date of safari: 27 September for 7 days

More Kenya safari reviews »

More Tsavo Safari Reviews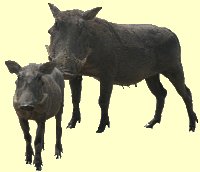 Join in and write your own page! It's easy to do. How? Simply click here to return to Kenya Safari.